Boxing Club left 'frustrated' by lack of Leisure Centre support
'Questions need to be asked when Tenby's community Leisure Centre is not operating in the capacity in which it was intended' - states Tenby Sharks Boxing coach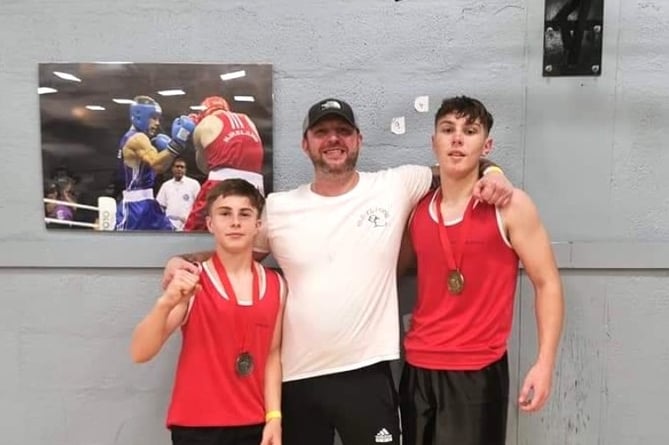 Subscribe newsletter
Subscribe to our email and get updates right in your inbox.
Members of Tenby Sharks Amateur Boxing Club have been left frustrated after attempts to stage a show in the seaside town have been scuppered.
The Sharks have been desperately seeking a venue to put on a fundraising charity evening of amateur boxing in the town, which would be the club's first ever show and something they have worked hard towards achieving, but have been left disgruntled after their latest setback whilst waiting for a decision by Tenby Leisure Centre to hold a show there on June 9, having been told by the facility's management that they cannot accommodate their plans.
Tenby Sharks was first established in 2017, using the De Valence Pavilion as their base to build the club from scratch, and as the Club has grown, it has seen a whole host of people walk through its doors to experience the physical and mental health benefits that come with a sport like boxing.
Fast forward to 2022 and Tenby Sharks have built and built, leading to an impressive six wins in seven contests, with their only loss being by split decision to a Welsh champion in the final of the Inaugural Welsh Box Cup at the end of 2021, a competition that one of the members, Max James went on to win gold in.
With several members carded ready to compete, two of which enter the school boy Welsh Championships in May, head coach Mark Davies (pictured above with two of the Club's competitors) says that they have become very frustrated that they can't even get a show on in the Club's own town due to the Leisure Centre being unavailable as NHS vaccination teams set up on the only available date they could get sanctioned by their governing body.
"Questions need to be asked when Tenby's community Leisure Centre is not operating in the capacity in which it was intended," remarked Mark.
"Of course it was an obvious choice when the pandemic was at full tilt and vaccine queues were around the block, but with most people having been vaccinated now, surely it's time the community were handed back the very limited facilities they have for sport and recreation within the town and surrounding area.
"There are plenty of town halls that could accommodate the small trickle of people passing through for boosters. You also have Tenby Cottage Hospital sat barely doing anything.
"With mental health being such a prominent topic right now there's no wonder clubs like Tenby Sharks are upset that they can't use the facilities to host their very first boxing show for its 'sharklings' to show off all the hard work they've been putting in over the last few years!" he continued.
Tenby Sharks ABC have also been working within the educational system to provide pupils that have fallen outside of mainstream education an opportunity to channel some of their frustrations through the art of boxing, and were recently featured on ITV news, where the coaches had the opportunity to show the work they have done to build a stronger community through inclusion, mentoring and hard work.
But head coach Mark still feels perplexed that for some reason they have never had the support from Tenby Leisure Centre that they have needed.
"With the amount of empty community centres that could accommodate the vaccine programme, surely this need highlighting," he continued.
"Ultimately the Leisure Centre is supposed to promote sport and leisure within the community, so questions need to be asked on when we are likely to get that back for the local community.
"We don't have many facilities in Tenby, so we need to be smarter about using the what limited venues we do have for things that are fit for purpose instead of wasting space unnecessarily," he continued.
Tenby Sharks are on a fundraising quest at the moment, as the Club is hoping to relocate to a unit of their own at Carew Airfield in the near future.
For further details of how to get involved with this and other news from the Club, head to 'Tenby Sharks Boxing Club' on Facebook page for more info.
Comments
To leave a comment you need to create an account. |
All comments 0