Renewed plea for youngsters to 'act responsibly' on Pembrokeshire's beaches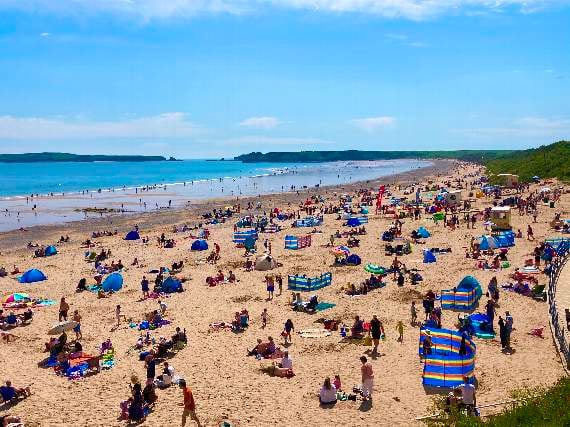 Discarded broken bottles are being found on Tenby's busy South Beach the following day.
()
Subscribe newsletter
Subscribe to our email and get updates right in your inbox.
A renewed plea has been issued to youngsters in Pembrokeshire who are meeting up on the county's beaches to do so safely and respectfully.
Ahead of the summer holidays Dyfed Powys Police, Pembrokeshire County Council, and other local agencies urged young people to act responsibly while at the beach, and to respect the local community following instances that had been reported where tins and bottles, along with the contents of bins were left strewn across the sand following gatherings.
Police officers were tasked with tackling incidences of anti-social behaviour on Tenby's North Beach which led to officers recovering broken glass from the sands after a large number of youths were drinking on the beach.
Issuing images on social media of the aftermath of local youths found drinking and causing anti-social behaviour at the North Beach late into the evening back in July, Tenby police's Twitter account posted: "Do you know where your children were last night? - Broken glass, cans and bottles recovered from the beach by officers."
Now, following weekly late night gatherings on Tenby's South Beach, one local resident (who did not want to be named) - has sent out a further plea to parents of teenagers that have been spotted littering the sands and dunes, to speak to their children about their behaviour.
"It has become a regular occurrence that local teenagers meet up on South Beach at least twice a week to socialise; and on Monday this week there were about 50 gathered by the dunes between South Beach car park and the pathway through to Kiln Park," the concerned parent told the Observer.
"They are drinking large quantities of alcohol and throwing cans and bottles on the beach and up into the dunes. They crush the cans and half bury them in the sand.
"Some of the discarded bottles are also broken and when clearing this mess up not all of the broken glass can be found.
"On a previous occasion they were approached by an employee of Danfo, who was emptying the bins on the beach, and gave them a bin bag, asking them to put their litter in it, so he could collect it the next morning - but they ignored his request and just left the empty bag with the rest of their rubbish!" they continued.
"There is no regard or thought for the children who play on the sand during the daytime and I know that at least one young child's foot was cut by broken glass.
"This has been going on for some time and it is only thanks to selfless volunteers that the beach is cleaned every morning.
"If your children are a part of this group please speak to them about their behaviour and the risks that they face drinking copious amounts of alcohol.
"This is a bad situation that needs to be addressed before either one of them or an innocent beach visitor gets badly injured," they added.
Pembrokeshire's Cabinet Member for social services, Clr. Tessa Hodgson told the Observer recently: "It's been a tough year for young people. They spent much of the winter cooped up at home. Many have also been studying and had assessments. It's natural to want to socialise – and to enjoy spending time on the beach.
"But please do so safely. If you're a parent, please advise your child not to meet others at isolated beaches with poor mobile phone reception.
"We haven't seen these problems so far, but if a young person has a drug or drink-related incident on an isolated beach, then it's much harder for them to get help. The same goes if there's an issue linked to reckless behaviour."
"We would like to take this opportunity to remind them to respect the environment, put litter in bins or take it home.
"Please enjoy going to the beach – but please behave and allow others to enjoy it as well," continued Clr. Hodgson.
National Park Authority Chairman, Clr. Paul Harries also stated: "As well as having a negative impact on other people who want to enjoy the beach, actions such as littering can also have negative impacts on wildlife.
"We would urge everyone to tread lightly as they enjoy the Pembrokeshire Coast so that all who visit or call this place home can do so safely."
Comments
To leave a comment you need to create an account. |
All comments 0