Pembrokeshire Scouts St. George's Activity Day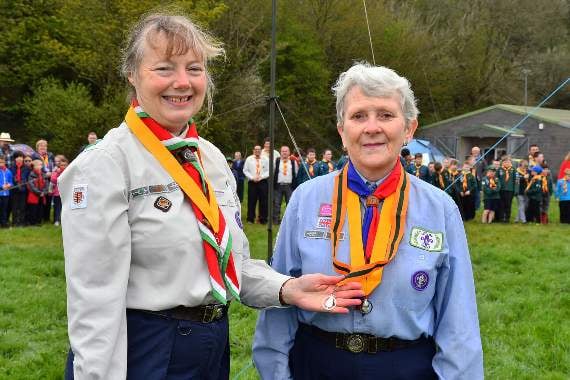 Linda Wilson, area commissioner, made a presentation of the Bar to the Silver Acorn to Dilys Cardy. Pic. Martin Cavaney Photography
Subscribe newsletter
Subscribe to our email and get updates right in your inbox.
Linda Wilson, area commissioner, welcomed everyone and made a presentation of the Bar to the Silver Acorn to Dilys Cardy who has been a leader with 3rd Pembroke for over 35 years. The Bar to the Silver Acorn is the second highest award that can be made to an adult in Scouting. This award, presented on behalf of the Chief Scout, Bear Grylls, recognises the extra support that Dilys has offered the group in the past five years since she was awarded the Silver Acorn whilst other leaders have suffered ill-health and bereavement. Dilys has also been involved in raising funds for the group and promoting membership to the local community when numbers had declined. She has now stepped down as the Cub leader, but continues to offer regular support to the incoming leader and supports Scouting throughout Pembrokeshire, sharing her knowledge and expertise wherever it is needed.
The rest of the day offered some thrilling opportunities for the youth members of Pembrokeshire Scouts to experience water sports, for the first time for many of them. The location offers a safe stretch of water for kayaking, canoeing, sailing and wobbly boarding. They could also build and float rafts, but the most unusual craft were the Cleddau coracles, built by 3rd Pembroke Scouts and brought down for everyone to experience.
On land, there were other opportunities for adventure with a pioneering project building a rope bridge over a ravine, a blind string trail through the trees, rifle and laser shooting, archery and a very muddy assault course. Pat Ponies were also on hand to give rides and a Ju Jitsu session was available in the hall. Back to basic Scouting skills were displayed as young people made their own woggles, built shelters or practised lighting a fire without matches!
111 years ago when Lord Baden-Powell, the founder of Scouting, was looking for a saint to be an example to Scouts, he chose St. George who had been a Knight and so governed by the Order of Chivalry. The guiding principles of good citizenship, self-respect and respect for others and the world around us are still upheld by the Scout Association. The movement continues to appeal to all ages and to grow throughout the world, as young people work with their leaders to plan and execute an exciting programme which give them all skills for life.
Ever since, even here in Wales, Scouts celebrate St. George's Day, formerly with a parade and church service, but now more often with a day of adventure. The important aspect of renewing the promise that all Scouts make is continued and on Sunday formed part of the opening ceremony, following on from a lively re-enactment of St. George slaying the dragon led by Rev. Hugh-John Wilson, the area chaplain.
Scouting in Pembrokeshire was on display in all its glory on Sunday, but it also being carried out each week across the county by dedicated volunteers of all ages. If you would like to get involved, look up our website and get in touch.
Comments
To leave a comment you need to create an account. |
All comments 0