Parents' anger at 'inedible' food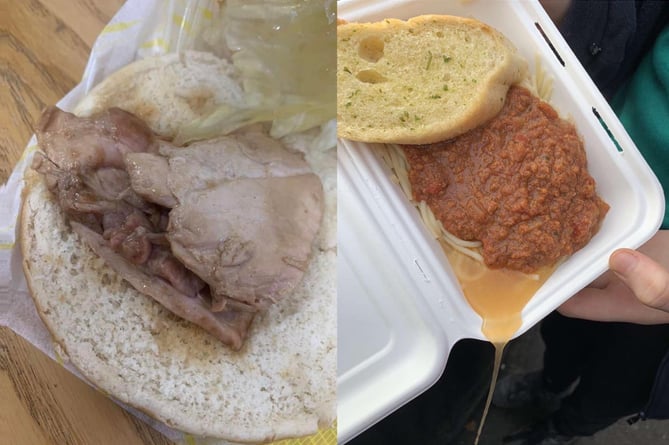 Would you serve this to your child? A chicken roll and watery spaghetti bolognese said to have been served at Whitland's Ysgol Dyffryn Taf.
(Pics. Shelley Webb (Facebook) )
Subscribe newsletter
Subscribe to our email and get updates right in your inbox.
CARMARTHENSHIRE County Council has been forced to close the canteen at a local secondary school, following criticism of the food it has been serving up to students.
The authority moved after parents posted pictures of what they described as the 'inedible' and ridiculous' school meals at Ysgol Dyffryn Taf in Whitland, on social media last week.
Parent Shelley Webb, whose daughter first photographed the school fare, posted the snaps on Facebook, with other parents sharing and commenting to add their concerns.
Angry parents dubbed the food 'bloody awful', adding that the school should be ashamed to serve up such meals, with many commenting that they were shocked to see how the quality of the food in the school canteen had deteriorated.
In light of the wave of criticism, Carmarthenshire County Council closed the canteen for two days this week to give it the chance to 'reconsider all aspects' of the food on offer.
Last week the school's headteacher, Julian Kennedy, wrote to parents saying that the school was aware of concerns regarding the 'quality and/or portion size of some of the lunchtime provision in the dinner hall'.
In the letter he explained that, for two days this week, children should take packed lunches with them to school as the canteen would only be open to sell snacks and drinks.
Speaking to The Tenby Observer on Thursday, Mrs Webb said the canteen had been closed on Monday and Tuesday of this week and that students in her daughter's year had staged their own protest by boycotting the newly re-opened food hall on Wednesday.
"It will be interesting to see what the food will be like when they go back to try it today," said Mrs Webb.
" We were all shocked and angry when we saw the food that was being served up.
"For some children this is their only hot meal of the day and if my daughter, who is quite small and doesn't eat a huge amount, is having to spend money on snacks during the day and is still coming home hungry, I can't imagine how others are faring."
"We are paying for this food and anyone looking at the pictures can see how awful it is," she added.
"It will be interesting to see if there is any improvement this week, but I think it's going to take a while for things to get much better,
"It's awful that although the children have been complaining, no action was taken until this went on social media - and now people from all over the world have seen the story - I even had someone from Australia say they'd seen the pictures and agreed that the food looked awful," she said.
Comments
To leave a comment you need to create an account. |
All comments 0