Tenby pharmacy holds asthma clinics to raise awareness of proper inhaler techniques
Wednesday 11th May 2016 8:32 am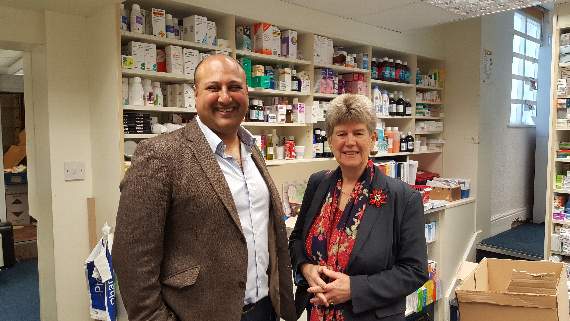 Dr. Mo Nazemi with Jane Hutt.
()
Subscribe newsletter
Subscribe to our email and get updates right in your inbox.
The Evans Pharmacy group is launching a series of in-house support clinics to offer asthma suffers advice and guidance on proper inhaler technique.
The former minister for Health & Social Services, Jane Hutt AM, has shown her support for the campaign aimed at reducing asthma attacks and hospital admissions.
Pharmacies in Tenby that will be offering the service as part of the asthma awareness month are the Seafront Pharmacy on High Street and the Glen Pharmacy on Gas Lane, The Norton. Anyone suffering from asthma can simply drop into the clinics during opening hours and be tested for proper inhaler use.
In a recent report, the British Thoracic Society, in partnership with Asthma UK, stated that proper inhaler technique was a critical step in asthma care, with research suggesting that using an inhaler correctly can radically improve treatment, reducing attacks and hospital admissions.
Director of Evans Pharmacy, Dr. Mo Nazemi, said: "Proper inhaler technique is far too often overlooked, but it can be the difference between a mild and a severe attack. During an asthma attack the muscles surrounding the airways tighten, making it difficult to breath. Inhalers work by releasing a short acting beta2-agonist, relaxing the muscles surrounding the narrowed airway, allowing them to open wider. However, if the inhaler is not correctly applied, the full relaxing effect cannot be achieved."
Evans Pharmacy, which has 10 locations across south and west Wales, is hosting the clinics as part of an asthma awareness month, to raise awareness of the dangers of poor inhaler technique.
Dr. Nazemi continued: "When you look at access to asthma support services, a recent report released by Asthma UK in 2014 found that 86 per cent of sufferers in Wales did not feel they were able to access appropriate care, that's the joint worst results in the UK.
"We are looking to address this by holding an open door policy this month. Anyone wishing to get training in proper inhaler technique, along with a discussion of what triggers their attacks can simply pop along to one of nominated pharmacies across South and West Wales and get the help they need."
The minister for Finance and Government Business, Jane Hutt, attended one the pharmacies and discussed the issue with staff members.
"I am delighted that Evans Pharmacy is taking the initiative by offering customers advice on asthma, and I look forward to seeing it implemented in the near future," she remarked.
For more information, please visit evanspharmacy.wales/, call 029 2075 4518. Follow @PharmacyEvans on Twitter, and find Evans Pharmacy on Facebook.
Comments
To leave a comment you need to create an account. |
All comments 0