Discussions going 'round in circles' over Tenby school traffic chaos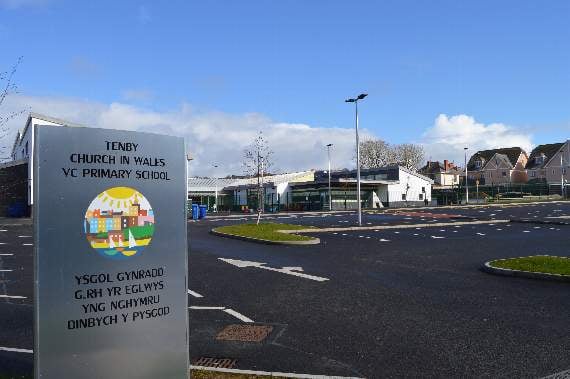 Traffic congestion problems around Tenby's schools continues to be discussed
()
Subscribe newsletter
Subscribe to our email and get updates right in your inbox.
The Mayor of Tenby has proposed the town council meet with school governors, head teachers and representatives from Pembrokeshire County Council to try and thrash out a solution to traffic congestion problems around an area of the town that houses three schools, as councillors admitted this week that they are going 'round in circles' in trying to find a solution.
Concerns over dangerous parking in and around Tudor Way and its junction with Heywood Lane, near Serpentine Road, during the mornings and afternoons, when children are being dropped-off or collected from schools, have been discussed by the town council in recent times, culminating in a recent site visit by PCC's senior traffic engineer, Ben Blake, who admitted that there was 'no easy answer' to the problems.
A letter from a resident of the Heywood Lane area came before town councillors at their meeting on Tuesday night, re-emphasising the issues, stating that if a solution to the 'significant problem' is not achieved soon, then there is the possibility of a serious traffic related incident outside the schools.
"It is surprising that Pembrokeshire County Council is so slow in dealing with the matter and that the parking need was not picked up at the design stage for the new Tenby VC School and the re-branding of the adjacent school to Hafan-y-Mor," they wrote.
"Similarly, the National Park in giving permission for the school changes must be criticised for not ensuring traffic matters were adequately addressed - although presumably they would have relied on advice and guidance from the traffic management section of Pembrokeshire County Council in reaching a decision," added the letter.
A suggestion by Clr. Paul Rapi at the town council's previous discussions on the matter to stagger school finishing times, so that there would be a gap of say 15 minutes between the primary and junior facilities, was addressed by PCC's senior traffic engineer in correspondence.
"One point I would raise is that on the day of our site visit I parked in the school car park at 2.30 pm, at which time parents were either already parked or arriving. This was at least 20-30 minutes prior the school end time, so it was evident then that parents were choosing to arrive early so as to guarantee a parking space and avoid having to park illegally or distant from the school," wrote Mr. Blake.
"Granted the weather was particularly bad that day, which may have been a factor, but even so, I am not sure whether staggering the finish times by 15 minutes is going to have the desired impact, with parents of both schools likely to continue to arrive early.
"Another factor to consider is that traffic congestion within the car park and Heywood Lane is likely to increase with parents of Hafan y Mor leaving at the same time parents of pupils attending the Church in Wales school are arriving.
"If anything, the staggered times would need to be increased significantly to allow the car park to empty in time for the arrival of the next lot of parents.
"In view of the above, I am not totally convinced that this proposal will alleviate the traffic issues currently experienced at this site, and if anything, could potentially make matters worse.
"I think you would agree that to implement the changes to then find that they do not work would be counterproductive," he added.
Clr. Rapi told his colleagues that he was a little 'disappointed' that Mr. Blake had rejected the suggestions.
"This has not resolved anything, and we are in exactly the same position as we were two weeks ago. Perhaps we need to write back to Mr. Blake to see if he has any constructive suggestions to resolve the issues," he remarked, with Clr. Mrs. Tracey Evans agreeing.
"We are going round in circles, and the issues are getting worse on a daily basis," she said.
"I don't know what the answer is, but I don't want to be coming in here one day and discussing a serious accident outside the schools."
Clr. Mike Evans told members that he felt that a number of suggestions previously touted by Mr. Blake could be trialled, including - making the lay-by outside the school time limited, so that staff don't park there all day; making bays within the car park time limited too during school times; and making sure that civil enforcement officers hold more regular patrols in the area, to help educate and work with parents on inconsiderate parking matters.
"Sometimes certain parking hot spots need a little bit of enforcement," he said.
"I do have a bit of sympathy with parents as it must be difficult to get children aged three to four into school, and we have a responsibility to make sure that they arrive safely, but I also acknowledge that this traffic and parking issue must be a nightmare for residents from the likes of Tudor Way and St. David's Close," added Clr. Evans.
Councillors suggested that parking spaces could be opened up at the nearby rugby club and Greenhill School for staff to help alleviate the matter, with also the suggestion that Heywood Lane be made a no go zone for other motorists during school drop-off and pick-up times, with restricted access.
"This all needs to be discussed with the schools - governors and heads - so that the matter can be resolved amicably as opposed to aggressively," continued Clr. Rapi.
Mayor, Clr. Tony Brown called for a meeting with the school governors, heads and representatives from PCC to find a solution.
"The head teachers see this on a daily basis, so a meeting between all parties might be a way forward to see if any of these ideas are feasible," he added.
Comments
To leave a comment you need to create an account. |
All comments 0