Councillors want more police presence on Tenby's streets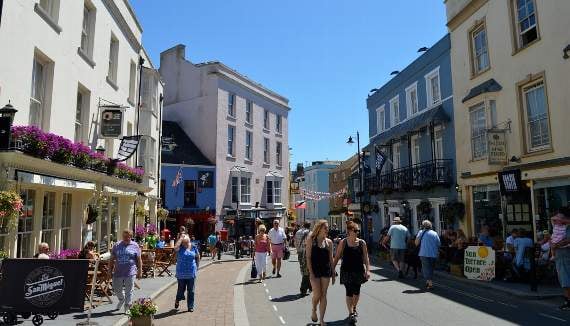 Tenby's Tudor Square during the summer 'cafe culture' pedestrianisation period
()
Subscribe newsletter
Subscribe to our email and get updates right in your inbox.
Drunken fights breaking out onto streets in front of families, and out of control women wearing toilet seats on their heads are two of the sights that Tenby councillors feel warrant more of a police presence in the town during busy periods.
At Tuesday night's meeting of the town council, members met with the police authority's Acting Inspector for Tenby Michael Llewellyn to discuss matters in the town, particularly highlighting the need for more police presence on the streets of the resort during weekends that feature high profile events that attract pub-goers.
Clr. Paul Rapi pointed out that with the Six Nations rugby tournament just around the corner, he wondered if there were any extra policing plans for towns such as Tenby during this high profile sporting event that attracted a number of people to the town's bars and pubs during all times of the day.
"During the Six Nations it can be a bit hair-raising the influx of people we see in Tenby, mainly to watch the matches in the pubs, and quite often this leads to drunken behaviour on the streets, which leads to fights. So will there be any extra police in town for such occasions?" Clr. Rapi asked.
Clr. Matthew Ronowitz said that Tenby had become so busy for the Six Nations that his restaurant in Tudor Square was now seeing record days of trade over the February and March period when the tournament takes place - even more so than some busy weekends in the summer.
The Deputy Mayor, Clr. Mrs. Christine Brown, also felt it would be worthwhile if the Transport Police monitored the train station during this weekend, as they did over the summer in Tenby.
"Nothing is planned for the Six Nations weekends in particular like Operation Lion for the summer, but those weekends are blocked off so that no other officers can take time off, so the staffing levels of police are pretty good, but there are aspects we can certainly look at if there are events that are planned in the town where you expect a high number of visitors, and wish to give us as a force a head's up as such," explained Insp Llewellyn.
Clr. Rapi said that he was still concerned that there was not enough police presence in the day time in Tenby during the summer, when quite often there were people outside of bars and restaurants enjoying the 'cafe culture' vibe during the pedestrianisation period, displaying drunken behaviour whilst the streets of the resort were still full of families.
"There were a number of incidents last summer, sometimes occurring between around 5 and 7 pm, when there are parents pushing prams around still.
"This all seems to be a result of the fact that more people are now taking their glasses outside of premises and drinking on the streets as a result of the cafe culture.
"There has been a number of serious incidents on St. George Street, with fights breaking out.
"What is exactly to blame? Is it a case of people who have already had too much to drink being fed more drinks in pubs?" continued Clr. Rapi.
"I've watched people walk into a pub already inebriated and still get served more alcohol.
"I personally probably feel that there is not enough police presence in the town of a daytime or evening during busy periods. Sometimes it feels like you're left to make a phone call to report something, and by the time an officer arrives, the incident has passed!
"There was one matter where a group of women were walking around the town drunk and out of control heading into Tudor Square, one of them with a lavatory seat on her head, at 3 pm on a Sunday afternoon - which is not very family-friendly!" he remarked.
Clr. Ronowitz agreed that business owners in the town needed to take more responsibility and not serve anyone who was already intoxicated.
Insp Llewellyn told councillors that he felt that the door staff in Tenby did a good job in communicating any matters of concern to each licensed premises and to police.
"In fairness, Tenby is very patrolled with door staff in comparison to some other towns, but if anyone has instances of licensees not being responsible, then they should report them," he said.
Deputy Mayor, Clr. Mrs. Christine Brown said it was difficult to lay all the blame with licensees as people could obtain alcohol from anywhere these days, at any time.
"You can't just blame the pubs, the opening hours of supermarkets and licensed stores are ridiculous. You can get them out of the pub, but they can just go into a shop and still be served alcohol up until 11 pm!" she stated.
Clr. Laurence Blackhall said that the key issue was resources, and agreed that more of a physical police presence was needed on the streets of Tenby during busy periods.
"This is a headache that won't go away!" agreed Clr. Mrs. Tish Rossiter.
Comments
To leave a comment you need to create an account. |
All comments 0