The finalists for the 2023 Sport Pembrokeshire awards have been announced.
The judging panel considered the 296 nominations and has named 39 finalists following a selection meeting.
Matt Freeman, manager of Sport Pembrokeshire, said: "Once again, the quality of the nominees was enormously high and it was a challenge to narrow it down to three finalists in each category.
"We are pleased that people took the time to nominate so many deserving winners."
All 39 finalists will be invited to a grand presentation ceremony at Folly Farm on Friday, November 24, where the winners will be announced.
The ceremony will also reveal the winners of two further categories - the Lifetime Achievement Award and the Chairman's Special Achievement Award.
The awards are organised by Sport Pembrokeshire, Pembrokeshire County Council's sport development team.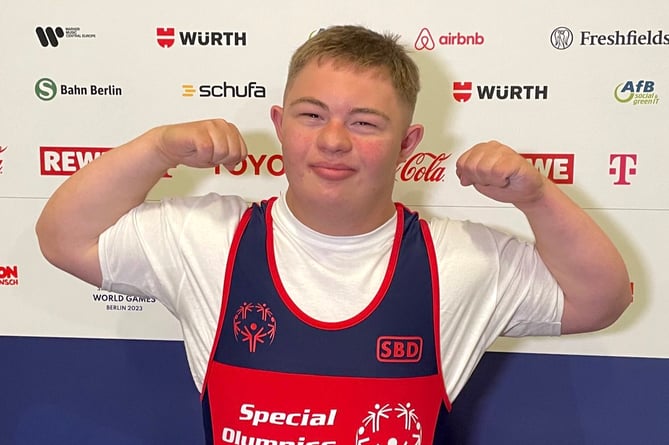 Weighlifting Gold medalist Bleddyn Gibbs has been nominated
(Pic supplied)
The awards aim to recognise those people who have excelled in sport over the last 12 months, or who have given their time to coaching and organising grass roots sport.
Sport Pembrokeshire Awards 2023 - Finalists are as follows...
Coach of the Year - Sam Feneck (Crossfit); Daisy Griffiths (Gymnastics); Mikey Newman (Parkour).
Female Sporting Achievement - Katie Dickinson (Bowls); Gracie Griffiths (Race Walking); Seren Thorne (Shooting).
Male Sporting Achievement - Micky Beckett (Sailing); Jeremy Cross (Tennis); Moritz Neumann (Crossfit).
Boys (U16) Sporting Achievement - Finley Bruce (Running); Reuben Lerwill (Gymnastics); Ramon Rees-Siso (Football).
Girls (U16) Sporting Achievement - Josie Hawke (Surfing); Chloe John-Driscoll (Shooting); Nina Marsh (Sailing).
Disability Sport Award - Bleddyn Gibbs (Weightlifting); Michael Jenkins (Discus); Jules King (Crossfit).
Junior (U16) Disability Sport Award - Lewis Crawford (Boccia); Saskia Webb (Swimming); Ioan Williams (Boccia).
Unsung Hero - Dave Astins (Triathlon); Piers Beckett (Sailing); Sam Rossiter (Cricket).
Team Achievement of the Year - Haverfordwest County AFC; Haverfordwest Ladies Rugby; Llangwm RFC Youth.
Junior (U16) Team Achievement of the Year - Pembrokeshire Schools Football U14s; South Pembs Sharks U14s; Ysgol Penrhyn Dewi Tennis Team.
Young Volunteer of the Year - Elizabeth Clissold (Swimming); Ellie Phillips (Swimming); Lukas Tyrrell (Sailing).
Club Organiser - Rachel Grieve (Rugby); Stefan Jenkins (Cricket); Huw Jones (Golf).
Club of the Year - Haverfordwest Tennis Club; Pembroke Cricket Club; Tavernspite Short Mat Bowls Club.