Midsummer madness at mixed golf competition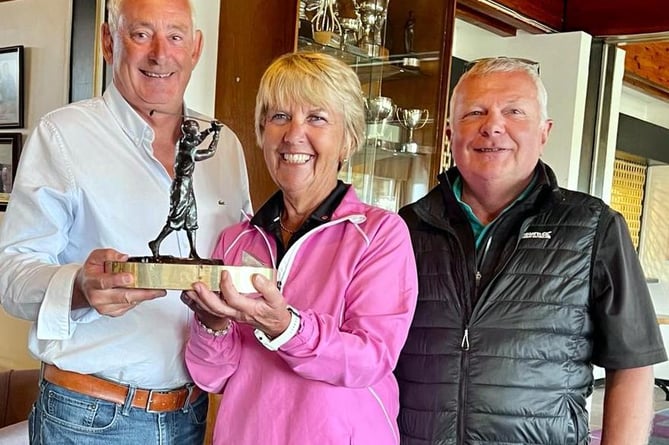 Pictured are Roger Schooling and Gill John with President Idwal David.
(Pic supplied )
Subscribe newsletter
Subscribe to our email and get updates right in your inbox.
Only in Britain can we have burning sunshine one day and gales with rain the next!
The Sam Ackermann Trophy is a mixed competition held every year nearest to the longest day.
Usually it is played in sunshine with blue skies lasting until the last group is in.
But on the day the rains came with strong winds blowing in off the sea. The worst conditions for golf. But the course was not closed so the competition went ahead.
Eight couples had signed up for the draw for partners, but sadly one gentleman forgot he was playing which left one lady with no partner. A big thank you to Irene Gilman who went out anyway to mark her opponents' card, despite the weather.
There was one two today, with a sleeve of balls going to both players. It was on the 6th and went to Gill John and Roger Schooling. The Mixed Committee also decided to give a sleeve of balls to Irene for braving the awful weather.
Winning their entry fees back were Sarah Waring and Grant Watkins, Heather Morgan and John Ball, Diane Gough and Neil Evans and Diana Dredge and David Morgan.
Many found the conditions almost unplayable as the wind whisked high balls in to the rough, never to be seen again! However, two pairs proved that the weather is no hinderance to good golfers (it did help that the lady who won plays her shots low so under the wind!).
Just missing out on the prizes were Sarah Waring and Grant Watkins, but in third place were Fair Ball and our President, Idwal David, with 29 points. Second place went eventually (once we found their card!) to John Gilman and Trevayne Keohane.
But this year's winners of the Sam Ackermann Trophy went to Gill John and Roger Schooling with 39 points. Congratulations to them both.
Sam started the Friendly Fours on a Friday night in the 1970's and our next one is today (Friday) so please enter on the sheet on the back wall. We play 14 holes then come in for a meal.
It is draw for partners again so if you fancy trying your hand at mixed golf please sign up. The men play off the yellow box and the format is greensomes.
The next trophy competition is the Usher Cup on July 17 and that can be entered via the Pro Shop from this Sunday, or on BRS from Friday, July 8.
Comments
To leave a comment you need to create an account. |
All comments 0