Tenby United came from behind on Saturday to secure a hard fought draw against Milford United at the Clicketts ground.
The Seasiders fell behind in the 16th minute to a Liam Parks strike from the visitors, but shortly after half-time the hosts levelled as Scott Ferney set-up fellow striker Adam Muskett.
Elsewhere in Manderwood Pembrokeshire Football League Division 1, top of the table Goodwick United visited second place Hakin United, with the match finishing in a thrilling 4-4 draw.
Hosts Hakin took an early lead as Leon Luby set-up Shane Walsh, but the visitors hit back as Will Haworth levelled the scores.
Goodwick then raced into a 1-3 lead with strikes from Rhys Dalling and Haworth, but Hakin staged a thrilling comeback before the break with Walsh grabbing his second and Ben Aldred equalising from the spot.
Red cards for Hakin's Alfie Stotter and Goodwick's Dalling however saw both sides down to ten men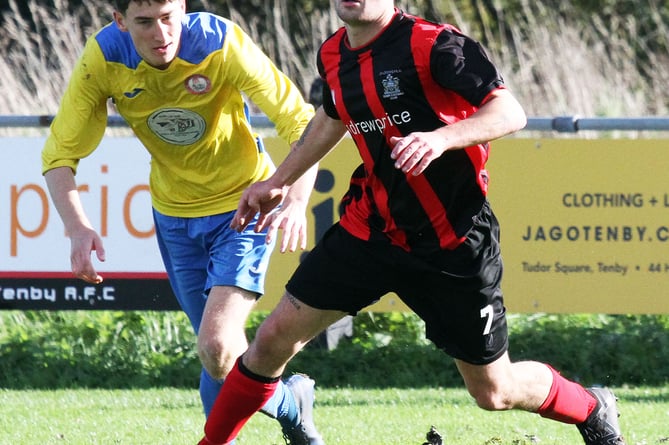 Action from the Tenby v Milford match
(Pic. Susan McKehon)
Matters got worse soon after the break for the visitors with centre back James Dean sent off for hand ball and Aldred stepping up for Hakin to convert the spot kick, to briefly put his side top of the league.
However, with only a couple of minuted left, sub Nathan Greene scored with a bullet header to ensure his side ended up with a share of the points.
Kilgetty lost at home to Pennar Robins 0-2. The visitors' keeper Rory Williams put in a superb performance making save after save including a penalty to keep the scoreline at 0-1, after continuous pressure from the home side's forwards.
Monkton Swifts beat Carew 2-0 thanks to goals from Jamie Wilkes and Ben Steele; Merlins Bridge hammered Neyland 9-0 with both Will Evans and Alex Thomas helping themselves to hat-tricks. Fishguard Sports went down at home to Clarbeston Road 1-3.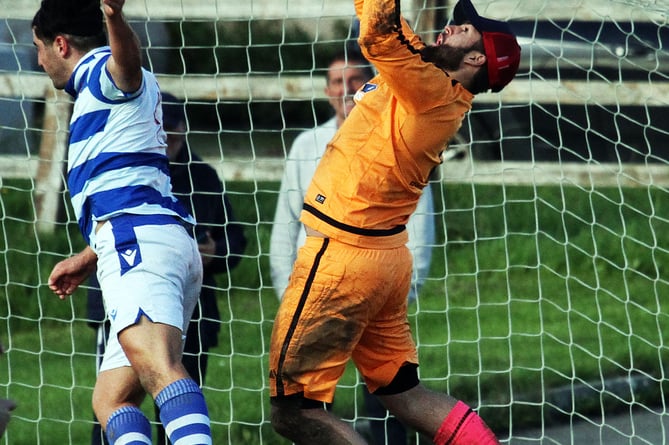 Some superb saves from the Pennar keeper Rory Williams vs Kilgetty kept the scoreline at 2-0 for the visitors
(Pic. Susan McKehon)
In Division Two, Herbrandston and Narberth played out a 2-2 draw; whilst St Clears went down 2-4 to leaders Monkton Swifts Seconds with Will Davis bagging a hat-trick.
New Hedges/Saundersfoot United treated home supporters to a brilliant performance against Monkton Swifts Thirds and headed top of Division Four in the process on goal difference.
The hosts took the lead in the first half via a quick strike from Vlad Vertyporokh, catching the keeper off guard.
Jack Franklin then smashed home a low free kick to put the his side in control, before Morgan Broomhall added a third before half time.
Shortly after the break NHS Utd extended the lead to four through Vitalii Vertyporokh who reacted sharply to a fine header rebounding off the bar.
Monkton didn't give up and their continued pressing pinched the ball in midfield and they were able to slip their striker through for a smart finish. However, the hosts were in no mood to leave the door open for a comeback, with Tom Mansbridge making it 5, following systematic NHSU pressing to win the ball back!