Whitland sculptor exhibits in Swansea
Thursday 18th May 2006 10:00 pm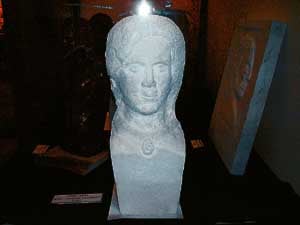 Subscribe newsletter
Subscribe to our email and get updates right in your inbox.
A Whitland sculptor currently has an exhibition at the old Museum in Swansea.
The exhibits by Robert Innes are all hand-carved in limestone, wood and Carrara marble. Robert hopes to bring a new truth to sculpture with hand carving. The sculptures are a mixture of recent work, and work that he has done in previous years. Among the pieces is 'The Swansea Madonna', carved especially for the exhibition.
"This piece was inspired by a dream," said Robert. "The image of a Madonna with daffodils came to me in a dream and I scribbled down the image on a piece of paper when I awoke. I later transferred and eloborated this message I had been given on to a piece of beautiful Carmarthenshire sycamore, which was seven feet tall."
Another sculpture is of Gwen John, which was hand-carved in Jurrassic limestone. Robert used Gwen's self-portraits in oils to produce this piece. 'Caged Heart' is an expressive piece in which a carved heart is trapped within stone with bars in front of it. An artery leads from the heart around to the other side to a carved inscription, 'I know why the caged bird sings'.
A lifesize bust of Dylan Thomas in limestone is the first done of the poet in this material and Robert has tried to portray Dylan in his late 30s, near the end of his life.
Added Robert: "I am partly Italian and trained in the mountains of central Italy. I have completed commissions for churches and universities, most notably a bust of the Scottish poet laureate, Edwin Morgan, in which he wrote a poem about me and the piece called 'The Wood', published by Faber and Faber.
Swansea Museum is open everyday, except Monday, and the exhibition runs until the end of the month.