The Strange Edge of Reality: Paintings by Ceri Pritchard, 2012-16
Wednesday 3rd August 2016 6:37 pm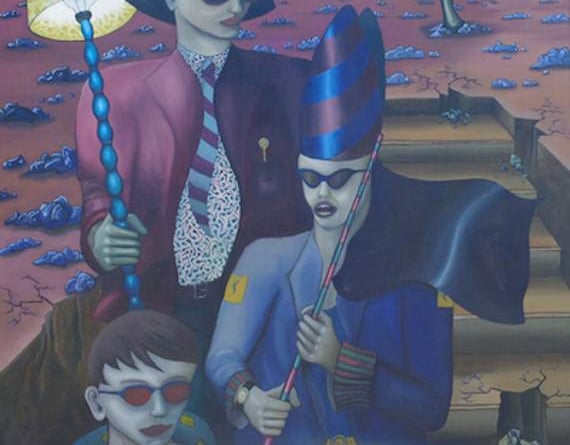 Subscribe newsletter
Subscribe to our email and get updates right in your inbox.
Tomorrow (Saturday), Ceri Pritchard's exhibition The Strange Edge of Reality: Paintings 2012-2016 will be opened at Tenby Museum and Art Gallery by Dr. Harry Heuser, of Aberystwyth University.
Ceri is the son of two of Wales' foremost painters, Claudia Williams and Gwilym Prichard, both of whom are represented by works in Tenby Museum's permanent collection. His unique style blends the surreal and the visionary, the abstract and the figurative, the psychological and the sociological. He believes that for him 'the challenge of creativity is always rewarded by the element of the unexpected.'
As he writes: "I have always been interested in consciousness in its various forms. When I paint, I try to achieve a feeling of some other world, some other type of existence. I endeavour to make paintings that change one's visual perception, to elicit a sense of wonder and anxiety at the same time."
Ceri brings together human and animal forms. Other worldly figures stand in stark contrast to mundane household objects. In juxtaposing the familiar with the out of the ordinary, he creates surreal and unsettling deviations from the world we know.
As writer and artist Neal Brown puts it: "Ceri Pritchard's paintings are fascinating, not least for their extremity. They are resolute in their classically fantastical, surrealist conviction, and this can be a lonely position in the context of contemporary art […] His sense of this surrealist purpose, combined with a diligent work ethic, makes him a total example of painterly conviction."
Ceri was born in North Wales in 1954 and studied sculpture at Liverpool School of Art. After he received a BA in fine arts, he enrolled at Saint Martin's School of Art. Ceri moved to France in 1980 where his work changed from the three-dimensional to the two-dimensional. Collage and photocopies were the starting point for his life as a painter. He debuted his new work at the Jon Gerstad Gallery in New York in 1986. Back in France, he produced a series of experimental videos before moving to Mexico.
'My work reflects a constant changing life,' he observes, 'each country and place leaves an indelible mark, and a continually accumulating wealth of new and diverse influences and experiences.'
Ceri views his 2015 homecoming as the completion of a circle.
He believes: "Returning to Wales has made me very much aware of the cyclic aspect of life. I have always been aware of art as a 'spiritual barometer'. In many ways I feel the same here as I did in Mexico. My inner world is the same. What changes is the feeling of being 'home' again and not a stranger in a foreign land."
This, Ceri's first exhibition at Tenby Museum, provides us the opportunity to welcome back to his homeland an exceptional artistic talent.
The exhibition runs until September 18. For further information, please contact the museum on (01834) 842809 or email [email protected].
Visit Ceri Pritchard's website at ceripritchardart.wordpress.com
Comments
To leave a comment you need to create an account. |
All comments 0