Tenby's North Beach set to lose its Blue Flag status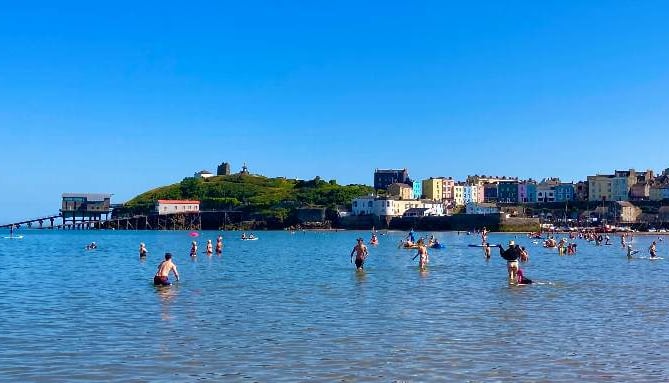 Tenby's North Beach is set to lose its Blue Flag status after an assessment by Natural Resources Wales (Observer pic)
()
Subscribe newsletter
Subscribe to our email and get updates right in your inbox.
Tenby's North Beach is set to lose its Blue Flag status after the standard of the bathing water dropped down from being rated as 'Excellent' to 'Good' after an assessment for 2021 by Natural Resources Wales showed that visible pollution was found in the sea from sewage.
A report revealed this week, that beaches across Wales have achieved 100 per cent compliance with high quality bathing water standards for the fourth consecutive year.
Of the 105 bathing waters sampled by Natural Resources Wales (NRW), 85 achieved the highest classification of 'excellent', 14 'good' and six 'sufficient' ensuring that Wales' coastlines continue to meet some of the most stringent water quality standards in Europe.
A classification of 'excellent' water quality is one of the main requirements for applying for a Blue Flag award. There are also fears that Tenby's South Beach may also lose its 'excellent' rating as well next year, and with it the Blue Flag award.
In the published report by NRW, the organisation stated: "Natural Resources Wales continues to work with Pembrokeshire County Council to identify any sources of pollution.
"NRW samplers make visual observations of the beach at every visit. This includes assessments of sewage debris, animal faeces, litter and oil or tar.
"At Tenby North, data are available for the four year assessment period from 2017-2020. Sewage debris was observed in trace amounts on less than ten per cent of occasions. Animal faeces was not noted at this site.
"Trace amounts of litter were observed at the bathing water between twenty and thirty percent of occasions. Oil and tarry residues were not noted at this site.
"Heavy rain falling on pavements and roads often flows into surface water drains or highway drains, ending up in local rivers and, ultimately, the sea. The quality of bathing water may be adversely affected as a result of such events.
"NRW has developed a good working relationship with Dŵr Cymru Welsh Water and liaises regularly to identify problems that could affect bathing water quality.
"Tenby's sewage effluent is pumped to the relatively new Tenby Wastewater Treatment Works at Gumfreston, where it is biologically treated and disinfected with ultra-violet light, to protect the bathing water quality at Tenby beaches. This tertiary treated sewage is then discharged via, a long sea outfall.
"Within the Tenby catchment there are a number of storm, emergency and surface water outfalls, that discharge around the town. These protect domestic properties in Tenby from being flooded by sewage during periods of heavy rainfall.
"The main pumping stations are in Tenby Harbour and at the Salterns. The Harbour Pumping Station has recently been upgraded to improve performance. A project known as Event Duration Monitoring (EDM) is underway to install telemetry on Combined Sewer Overflows (CSOs) within 2km of a bathing water by 2020 so that Dŵr Cymru Welsh Water (DCWW) know when the CSOs are operating and can work to reduce spills. One CSO near Tenby North is included in the project."
Tenby county councillor for the North Ward, Clr. Michael Williams said that matter needed urgently addressing.
"What has been allowed to happen is an absolute disgrace, and could do huge damage to our tourist industry unless urgently addressed," he remarked."The Ritec I am told is now utterly devoid of life due to frequent overflows. I despair of this company and they should be hauled before the courts.
"We had huge battles with them a few years ago and succeeded in forcing them to install UV treatment in the new Gumfreston works, and it appears that if you take your eyes off them they once again fail us."A spokesperson from Pembrokeshire County Council told the Observer: "The assessment of water quality is undertaken on a rolling basis over four years. At Tenby North, a higher than usual result from 2019 combined with three instances in 2021 where the results were below the 'excellent' threshold have resulted in the change in status.
"The result for Tenby North has changed from 'excellent' to 'good'. It's important to note that the water bathing quality is still good and the change in status does not signify that there is poor water quality.
"Local agencies including Pembrokeshire County Council, Natural Resources Wales and Welsh Water, are working together to investigate potential causes.
"Pembrokeshire has excellent bathing water at beaches all over the county, with 27 of 29 beaches meeting the 'excellent' bathing water rating.
"The county's beaches account for a third of those with an excellent bathing water rating in Wales. One beach where water quality has improved from good to excellent is Newport.
"As an authority, Pembrokeshire County Council is very proud to have the most Blue Flag beaches in Wales and this is testament to the fantastic water quality that we have.
"The authority is also keen to monitor and safeguard bathing water quality away from Blue Flag beaches and launched a new project this summer linking up with community councils and local groups to record the quality of bathing water in other locations and share that information with the local community," they added.
Comments
To leave a comment you need to create an account. |
All comments 0