It was a first for Tenby, but it won't be the last - the Tenby Observer Kindness in the Community Awards were an opportunity to give back to the people who are always giving.
Introduced by Paul Higman, Sales Director, Tindle Newspapers Wales and Borders Ltd, organiser Carolyn Cox said there is a whole list of people she would like to thank, but especially mentioned Dave from the De Valence Trust for being "absolutely amazing" and Sallyanne Fecci for coming to the rescue with cable ties!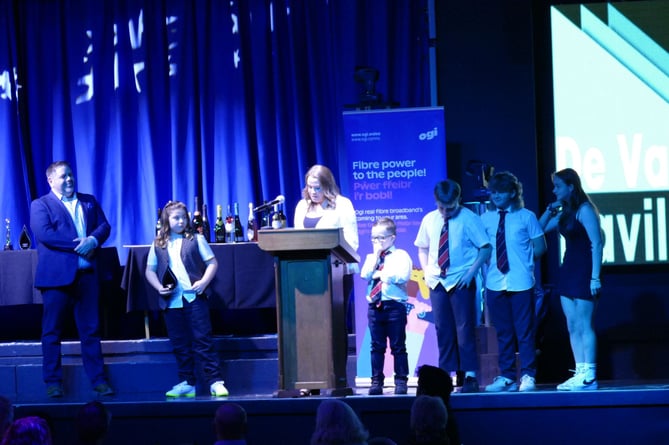 He teaches his young relatives to be kind, polite and respectful despite his own worries and strives to be their role model: Young hero Samuel Fecci is seen second left alongside Tindle Wales & Borders Sales Director Paul Higman, award-presenter Sophie Toy and Tenby Swifts representatives.
(Observer pic)
For the first presentation of the evening, Sophie Toy from Tenby Swifts announced the winner of the Molson Coors sponsored Young Hero Award: Samuel Fecci, a graceful young carer who always has time for helping others. When he heard about a 'Buddy Bench' scheme in school, he secured funding for two benches within the day.
Young Hero Award winner Samuel Fecci
(Observer pic)
The Community Hero accolade was awarded to Ian and Rebecca Rees, of the Old Chapel, Lower Frog Street. Rebecca's work in the community is amazing, fundraising for many charities, giving food, visiting the sick, going above and beyond to help others. Rebecca and Ian have created a warm welcome with their community café at the Old Chapel. Dave Goulding from PATCH accepted the award from Avril Morgan and Michelle Bradfield from Celtic Holidays.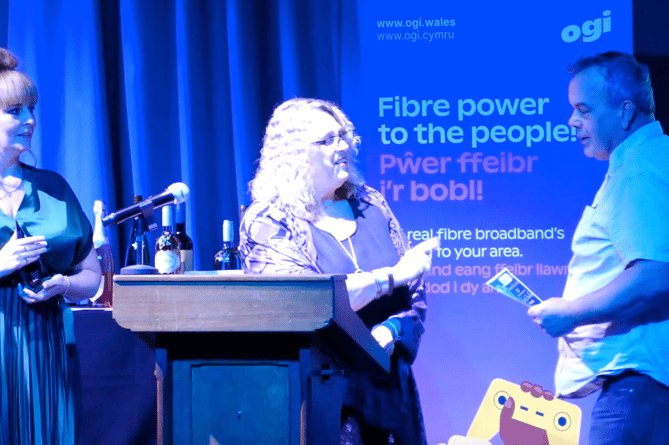 Dave Goulding from PATCH accepting the Community Award on behalf of Tenby Old Chapel's Ian and Rebecca Rees from Avril Morgan and Michelle Bradfield, Celtic Holidays
(Dave Goulding from PATCH accepting the Community Award on behalf of Tenby Old Chapel's Ian and Rebecca Rees from Avril Morgan and Michelle Bradfield, Celtic Holidays)
Good Neighbours Peter Beynon and David Bailey run a guest house, which is a full time job, said Jonathan Marsden of Bethel Chapel, Pembroke Dock, but they are also happy to take deliveries for neighbours and are known for their 'legendary' fresh Welsh cakes. In fact, Peter saved the life of one of his neighbours when he was delivering a freshly made Welsh cake and noticed the smell of gas. "It's a reminder for all of us to be good neighbours, not just to the folks who live on either side of your house, but to everyone you know who has some part in your life," added Jonathan.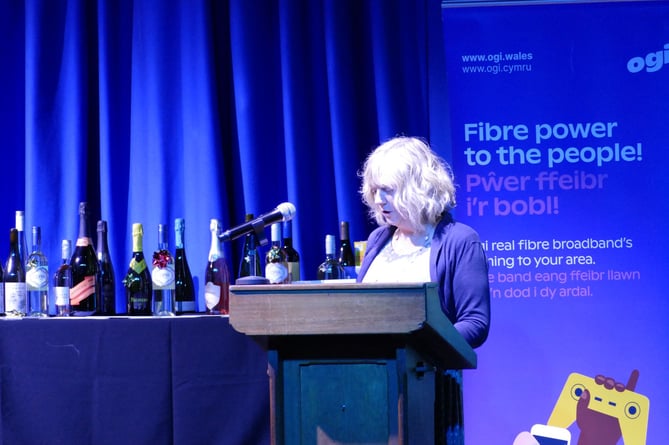 Carol Lincoln, speaking on behalf of the Harriet Davis Trust
(Observer pic)
Then it was time to hear from three local charities: Carol Lincoln from the Harriet Davis Trust - providing holidays for families with disabled children; Jan and Jayne from the Greenacres Animal Rescue shop in Narberth, and the Paul Sartori Hospice at Home Foundation.
Speaking on behalf of Paul Sartori, trustee Phil Thompson MBE said the hospice is the only organisation that looks after people with terminal illness in their own home. The charity currently averages 50 to 55 patients a week and supplies equipment as well as nursing care and bereavement counselling. He praised the charity's many volunteers and added that his own research reveals Pembrokeshire as the second-largest giver to charity in the UK.
A really tasty buffet was laid out by Fuchsia Catering as those gathered took time to mingle and chat.
Introducing the second half, the Tenby Observer's Regional Editor, Mick O'Reilly, said that the statistic mentioned by Mr Thompson - that the people of Pembrokeshire are the second most generous per capita in the UK - "certainly hits home, and long may it continue."
"We are all aware of how difficult things are," he added. "So the fact that people are willing to give and help others says an awful lot about the people of Tenby and the people of Pembrokeshire."
Thanking the event's sponsors, Mr O'Reilly also praised the local community for providing the 170-year-old Tenby Observer with "all the good news stories."
There were two Blue Light Award winners, dedicated paramedic Jessica Ryder from Sageston and Tenby RNLI volunteer and first responder Ben James. Caroline Wheeler presented both awards on behalf of sponsor Bevan Buckland.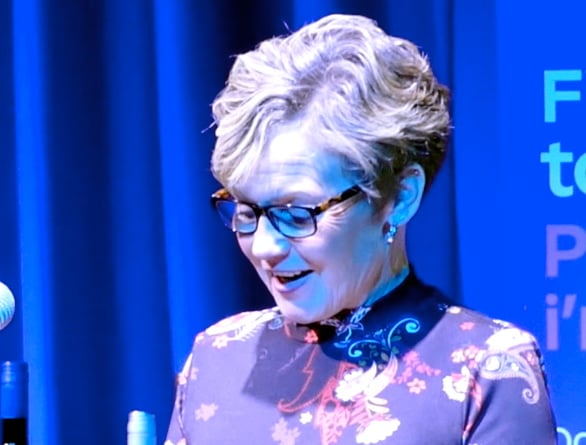 Cllr Sam Skyrme-Blackhall
(Observer pic)
Cllr Sam Skyrme-Blackhall announced the Millbay Homes Community Volunteer Award, which went to Lorna Bond who runs Bespoke, a group in Pembroke helping people with mobility issues like her own not to feel isolated.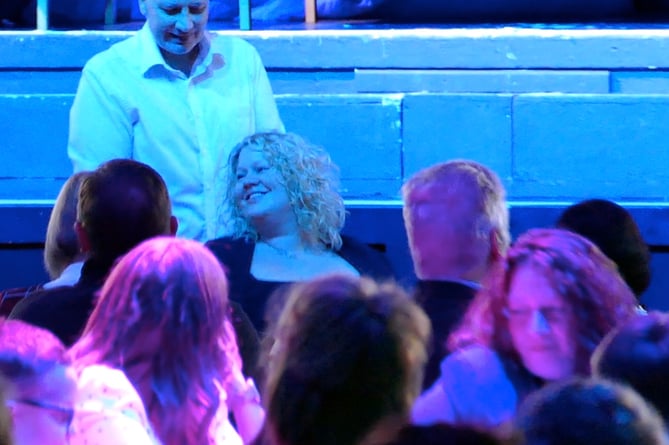 'Bespoke' founder Lorna Bond: "a wonderful, inspirational lady."
(Observer pic)
To a welcome of 'Ogi Ogi Ogi', the leading Welsh ultrafast broadband company's Martin Jones paid tribute to Carolyn before presenting the Eco Warrior award to Anne Draper. Amongst many other community achievements she has helped make Tenby a fair-trade, plastic-free community as well as finding volunteers to help improve and maintain green spaces and helping to establish a community fridge at the Old Chapel.
Four more charity representatives then described what they do: Hannah Beer from Sandy Bear Children's Bereavement Charity, Dave Goulding from Pembrokeshire Action to Combat Hardship (PATCH), Amanda Evans from Homeless Pembrokeshire, and Marian Cooney Dance from Pembrokeshire Cancer Support Action Group.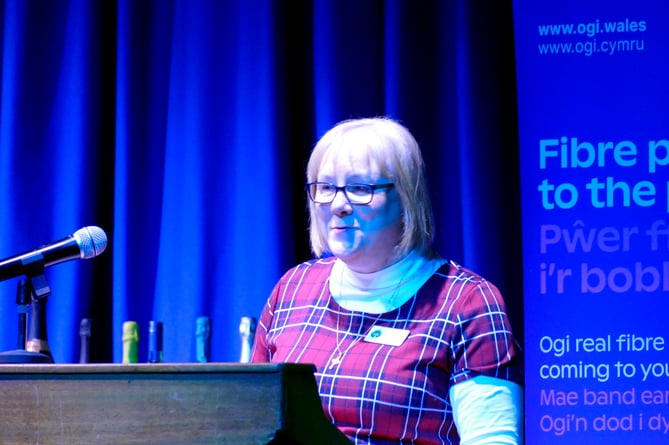 Marian Cooney Dance, of Pembrokeshire Cancer Support Group
(Observer pic)
A raffle was held and the event raised £750 to be shared out between the seven local charities taking part.
To round off the evening, Carolyn was called to the stage to the accompaniment of 'Simply the Best' for editor Mick to present her with a bouquet and say: "This is the first, it will not be the last, and it wouldn't have happened without you. Thank you".
We'll be sharing more stories, pictures and videos from the event throughout the week.