Scouts from Pembrokeshire heading to West Virginia, USA, for an international adventure like no other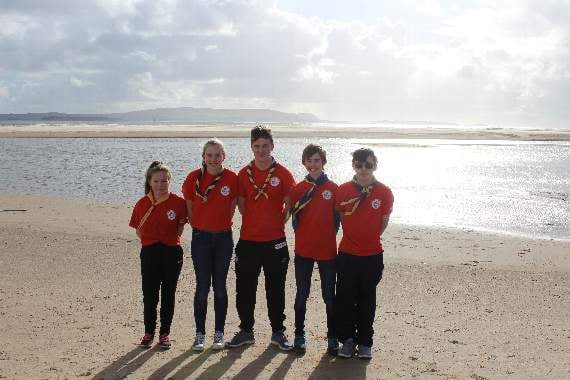 Subscribe newsletter
Subscribe to our email and get updates right in your inbox.
Five Scouts from Pembrokeshire will join 45,000 other Scouts from over 150 countries and territories at the 24th World Scout Jamboree in West Virginia, USA, in 2019. They were recently selected from over 200 applicants from across Wales, to represent the UK at this amazing event. The Scouts selected are; Maisie Booth (1st Pembroke Haven Scout Group), Iestyn Nevatte and Kyle Hardman (Viking Explorer Scout Unit), as well as Rhodri Peters and Hannah Bailey (Preseli Pioneer Explorer Scouts).
Held every four years, participating in a World Scout Jamboree is an opportunity that Scouts get only once in their lifetime. The World Scout Jamboree brings together and celebrates international cultures and the Scouting principle: to create a better world.
The 24th World Scout Jamboree will be hosted by the United States, Canada and Mexico Scouting Associations, and will take place between July 22 and August 2. The event will focus on the cultures of the 'New World' and the theme of the Jamboree is 'Unlock a new world.' Either side of the Jamboree dates, participants will spend a few extra days with hosting Scout Groups around North America and visit one of the major American cities, such as New York or Washington DC.
As there were only a limited number of places available on the Jamboree, youngsters had to first put in a written application and then attend one of several selection events held across Wales. The five Pembrokeshire teenagers were chosen because they demonstrated exceptional creative and team working skills. Our Pembrokeshire youngsters will now form part of a West Wales Unit of 40 people including 36 young people, aged 14-17, and four adult volunteers.
Reflecting on their motivation for applying for a place on the 24th World Scout Jamboree, all five of the Pembrokeshire Scouts said that they decided to apply because they want to gain new experiences, meet new people, learn new skills, discover new cultures and represent Wales.
They said: "We are so excited that we have been selected for the Jamboree and are really looking forward to attending this once in a lifetime event. We cannot wait to experience a different culture and make friends with people from all over the world; friendships that we hope will last a very long time. The Jamboree is going to be an absolutely amazing adventure and we are very grateful for all the support we're getting from our families, our Scout leaders and our home communities who want to give us this opportunity to go to America."
The World Scout Jamboree is not just a three-week camp, but an 18-month journey of personal development, providing all participants will new skills for life. These skills will not only benefit each participant in study and employment, but also their local Scout group and community in Pembrokeshire. The Jamboree leadership will teach their participants independence, teamwork, environmental awareness and an understanding of other cultures through a monthly training programme leading up to the event.
The overall amount that each Pembrokeshire youngster needs to raise for their participation in the Jamboree is £3,500 - not an insignificant amount! Whilst the total cost appears very high for one participant, a significant percentage of this total will be used to support the attendance at the Jamboree of Scouting members from developing countries. This support is called 'Solidarity.'
Since their selection in November, the five Pembrokeshire youngsters have demonstrated their determination and commitment to meeting their fundraising target. Several of them hold down part-time jobs to raise revenue, all have participated in bag packing activities at local supermarkets, some have done sponsored events like the New Year Swim in Saundersfoot and a couple have held a bake sale at their school. In addition, they have already received very generous donations from various organisations, including community and town councils, Rotary Clubs, Round Tables and the Masons. The five Scouts are enthusiastically brimming over with future fundraising ideas which include running a Rock 'n' Roll band night, making and selling craft, volunteering at Ironman 2018, running raffles and coffee mornings and selling items at car boot sales. As each Scout will be fundraising in their own local community, it is hoped that their events will help to bring people together in a fun way that helps with community spirit.
Pembrokeshire Scout's area commissioner Linda Wilson said: "Congratulations to Maisie, Iestyn, Kyle, Rhodri and Hannah for their selection to attend this exciting once-in-a-lifetime opportunity; we are very proud of them. I would like to wish them and other Welsh Scouts heading to America, all the very best over the next 18 months as they become global ambassadors.
"I believe that the experience, confidence, skills and enjoyment that each of our Pembrokeshire Scouts will gain from the Jamboree will broaden and deepen them as individuals. Undoubtedly, they will transfer something of what they have been privileged enough to learn and experience at the Jamboree back into their Scout Groups and local communities."
Comments
To leave a comment you need to create an account. |
All comments 0