'Housing and health services' priorities for Tenby's newly elected county councillor
Sam Skyrme-Blackhall won the seat for her ward with 427 votes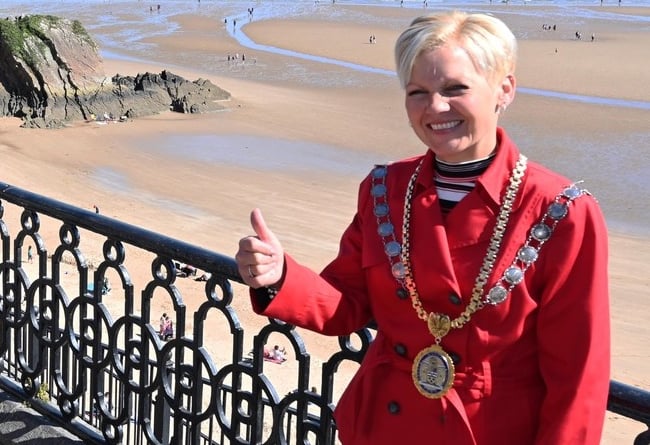 (Pic. Gareth Davies Photography )
Subscribe newsletter
Subscribe to our email and get updates right in your inbox.
Tenby's newly elected county councillor for the town's South Ward, has said that issues effecting the community such as 'housing, parking, health services, accessibility and litter' will be her main focus ahead.
Following Thursday's elections for Pembrokeshire County Council, Clr. Mrs. Sam Skyrme-Blackhall won the seat for her ward with 427 votes, to 309 for her fellow candidate Clr. Paul Rapi. Both were also elected back onto the Town Council, where Clr. Mrs. Skyrme-Blackhall has served as Mayor for the past two years, and is currently Mayor-elect for the 2022/23 term of office.
Speaking following the result, she said: "It has been an incredible day and one I will not forget in a hurry. It is a huge honour to be elected as County Councillor for Tenby South and to be re-elected onto Tenby Town Council.
"I have so many people to thank but first I would like to thank Paul Rapi. Like me, Paul also put forward positive ideas to make Tenby even better still. I know his commitment to Tenby is unchanged by the result.
"He has been elected onto Tenby Town Council and I look forward to working with him in the years ahead.
"I would like to thank all the people that have supported me, those that believed in me and everyone who turned out to vote in all the Tenby elections.
"I know you have elected a group of people who are passionate about Tenby and doing the best for the town and its people. I look forward to working with them all," she continued.
"When I stood for election, I said I will always be clear about what is possible and I stick to that. I hope I will always be approachable, there to talk and listen to your issues.
"I am sure that there is more to say but for now I just want to say a huge thank you for giving me this honour. I will work hard and do all I can to repay the trust you have placed in me," added Clr. Mrs. Skyrme-Blackhall.
In Tenby's North Ward, Clr. Michael Williams retained his seat on the County Council as he was unopposed.
Switching away from the County Council results, in the North Ward (where a total of 2566 votes were cast) - the six names elected to Tenby Town Council were the following: Paul Rapi (384 votes), Duncan Whitehurst (354), Laurence Blackhall (334), Sue Lane (307), Trevor Hallett (278) and Tish Rossiter (271); with the candidates to miss out: Stuart Fecci (216), Tenby's current Deputy Mayor Tracey Evans (159), Tom Sloan (139), and Helen Keohane (124).
Joining them in winning seats on the Town Council (as part of the South Ward) were the following: Sam Skyrme-Blackhall (537 votes), Charles Thornton Dale (358), Jason Rossiter (309, Matt Ronowitz (250), Lynn Attewell (231), Tony Brown (213) and Dai Morgan (175); meaning former Mayor Christine Brown (who has sat on Tenby Town Council since 1995) and current Town Crier Jim Cornwell both missed out on retaining their seats.
Comments
To leave a comment you need to create an account. |
All comments 0