Poignant film will encourage teenagers to be responsible drivers
Friday 14th November 2008 12:00 am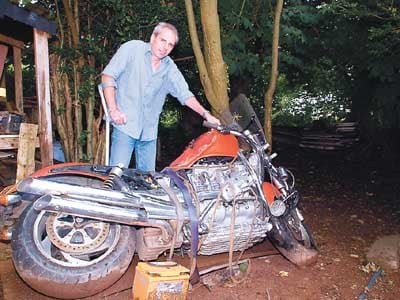 Subscribe newsletter
Subscribe to our email and get updates right in your inbox.
A hard-hitting film in which a Pembrokeshire dentist relives the horrific death of his wife in a drink-driving accident is to be screened in schools across the county to encourage responsible road use among young people.
Mark Boulcott's wife, Karen, was riding pillion on his motorbike near Canaston Bridge when they were hit by a car driven by 21-year-old James Ward Douglas. He had drunk four bottles of beer and 12 cans of lager, taken an ecstasy pill and had slept for just one hour, the night before he drove his car into the path of the couple's motorbike.
Mr. Boulcott (pictured), who has been left with terrible injuries, agreed to share his tragic story in a film commissioned by the Pembrokeshire Road Safety Forum.
The short film aims to encourage social responsibility among teenage drivers and passengers.
"The driver of the car that hit us was clearly unfit to be at the wheel and his young passengers had a responsibility to prevent him from getting into that car. If they had done so, Karen would still be here today,' says Mr. Boulcott, who lives in Herbrandston with their son, 15-year-old Liam.
"During the court hearing, it became apparent that there were many opportunities when this accident could have been avoided. Young people who find themselves in similar situations need to realise that they have a responsibility for overseeing their health and that of the driver of a car they might be a passenger in.'
The film, produced by Pembrokeshire film production company, Camrose Media, includes poignant scenes shot at the location of the accident and of the garden Mr. Boulcott has created at his home in memory of Karen.
The accident happened in October 2006, and a year later, Douglas was convicted by a jury of causing death by dangerous driving and sentenced to seven years in prison, reduced to five years on appeal.
Mr. Boulcott wasn't expected to survive the accident and has been left with severe injuries that not only affect his mobility, but prevent him from working full-time as a dentist.
The Pembrokeshire Road Safety Forum, a partnership of key groups which aims to improve levels of road safety, says the film will be shown to 17-25-year-olds, the age group which accounted for nearly 30 per cent of those killed or seriously injured in accidents in Pembrokeshire in 2005.
Darren Thomas, who chairs the forum, says Mr. Boulcott's personal message and story will help young people to understand the consequences of irresponsible driving.
"We are very grateful that Mr. Boulcott has agreed to participate in this film," says Mr. Thomas.
"His personal testimony adds huge weight to the message being given. It personalises the issue and reaches into the hearts and minds of the people who will watch the film. We hope this film will reduce casualties caused by this type of incident.'
Mr. Boulcott says his wife's death was 'wholly preventable'.
"There is nothing heroic or strong about what I am doing,' he insists. "I am surviving and trying to make the most of my life. But my old life will always be there and I miss the girl who I had been with for 25 years. She is a ghost in my mind every day.'