"We need these homes to be built" - states Tenby's Mayor on proposed Brynhir development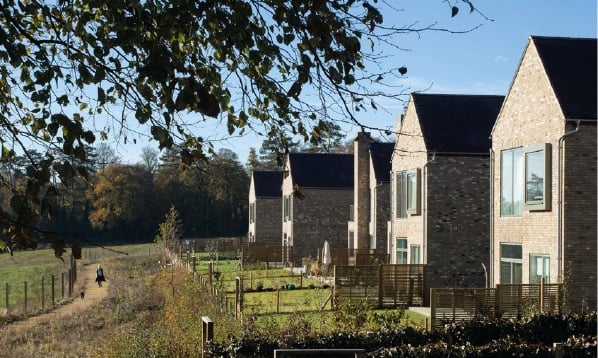 Artist's impression to highlight the outline plans
(PCC )
Subscribe newsletter
Subscribe to our email and get updates right in your inbox.
Tenby's Mayor, has reiterated the importance of the planned Brynhir housing devleopment to the town, stating "We need these homes to be built."
Last week, another successful drop-in event took place at the De Valence in Tenby for members of the public to find out more about the planned Brynhir housing development.
Around 100 people took the opportunity to see the initial designs and provide feedback for the design team.
The next stage will be the pre-planning consultation in summer 2022.
The plans feature a centralised 'Village Green' containing MUGA (multi-use games area), and a higher density of smaller terraced homes fronting onto the central green; whilst the 'Parkland Edge' aspect of the proposals will be directly overlooking an ecological corridor, with larger semi-detached and detached homes.
The 'Principal Road' side will comprise of a formal street frontage, with three-storey corner buildings, two-storey semi-detached homes with on-plot parking; whilst there will also be public street intended to be lightly trafficked by cars, and maintaining pedestrian and cycle connectivity across the site.
Pembrokeshire County Council was granted outline planning permission for a development of 144 properties in 2020, but progress on the scheme has been held up since the start of the pandemic.
In 2018, the local authority which already owned the 15-acre site, purchased the land for £4million using its Housing Revenue Account (HRA).
Mayor of Tenby, Clr. Mrs. Sam Skyrme-Blackhall, who is also the County Councillor for the town's South Ward, said: "There's a lot of positivity about the development.
"We need these homes to be built. It's about community and keeping our community in the town."
Clr. Jon Harvey, the Cabinet Member for Planning and Housing Delivery, said: "It was great that so many people took the opportunity to learn more about initial plans for this important housing project for Tenby.
"As this is still early in the design and consultation stage things could still change as we move forwards so every bit of feedback is important.
"This administration understands the importance of delivering affordable housing projects across Pembrokeshire and we are committed to doing so."
Tenby Town Councillor, Clr. Paul Rapi added: "We've needed this in Tenby for many years. The fact that our locals will be able to have the opportunity to live in affordable and social housing is a big plus for the town.
"The development looks brilliant and the fact that it's so eco-friendly is another bonus."
You can view the initial plans and provide feedback at: https://haveyoursay.pembrokeshire.gov.uk/brynhir
Keep up-to-date with development news on the Housing Facebook page: https://www.facebook.com/PCCHousing
Comments
To leave a comment you need to create an account. |
All comments 0