Plans for a community hub and associated works, part of the second phase of Pembroke's South Quay Regeneration Scheme, were given the go-ahead by just one casting vote, despite "unanimous" local objection.
Members of Pembrokeshire County Council's planning committee, at their November 7 meeting, were recommended to approve an application by the local authority for the erection of a community hub with associated infrastructure works.
Led by Pembrokeshire County Council, the South Quay project, below Pembroke Castle, includes the refurbishment of the Grade II-listed 7 Northgate Street; demolition of the existing public toilets; construction of a four-storey 'L-shape' extension building, a three-storey frontage to South Quay and the extension of a public space and reconfiguration within the car park.
The community hub would provide a service for older people, learning and skills areas to support independent living, and continued education for people with disability, and supported employment opportunities.
Pembroke Town Council, Pembroke Castle Trust, Pembroke and Monkton Local History Society, and local resident Richard Naylor all objected to the proposal, saying it would be an overdevelopment of the conservation area which would not preserve its character, and would tower over neighbouring buildings such as the nearby Royal George hotel.
At the November meeting, Pembroke town councillor Linda Asman said it "strongly objected" to the application at the "sensitive heritage site", describing it as an "unsympathetic development," near the Grade I-listed castle, with the social hub better sited elsewhere.
Cllr Asman said town council hopes the development would be used to boost tourism were being "completely ignored," with what was presented a "fait accompli".
Peter Thomas, chair of Pembroke Civic Trust, also objected to the scheme, describing it as "a very modern development not in keeping with its surroundings," which would dwarf the neighbouring historic Royal George Hotel, and would be "clearly visible from the castle ramparts".
He said a better location for a social services hub would be the nearby Riverside site, adding: "It is surely part of your remit to protect our heritage".
Councillor Jonathan Grimes, one of two local members representing the ward, said there was "unanimous objection" locally to the plans, which would have "a lasting and profound impact on the town".
Councillor Brian Hall, of neighbouring Pembroke Dock, reluctantly moved approval of the application but expressed concern at what he saw as a lack of local consultation.
After mentioning a previous scheme proposed for the area some 35 years beforehand which didn't reach fruition, he said: "If we do refuse this today it's going to be something that drags on; at the moment it's a mess, but there could've been a far better proposal."
Councillor Mark Carter said he would vote against the application, citing the concerns of local objectors, a view shared by Councillor John Cole, who said the scheme should "go back to the drawing board," rather than an outright refusal.
Members were told by officers the scheme, as a major application, had been consulted.
After a lengthy debate, six councillors voted in favour of the scheme, and six against, committee chair Cllr Jacob Williams voting again, in favour of conditional approval of the application.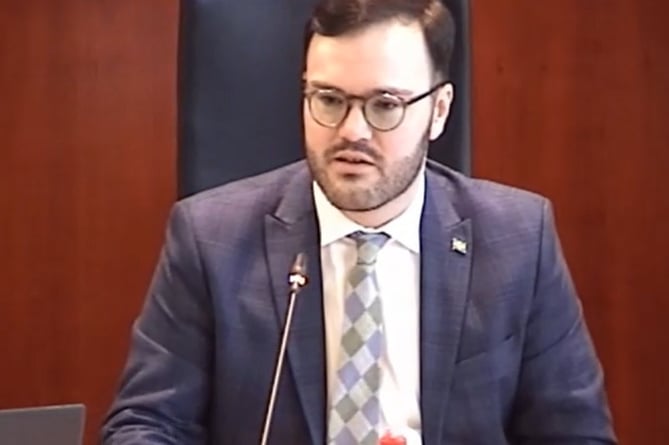 Local county councillor, and committee chairman, Cllr Jacob Williams
(Pic. PCC webcast)