Narberth Rotarian given Royal Voluntary Service 'Platinum Champions Award'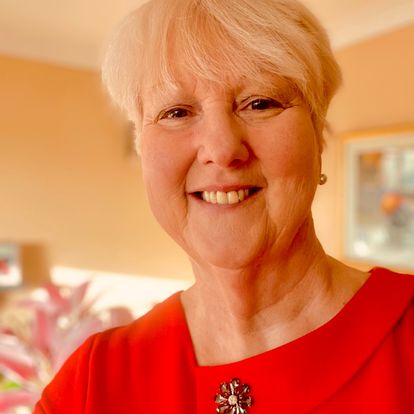 Subscribe newsletter
Subscribe to our email and get updates right in your inbox.
A Narberth volunteering stalwart has been recognised over the Queen's Jubilee weekend with a Royal Voluntary Service 'Platinum Champions Award'.
Mary Adams, a member of Narberth and Whitland Rotary for 8 years, who is also a founder and trustee of the Living Memory Group received the accolade for her service to the local community.
In honour of our Patron, Her Majesty The Queen and the great example she has set in her 70 years of service, Royal Voluntary Service launched the Platinum Champions Awards for volunteers.
Together with Royal Voluntary Service President, HRH The Duchess of Cornwall, and in partnership with The Big Jubilee Lunch, the awards are an official Jubilee project to celebrate outstanding volunteers across the country who are making a difference every day.
"The Platinum Champions Awards, launched by Royal Voluntary Service in honour of Her Majesty The Queen's 70 years of service, have given us the opportunity to celebrate the remarkable contribution of all volunteers, who truly are the backbone of our country," said Her Royal Highness, The Duchess of Cornwall.
"Congratulations to all our Platinum Champions – and my heartfelt thanks to you and to the millions of volunteers across the UK who give their time and talents so generously."
Thousands of people aged from 16 to 101 from all over the UK and supporting a range of causes were nominated and from these nominations, 490 volunteers have been hand-picked by a judging panel presided over by The Duchess of Cornwall, and crowned Platinum Champions.
All 490 Platinum Champions receive a specially designed pin and a signed certificate from HRH The Duchess of Cornwall.
Primarily a Rotarian (where she has been a past president and community chair of Narberth and Whitland Rotary) - Mary has been, and continues to be involved with several aspects of service within the Rotary movement.
Her appointment as District Governor Elect, and then as District Governor, for the South Wales District further demonstrates her inspirational influence on her many Rotary colleagues.
Mary's most significant achievement however, has been to establish the Living Memory Group (a socialisation group within Pembrokeshire sponsored by the Narberth and Whitland Rotary Club) which has enabled people with long term health concerns who have become isolated because of poor health to enjoy an afternoon of socialisation and friendship. The group started with two members and grew to 25 members pre-pandemic.
Initially the LMG was a Dementia Café but Mary soon realised the group needed to attract a wider audience to support people who had lost the ability to socialise.
As an ambassador of Narberth Primary School, Mary encouraged the children to research, entertain and provide intergenerational activities with the members.
Further entertainment has been provided by 'The Elderlys' (five members of Whitland Male Voice Choir) with guitars, encouraging members to sing along to popular songs with song sheets. Carers have also enjoyed a support network whilst supporting loved ones.
"The Living Memory Group are very lucky to have the use of Narberth Museum which provides an excellent place to reminisce and enjoy the artefacts of yesteryear in a central location within the town," explained Mary.
"District Governor for Southern Wales Maggie Hughes visited our Club and asked us to become dementia friends and set up initiatives locally. We visited the local Museum, the perfect place to set up a memory Group and with the help of key staff there was able to set up the group relatively quickly.
"What was more difficult was getting people to attend. When people are diagnosed with Dementia their lives and their carers are turning completely upside down life in general becomes difficult to do any everyday task. We had two gentlemen who attended every two weeks for 12 months. Soon after we set up the group our very first member was a Rotarian.
"He and one other gentleman had a very exclusive club as despite lots of marketing and publicity we couldn't seem to attract others. But despite people telling me it wasn't working I knew that to the two people and their carers it was a lifeline.
"We had volunteers and the afternoons became social occasion every two weeks. We had a mixture of emotions as the two carers shared their happy and difficult times and experiences. It was evident we were making a difference but how could we attract other people, who were isolated? Having started life as a Dementia Cafe we then discovered that there were lots of people with long term health issues who we were excluding. It was a catch 22 situations we needed to contact the people in rural communities who have become isolated but how could we get the message about our group to them for them to access us?" she continued.
"We as a Committee of six Rotarians decided we needed to change the criteria to include a wider range of health issues. For instance people who have become isolated because of Strokes, Parkinson's disease and those people who had received treatment because of were struggling to socialise again.
"We contacted local organisations such as the local WIs who have a befriending scheme and whose theme for the year was loneliness, local health centres, churches, media and local publications as well as Social Media.
"Whilst our Café was important to our small group we felt we needed to retain people and make their 2 hour session something which was meaningful and fun.
"Within one month of widening the Health Criteria we now have between 25-35 people at each sessions.
"So having set up a new Rotakids Club at our local Primary School the Headteacher Mrs. Nia Ward was extremely engaging and the children started to visit the Club once a month for intergenerational socialisation.
"The stars of the show are the wonderful children who have proved to be a popular attraction and are brilliant at integrating within the group. It has been so refreshing to see the contribution these young people make. They do research in school for activities to engage with the group and then just come along and perform their tasks.
"The first few times this happened the helpers were reduced to tears at the brilliant way they make friends with all the members of the group and there lots of high fives and hugs.
"Parents have thanked us for introducing these activities to their children and the whole neighbourhood is extremely proud of what we've achieved with them.
"Bonding between the children and the adults has been wonderful to witness," remarked Mary.
The impact of the LMG on the rural community has been enormous, many have commented. Intergenerational links between children and members have created fun and developed strong bonds and friendships.
Jackie, a widow of a former member of the LMG said: "My late husband greatly benefited from these regular meetings by being stimulated with new friendships and activities. Carers were also able to connect with other carers, curbing loneliness and isolation.
"Without Mary's input and commitment, the group would not have been formed and without her enthusiasm and compassion many of those living with dementia and other illnesses we would not have had afternoons of fun and friendship."
Colleagues have described Mary's energy and commitment to volunteering as 'awesome' - with her local connections, encouragement, and passion for her vision of what's possible resulting in her Rotary colleagues supporting her in a range of projects.
Her work with teachers and children in local schools has also been exemplary with several 'Rotakids' Clubs being formed in recent years.
"This award is for the whole LMG team, our wonderful volunteers, the children and of course our members," remarked Mary after receiving news of the award.
"I feel very humbled and of course only do what other Rotarians do 'Service above Self' within our community.
"I would especially like to thank 'Elderly' David for starting this off and suggesting the nomination, with thanks also to Jackie, Ken and John for the collaboration of the nomination. Jackie your words are heart felt and very cherish by myself and I'm sure all of the group."
The Group welcomes anyone who is lonely, with regulars stating that they have made great friends for life and can't wait for the sessions to come around.
LMG Treasurer John Llewllyn is currently looking in to achieving Charitable Status for the Group.
"The moral of the story is if you believe in a project, give it time, change the criteria if you need to, but don't give up, it really does make a difference to people who need our help, when life gets tough," added.
For more information on LMG which meets every first and third Thursday of the month, between 1 and 3.30 pm, you can contact Mary on 01834831219/07788110027; email: [email protected] or check out the Facebook group: @Facebook Living Memory Group
Comments
To leave a comment you need to create an account. |
All comments 0