Councillor given assurances over future of Tenby Health Centre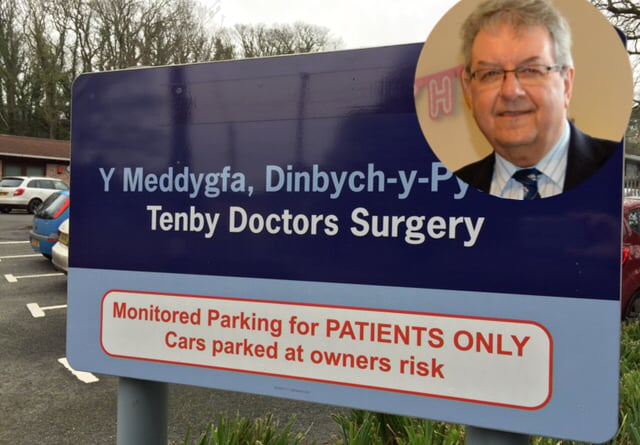 Subscribe newsletter
Subscribe to our email and get updates right in your inbox.
A Tenby councillor has been given assurances by the Chair of Hywel Dda University Health Board that health services in the town are secure.
County councillor for Tenby's North ward, Michael Williams said that he visited the town's Health Centre on Gas Lane one day last week, and left with the impression that the facility was being 'wound down'.
"I was one of only two patients in the waiting room at 9.45 am, with little visible presence of any medical practitioners being available! The surrounds of the building appear to give an impression of approaching dereliction, giving a very unfortunate impression of health facilities in Tenby," said Clr. Williams in correspondence sent to the Chair of Hywel Dda University Health Board, Maria Battle, where he asked for assurances that health services in Tenby are secure, as well as enquiring as to what efforts were being made to recruit permanent GPs for the facility.
"I have been told that all current available GPs are locum, bar one who works part time," he continued.
"There is a growing concern in the community about the long term health provision in Tenby, and given the unfortunate history of having to campaign to retain services, any reassurance that you can offer would be greatly appreciated," added Clr. Williams.
In a response received, the Hywel Dda chair gave her 'assurance' that the health services in Tenby were secure.
"With regard to the GP Practice we have a salaried clinical lead for the Practice and operate with a number of regular locums," she explained.
"We have a locally agreed cap on the fees that we pay to locums and therefore the cost is manageable within the practice budget. We continue to try to seek salaried GPs to join the Practice and have a robust salaried clinical team that very much aligns to the aspirations of the Primary Care Model for Wales.
"The estates team are working with us on a work plan for all of our managed practices and we have an agreed programme of work that is due to take place later this year.
"I'm sure if you know of any local volunteers who would like to help with the grounds they would be really welcomed,"
A meeting of the newly reformed South East Pembrokeshire Community Health Network (SEPCHN) will be held at New Hedges Village Hall on June 7, between 2.30 and 4.30 pm, where Maria Battle and Elaine Lorton the Hywel Dda Director for Pembrokeshire will be in attendance to talk about the Programme Business Case and Pembrokeshire health services in particular.
The main aim of the meeting is to investigate the local health issues identified by members, with important emerging topics such as - development plans for Tenby Cottage Hospital and information on the new major hospital being planned near Narberth.
Mansell Thomas who was chair of SEPCHN for a number of years, before retiring, said that he was delighted to see the group reform.
"I am extremely pleased to witness the re-birth of the SEPCHN after many years of its committed activity," he remarked.
"It is now over two years since the Network last met, mainly because of the Covid pandemic. The Network has an important role to play in our community in helping to promote and protect our local NHS.
"There have been important successes in the working of the group and I would sincerely wish to thank the loyal members who have supported our efforts over very many years; questioning officers, attending demonstrations, attending Board meetings, and contributing constructive ideas, especially with regard to our own local hospital and long may it continue.
"There are local health matters constantly emerging and the agenda for the future already appears to be formulated.
"The new officers both Tenby Town councillors, have strong professional backgrounds and are well suited to the role," continued Mr. Thomas.
Clr. Laurence Blackhall will serve as chair and Clr. Duncan Whitehurst as secretary. Both can be contacted at Tenby Town Council or via email at: [email protected]
"I am confident that we have now, managed to engage two officers who appear to offer the commitment required and I thank them and wish them every success in the years ahead.
"I know that our members are as committed as ever and they can rely on their support," he added.
Comments
To leave a comment you need to create an account. |
All comments 0