10,000 signatures on Save Withybush A&E Petition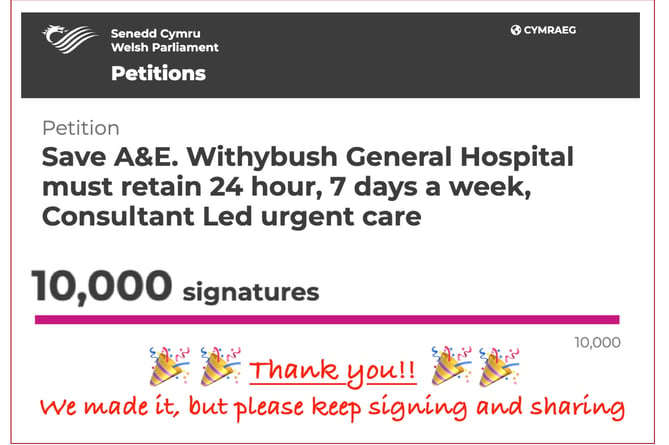 (Pic. Save Withybush Campaign )
Subscribe newsletter
Subscribe to our email and get updates right in your inbox.
The campaign to Save Withybush Hospital (Save Withybush Campaign Group) was delighted to announce that over 10,000 people have signed the petition to permanently retain a 24-hour consultant led, accident and emergency department at Withybush Hospital, Pembrokeshire. At the time of writing, 10,184 signatures had been returned and it is expected there will be a lot more to follow. The Petitions Committee at the Senedd will now consider the petition for debate.
Hayley Wood, Save Withybush Campaign Group said:
"The petition, which went live on February 16, 2022, represents 65.9 per cent who have signed are from the catchment area served by Withybush Hospital. The petition has picked up on many households without access to social media by using press releases in local newspapers and radio. We feel this will send a clear message to Hywel Dda Health Board that they cannot trample over the people of Pembrokeshire and they must think again about their plans.
"The fight to stop the health board in downgrading Withybush Hospital has been ongoing for too many years. These downgrades are happening because of the health board's failure to recruit the medical staff needed, however this should not be a reason for them to downgrade much needed medical services. The petition, even at this early stage, shows the lack of confidence the people have in Hywel Dda Health Board as well as their continued failure to consult with us.
"There is no doubt that provision within Pembrokeshire needs to be safe, and fully meet the needs of the local community. However within the plans for where the new hospital is potentially to be sited, the Health Board have not considered those who are frail, the elderly, those with chronic conditions, those without transport and, equally as important, those who are on low incomes."
There will be a Save Withybush Rally on Saturday, April 23, from 12 noon to 1.30 pm at Withybush Hospital.
You can find the petition online at https://petitions.senedd.wales/petitions/245093? and follow the 'Save Withybush Campaign' on social media by using the following tags:
#SaveWithybush @Save_Withybush
Comments
To leave a comment you need to create an account. |
All comments 0