Marine conservation area 'vital' to Tenby's future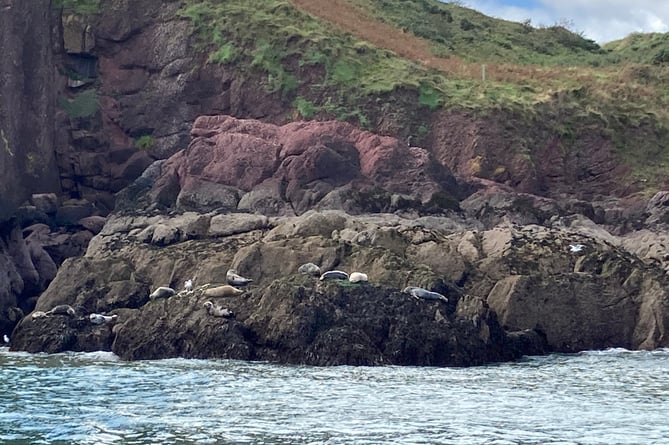 Seals on Caldey Island
(Observer pic )
Subscribe newsletter
Subscribe to our email and get updates right in your inbox.
Renewed calls for a marine conservation area to be introduced for Tenby have been made to offer more protection to the area's sea ecology.
Clr. Mike Evans told his fellow members at a recent meeting of the Town Council, that it was vitally important to conserve what we have, and that understanding the role of the sea within our heritage, was vital going forward, when discussing matters in relation to a marine conservation area for Tenby's South Beach, encompassing Giltar Spit, Caldey Sound and Caldey Roads,
Clr. Evans said that sitting on the EPF (EPF (Economic Prioritization Framework) board he saw an application coming in from The Havens, St Brides, and Marloes, to work with Pembrokeshire Sea Trust, a local marine wildlife conservation charity based at the old Ocean Lab in Goodwick, to look at carrying out marine surveys in the area.
"The idea is to see what the other islands off the coast have in relation to marine ecology, what needs protecting and how to go about it," he explained.
"County councillor Michael Williams first muted this in our area," Clr. Evans continued, "and going forward, we need to look at the sea and understand its role within our heritage.
"It is vital going forward that we conserve what we have, not only in sea," he said, asking his colleagues if anyone was interested in getting on board.
Clr. Evans highlighted to his fellow members that the marine conservation area is what protects and enhances what we have.
"Skomer has a marine conservation area and at different times certain activities are prohibited; there is protection from anything potentially harmful in that area," he explained.
"It is one way we safeguard against exploitation of the area. St. Margaret's Island had three pairs of puffins last year and we hope they return. A conservation area protects these and puts the marine need before ours as humans."
Clr. Williams quipped that, for many years, he had tried to make 'life difficult' for fisherman as he sought to protect our marine ecology.
However, before a marine conservation area can be introduced it needs a good scientific base, and there isn't one for the areas suggested by Clr. Evans as of yet.
Clr. Williams said that Lundy was a success story, but a marine conservation area is totally different to a bird sanctuary.
An element of caution was needed and he was worried that there was a lack of legislation since Brexit. There was nothing to stop work towards a marine conservation area, but it would also need policing when in place.
Clr. Evans felt it would be good, as a first step, to meet representatives from the Pembrokeshire Sea Trust and ask what they can bring to the party.
"Ultimately, they could map the whole of Pembrokeshire," he said, proposing that a meeting be arranged, with his fellow councillors agreeing.
Comments
To leave a comment you need to create an account. |
All comments 0