Pembrokeshire's Jordan Palmer has won Scholar of the Year at a prestigious awards ceremony recognising the engineering construction industry's brightest and best.
The 11th ECI Training and Development Awards, organised by the Engineering Construction Industry Training Board (ECITB), brought together industry leaders, influencers and policymakers, as well as the rising stars of tomorrow, at a ceremony hosted by engineer, broadcaster, teacher and STEM advocate, Kate Bellingham.
Jordan fought off stiff competition to win Scholar of the Year. He has proved to be an exceptional talent in welding and fabrication, demonstrating truly inspirational qualities.
He achieved success in Pembrokeshire's regional welding competition and won a silver medal in the Inspiring Skills Wales Welding Competition finals.
Jordan's dedication to personal growth led to an apprenticeship at Rhyal Engineering. His passion for his craft and willingness to share knowledge make him an outstanding candidate, as demonstrated by his selection to represent Wales in the 2022/23 UK Skills final.
Arwyn Williams, Head of Faculty for Engineering and Computing at Pembrokeshire College, accepted on behalf of Jordan who was unable to attend the event.
He said: "Jordan is so dedicated to his studies. He's so keen and talented in engineering. He's a welder and fabricator and, to be honest, we struggle to get him out of the welding bays because he's so keen on cracking on and gaining his skills.
"We've been working closely with the ECITB and the scholarship programme is one example of where we've brought lots of young people in to supply skills and training to bring talented individuals into the sector."
The awards ceremony took place on Thursday night at the Cutty Sark in London. Inspired by the rich maritime history of the Cutty Sark and with the ceremony taking place beneath its world-famous hull, the theme of this year's event was about embarking on journeys.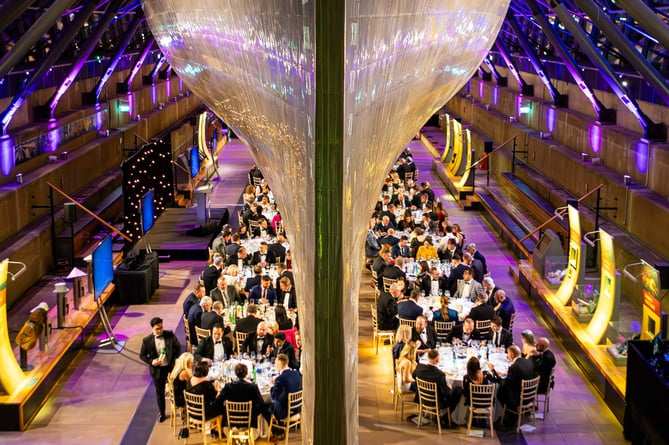 ECI Awards at the Cutty Sark
(Pic supplied)
Speaking at his first ECI Awards since joining the ECITB, Chief Executive Andrew Hockey stressed that industry's most valuable assets are its people, both those at the start of their journeys like the scholars, apprentices and graduates honoured last night and those present "whose journeys have paved the way for those that follow".
He said: "I would like to congratulate all the winners and finalists who are great examples of the success stories from across industry over the past year. They exemplify the talent, innovation, resilience and endeavour that our industry holds in such high regard, setting standards to which we all aspire.
"The quality of nominations this year reflects the strength of talent in the industry and the breadth of attendees last night shows that these awards are one of the biggest events in the engineering construction calendar.
"It was wonderful to be in the same room to celebrate all that is great about training and development in our industry with so many partners and friends representing organisations from across the length and breadth of the UK and internationally.
"I'd like to extend a huge thank you to all our judges, who had the monumental task of choosing a winner in each category."
The Scholar of the Year award sponsored by Cavendish Nuclear Ltd, was won by Jordan Palmer (Pembrokeshire College). Other finalists for the category were Owen Klinton (The Engineering College), Patrick Grannon (North Lindsey College), Thomas Tooze (Bridgewater and Taunton College).