Pembrokeshire's Darwin Centre attended the launch of Darwin200, an initiative that will retrace Charles Darwin's famous voyage on the HMS Beagle from 1831-1836.  
Darwin200 will take two years to complete the voyage on the Dutch tall ship, the Oosterschelde which sets sail on August 15 from Plymouth.  
The event took place in Charles Darwin's hometown of Shrewsbury at the town's library where Charles Darwin attended school. It was hosted by Andrew Fox, one of the founders of Darwin200 and a key supporter.
Felix Padel, an Anthropologist and Darwin's great great grandson was in attendance and addressed the crowd with insightful anecdotes about his grandfather's work and he gave his support to the aims of Darwin200 and the opportunities it will bring to all those involved.  Shrewsbury's very own Doodle Boy (Joe Whale) created a giant Darwin inspired canvas which will feature at the sail away event in Plymouth, with Joe also creating his famous doodles at each of the main ports over the course of the voyage.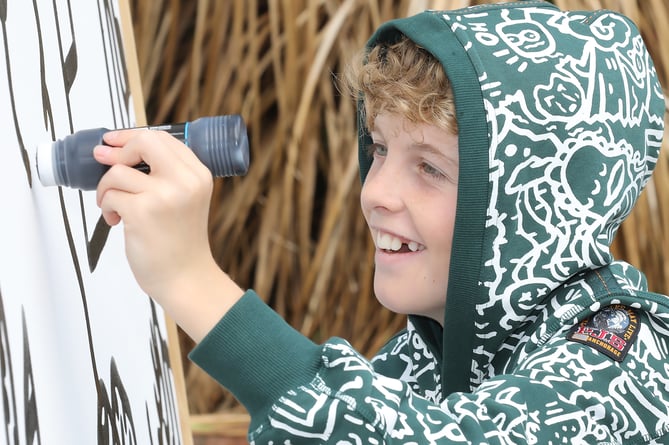 13 year old Shrewsbury artist Joe Whale aka The Doodle Boy at the Town Library working on his masterpiece.
(Phil Blagg Photography)
Pembrokeshire school children will have the opportunity to link up with voyage through live streams and sessions delivered by the Darwin Centre.  
There is also an opportunity for young adults to get involved as Darwin200 is looking for 200 exceptional young conservationists between the age of 18-25 who will be known as Darwin Leaders, to take part in the expedition.  
A Darwin Leader will join the Oosterschelde on a fully funded placement at one of its ports and will conduct a scientific investigation on a species that Darwin studied, to see how it has changed in the last 200 years.  At each port, local NGO's will work with the Darwin Leaders to assist in their data collection and offer support and advice.  
Samantha Williams, manager of the Darwin Centre said:"It was a privilege to support Darwin200 at its launch and we look forward to working with them further over the duration of the voyage.  It would be fantastic to have a Darwin Leader from Pembrokeshire onboard, applications are still open, and I encourage any keen young conservationists to go to the Darwin200 website to apply."
Patrons of Darwin200 include Charles Darwin's great great granddaughter, Dr Sarah Darwin, a renowned Botanist; Dr Jane Goodall an Ethologist and Conservationist known for her ground-breaking research into the wild chimpanzees of Tanzania; and Dr Sylvia Earle, a Marine Biologist and Conservationist who was awarded the 'Hero of the Planet' by Times Magazine.  
Stewart McPherson, Project Leader and founder of Darwin200 said of the upcoming voyage:"Conservation is not about what we have lost but what we still have. Countless species and even entire ecosystems can be brought back from the brink.  Darwin200 will empower tomorrow's conservation leaders and the global public to change the world for the better to build a brighter future"