Diamond celebrations for Templeton couple
Thursday 4th September 2003 10:00 pm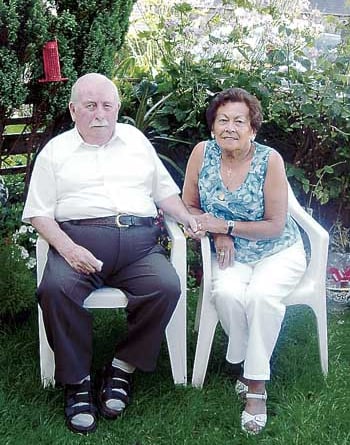 Douglas and Coura Evans, looking forward to their diamond wedding anniversary celebrations on Monday at their home in Templeton. Pic. Paul Evans
()
Subscribe newsletter
Subscribe to our email and get updates right in your inbox.
Congratulations are in order for a couple who will be reminiscing on a sparkling 60 years together next week.
Douglas joined the Royal Navy as a teenager in June 1938 and trained at HMS Wildfire.
After serving on various ships, he joined the Submarine Service and was sent to the Middle East, where he served on HMS Medway, and was on board when it was torpedoed and sank in 1942.
Afterwards, a new base opened up, HMS Medway 2 (depot ship).
Then, according to Douglas: "My troubles began, when I met and married local girl Courasson Jureideni, who was a telephone operator at the base!"
After a short courtship, they married in Beirut on September 7 in the British Consulate and the next day in a local church.
They only had time for a two-day honeymoon, before Douglas joined HMS Rorqual at the most dangerous stage of the war, taking food and aviation spirit to Malta, for which he received the Malta G G 50th anniversary medal.
At the end of the war, they returned to the UK with their eldest daughter Margeurite, who was born in Beirut, and resided in Fareham, Portsmouth, for a year, during which time their first son, Richard, was born.
Coura then returned to Beirut and Douglas later followed. While there, the couple had their second daughter, Carolyn.
Douglas took a position in a private school as a teacher, before they all returned to Pembrokeshire in 1948.
"My wife found it very strange at first and had to adjust to our way of life, but with three children and more on the way, she coped extremely well," he said.
Their second son, Jeffrey, and third daughter, Salma, arrived and Douglas went on to work at Narberth's Allensbank Nursing Home as a clerk for three-and-a-half years, before moving to 6 Hillside Terrace in 1951, where they still live today.
Two more daughters, Julie and Yvette, were subsequently born, as well as a third son, Adrian.
In 1961, Douglas joined Hales Cakes as a salesman and was also clerk to the parish council for 36 years until he retired.
"We are very fortunate to have eight children, 15 grand-children and 18 great-grandchildren," Douglas told the Observer at their home in Templeton.
Anyone wishing to call on Dougie and Coura to congratulate them and join in with their anniversary celebrations is quite welcome to call at 6 Hillside Terrace between 11 am and 6 pm on Monday, and anyone wishing to kindly contribute a gift, can make a donation to St. Johns Church, c/o Peter Preece.