Councillors call for more police visibility on the streets of Tenby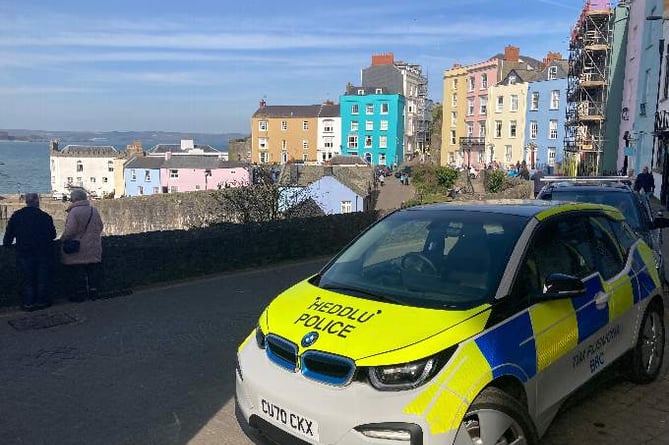 Subscribe newsletter
Subscribe to our email and get updates right in your inbox.
The need for more police on the streets of Tenby during busier periods and on weekends when the seaside town attracts more revellers, has been discussed with the area's Crime Commissioner.
Dafydd Llywelyn the Police and Crime Commissioner for the Dyfed-Powys region, recently met with members of Tenby Town Council to discuss policing matters relating to the area.
He said that since 2016 his flagship investment had been the reintroduction of CCTV systems into towns throughout the force area, which police staff were able to access in 'real time'.
He told councillors that he saw CCTV as helping to safeguard the community and in Tenby the system was particularly useful in conjunction with Operation Lion during the busy holiday season.
With over 26 towns in the force area, there are now approximately 155 cameras and every week there is evidence as to how the CCTV system has supported officers, from helping to identify missing people to providing evidence to help get convictions.
Since 2016, Mr. Llywelyn said there has been a slow but incremental increase in officers and there were more police in Dyfed-Powys than ever before, with 1,295 police officers, supported by police staff. In addition, there were now 162 PCSOs (Police Community Support Officers) in the force area.
He said that he was aware that there were concerns about changes to police response model, and he is constantly challenging this response model throughout its development.
While it was more difficult in some of the more sparsely populated areas of Dyfed-Powys, it was still the case that, in relation to emergency response times, 85 to 90 per cent of calls were responded to within the 15-minute time limit set out in national targets.
Mr. Llywelyn said that Tenby and it's surrounding area was fortunate that this was a safe, low crime area, but if there were pockets of concern within the community, then this meeting was an opportunity to tell him so he could feedback to the divisional commander for the area, Superintendent Anthony Evans.
Clr. Paul Rapi said that he was concerned that Tenby was becoming an even more popular drinking resort which consequently led to an increase in anti-social behaviour.
He said that Tenby was busy most weekends, yet there was not enough police visibility in the town.
"Officers have to come from Haverfordwest or Pembroke Dock and by the time they arrive the problem people have gone!" he remarked.
Last year there was a spate of property damaged and he felt there was no control by the police. There is no visible sign of police around between 11 pm and 1 am when things are 'quite scary' in town, he stated.
"People are scared, please can we see some police presence at weekends?" he continued.
"Tenby is now a 12-month of the year resort, it is open all the time, but we don't seem to have police during January to March," he continued, adding that he would like to see the police station opened full-time again.
"We used to have an inspector that was seen around town. Police knew the people of Tenby, and Tenby knew them, but these things don't happen anymore! I realise it is a big ask but Tenby needs more policing on a regular basis, due to the volume of people.
"Years ago, at closing time, there would be two officers standing outside in the street. We have the occasional police car yes, but by 10 pm they have gone. They need to be here as it feels like there is no law and order in town at times.
"Is there any way that Tenby can be put further up the scale of priority to increase our police presence?" he stressed.
Mr. Llywelyn felt that Clr. Rapi had raised some fair points, but the ability to have, say two officers standing in town was challenging as it was not an effective way of deploying officers over a vast geographical area.
However, he said that even though he had quoted the highest number of officers ever across Dyfed-Powys, most complaints he received at meetings with residents throughout the force area, was that they never see a police officer, so there does appear to be a problem, he admitted.
The meeting heard that Tenby policing is elevated during the summer months through Operation Lion, but the holiday season has extended which, while commercially welcomed, creates challenges for local services to respond to.
Mr. Llywelyn said that perhaps there was a case that the Operation Lion initiative shouldn't be seen as uniquely a summer provision but was now a requirement over a longer period of time.
Clr. Mrs. Christine Brown said she lived near the town's Railway Station, and that the year just gone had been the best in relation to policing potential anti-social behaviour related to people arriving by train.
She was not seeing people carrying alcohol going up the street into town so often, and believed that the Transport Police were confiscating alcohol more now or sending people back to where they came from, if they were deemed to be causing trouble.
Clr. Laurence Blackhall agreed that the various agencies worked well over the summer and felt that highlighting how positive this had been to encourage an extension of Operation Lion was a valid point.
Mr. Llywelyn agreed that enforcement had been a multifaceted approach. The police linked with Pembrokeshire County Council licensing teams and were very proactive with licensed premises. He hoped this experience would be replicated in 2022 and not just seen as a unique one-off, and Operation Lion extended.
Tenby county councillor for the North ward, Michael Williams congratulated Mr. Llywelyn on the reintroduction of CCTV, which he said had been a huge loss until it was brought back.
He felt Tenby had a good service and felt former officer Nigel Lewis who worked for the police in a civilian capacity in the town was a 'wonderful ambassador'.
Mr. Llywelyn said that he would take the key themes in relation to Tenby's night time economy and the effectiveness of Operation Lion on board; and put questions to those in charge of operational deployment, before corresponding back to the town council.
The Mayor, Clr. Mrs. Sam Skyrme-Blackhall said that every season will bring pressures, and no doubt the 2022 season will bring its own, but if all parties worked together to try and resolve issues, make sure things are resourced adequately, then all could react and respond to ensure that Tenby remains an attractive place to visit.
Comments
To leave a comment you need to create an account. |
All comments 0