Could Tenby's dive-bombing gulls be 'drugged-up and drunk'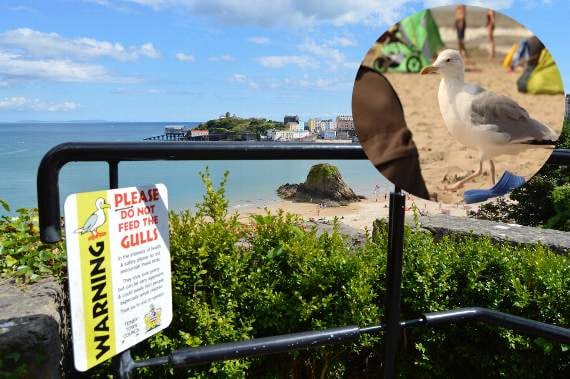 Tenby councillors have asked for more warning signs around the resort to be put up
()
Subscribe newsletter
Subscribe to our email and get updates right in your inbox.
Seagulls in Tenby that are acting more aggressively towards members of the public could be 'drugged-up or drunk' councillors speculated this week.
Last month a video filmed by someone sitting outside a pub on Tenby's St Georges Street showing a seagull waiting patiently to pinch a pastry from a pedestrian went viral, and that followed by a story of Gizmo the chihuahua disappearing in Devon with a herring gull the prime suspect, has led to what has been dubbed 'seagull mania' in the tabloids.
At Tuesday night's meeting of Tenby town council, Clr. Paul Rapi told his colleagues that the problem in Tenby of gulls attacking children and people had become worse, but admitted that there was not an awful lot that could be done as all species of gull are protected under the Wildlife and Countryside Act 1981.
"I don't know where to go with this - you can't do anything much as they are protected, and can't be culled, but Pembrokeshire County Council has to look at this from a health and safety perspective as they are out of control and something needs to be done, as they are getting worse," Clr. Rapi told his fellow councillors.
"The seagulls aren't just snatching food now, they have now taken to hitting people. They're getting more and more aggressive.
"They're very clever at times and have got it sussed, as they know what to do with the bins and everything these days - no matter what we do to try and cover them up.
"At some point a child is going to get badly hurt. A young kid with an ice cream in his hand could end up losing an eye.
"My children have been scratched four or five times due to the gulls on the beach. The other day, I walked into a car park and there was a chip on the floor and the next thing I knew these gulls were going for me!
"We need to write to PCC to see what they can do to address this from a health and safety point of view.
"There are not enough signs up warning people either, and I can't believe that people still feed the gulls, which is seriously wrong.
"I know that Feccis chip shop put bunting up outside their premises and this seemed to solve a problem for them, so I wonder if we can look into placing more bunting around the town's streets -it could be a secure and safe way to alleviate the issue," he continued.
Clr. Tish Rossiter said that an increase in signage warning people 'please don't feed the gulls' was definitely needed for the resort.
"I saw one go for a lady's spaniel the other day. They are becoming more dangerous, and we're not the only ones in the UK with this problem," she said.
Clr. Mrs. Tracey Evans agreed that it was a nationwide issue, and that stories in the press had recently speculated that a large gull had swooped down and carried off a tiny puppy chihuahua in Devon.
She also said that she'd read a fair bit about gulls in the media following this story - and how they may now have started drinking dregs of alcohol, left behind in glasses, making them more aggressive; while some may even be 'drugged-up' after gobbling up flying ants packed with LSD-like chemicals, sending them bonkers, and dive-bombing.
Clr. Harry Whitehurst agreed that there was very little that could be done as the gulls are protected and it was forbidden to interfere with their nests, but said that he'd read that Polyethylene control netting seemed to be one of the most popular methods used for protecting structures against gulls, designed to stop birds from landing on surfaces such as flat roofs and dormer windows.
"People dropping chips, or scattering bread should know better - and if you can pick up a fine for dropping a cigarette butt in Tenby - then this form of littering should be punished too," commented Clr. Laurence Blackhall.
"It is illegal to feed gulls in Scotland, so why can't we see that in Wales," added Clr. Rapi.
Clr. Trevor Hallett said that he was 'all for the gulls.'
"The gulls are starving - humans have robbed them of the food from the sea, and now are providing food for them by being lazy and dropping it on the floor, so if they see that opportunity, the gulls are going to take it! The gulls are doing a job of picking up human mess!" he remarked.
The Mayor of Tenby, Clr. Tony Brown agreed that they should write to PCC to see what solution they recommended, and urged other residents in the town with any strong concerns to do the same.
Comments
To leave a comment you need to create an account. |
All comments 0