Chile trip continues for Saundersfoot's Dan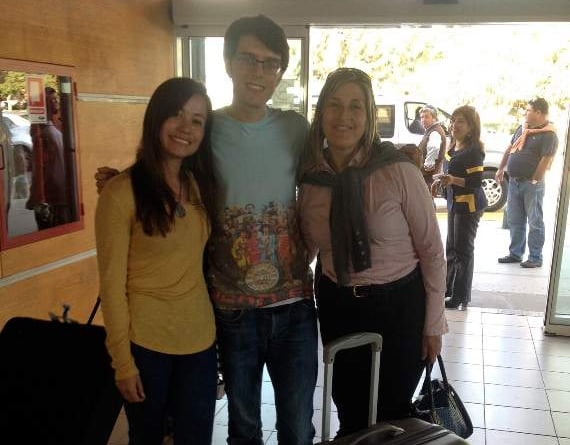 Subscribe newsletter
Subscribe to our email and get updates right in your inbox.
Saundersfoot's Daniel Harper (a former pupil at Tasker Milward School in Haverfordwest) who recently graduated with a degree in history from Aberystwyth University is taking part in the English 'Open Doors' programme teaching English in Chile.
Here he talks about his experience so far...
'My host mother, Carolina, was waiting for me in the airport departure gate along with the other volunteers host families.
I hadn't received any prior details about her except where she lived and her name, so I was worried about her level of English and also, possibly most importantly, whether she'd previously ever had a history of violence towards Welsh people.
Nevertheless I was greeted by a pleasant middle aged woman with light greyish hair to her shoulders. "Hola, Daniel. Millamo Carolina, you're Chilean mother". I'd always wanted a second mother and now dreams had become reality.
Driving into town I realised the full dissimilarity between my home in Saundersfoot and my new one in Arica, Chile. Out of every window I was met with miles of desert and an eternal blue sky that scorched the landscape.
Needless to say it was different than South Beach in Tenby. No tree stood for the 5 or so miles into town where scattering of Palm trees and parched grass stood against the plateau of the sky's ultra blue mirror.
Going to school the next day I was greeted by what seemed like a million and twenty-two hello's and introductions with staff, students and parents. Liceo Artitico greeted me with open arms as its newly refurbished walls and windows settled in my eye line and the thought of this being my place of work for the next 4 months began to take hold.
Either too eager or premature to tell whether my hopes of being stolen by the Chilean people and culture would ring true, but this was certainly a promising start. Each class had its own distinct personality to say the least.
One class was terribly behaveded with every student to outdo the other, whilst another would be calm and quiet with a hint of sarcasm.
Some kids showed me how sharp and witty they were and others were proud to display how wide they could stretch their mouth open to me. Each met with a smile and a semi-confident "Bueno" as a reply.
The first few days would be part of my designated observation week where I would sit in on classes in my school and meet the kids and get a feel for how things are done.
The first question I was asked in my school was whether the toilets flowed in the other direction where I'm from.
But as the week went on I began to see the Chilean school experience for real and I was hit with a reminder of how I used to be in school at break, in class or by the canteen. In fact it was the strangest experience teaching for the first time, being on the other side of the education system was definitely a shock.
For every cultural difference between the UK and Chile kids still remained kids and I saw no difference between the class clowns here than back home, no matter how much Spanish they swore at me in.'
Comments
To leave a comment you need to create an account. |
All comments 0