Hwb - Tap & Food Hall opens in Narberth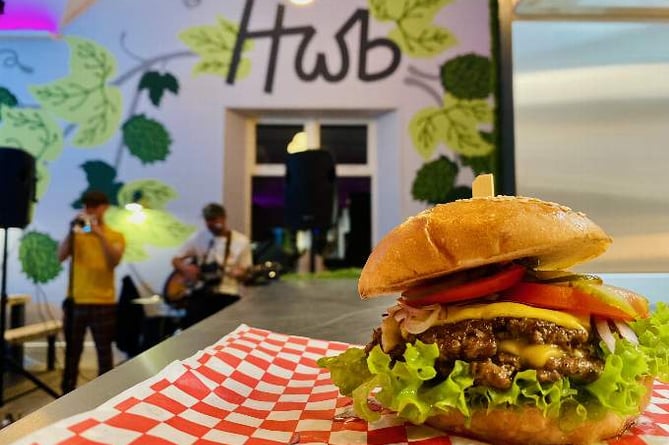 Subscribe newsletter
Subscribe to our email and get updates right in your inbox.
Pembrokeshire is already familiar with Tenby Brewing Co, who launched back in 2015 and have proven to be immensely successful with their range of full flavoured beers, largely down to the enthusiasm and hard work by co-founders Rob Faulkner, James Beaven and their small team.
With a keen eye on food and hospitality trends, the pair have joined forces with Chris Lees-Price (Narberth) to open their new venue, 'Hwb - Tap & Food Hall' in Narberth. Chris has a strong background in brewing and hospitality and will be mangaing the day to day operations at Hwb.
With the support of family, local people, crowdfunding and the Pembrokeshire lottery - and despite the inevitable setbacks on time schedule due to the pandemic - Hwb Narberth is now open!
Within you will find four open kitchens serving up a wide range of delicious street food style treats, including 'Top Beef' and their 100% Pembrokeshire Beef burgers, 'Café Medina' with Spanish/Mexican/World Foods, 'Bee's Thai Kitchen' and an ever-changing selection of pop-up kitchens so there is always something new on the menu.
As you would expect from the links to Tenby Brewing Co, the bar incorporates an impressive 18 draft beer lines, pouring the best independent beers and Ciders from Pembrokeshire, Wales and further afield. Alongside this vast beer offering is a range of independent spirits, wines and soft drinks as well as top quality Barista Coffee.
The interior of the venue itself houses an eclectic mix of styles, including wonderful wall art by local artist Lloyd Roberts, beautifully decorated WC facilities by Zara interiors (Narberth), a large Neon sign, and multiple interesting pieces alongside stainless steel and substantial reclaimed wood tables. The building benefits from underfloor heating and huge windows allowing in lots of natural light.
A beautifully refurbished Victorian school at the top of the high street in Narberth, close to the town's main car park and Moor, the venue is extremely well placed. The school was purchased by Andrew Rees and partners in an effort to stop it falling into the hands of a large supermarket chain with the intent on rebuilding it as a place to live, work and socialise. The site will eventually incorporate a community library, retail unit and residential town houses.
The future looks bright for Hwb with plans for Live entertainment, beer tastings and community events. Keep up-to-date with events and up-coming food pop-ups on the Hwb Narberth social media pages (@hwbnarberth) or on their website www.hwbnarberth.com
Comments
To leave a comment you need to create an account. |
All comments 0