Two men arrested following incident at Tenby hostel facility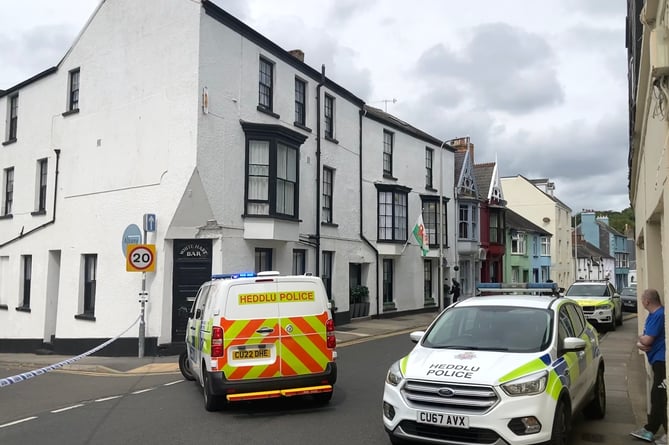 The scene at the Albany hostel facility in Tenby earlier today
(Observer pic )
Subscribe newsletter
Subscribe to our email and get updates right in your inbox.
Two men were arrested following an incident at a hostel facility in Tenby today (July 27).
Dyfed-Powys Police cordoned off one of the main routes into Tenby shortly after 11 am, as they dealt with the incident at the Albany Hotel premises which is located along the Norton and junction of St. John's Hill.
Eye-witnesses residing and working along the street told the Observer that they believed that an occupant of the hostel had barricaded themselves in.
A large police presence remained at the scene whilst the matter was dealt with.
A spokesperson for Dyfed-Powys Police stated: "Two men have been arrested following an incident at the Albany Hotel in Tenby.
"A 36-year-old man was arrested on suspicion of using threatening or abusive words or behaviour likely to cause harassment, alarm or distress, while a 41-year-old man was arrested on suspicion of obstructing/resisting a constable in the execution of their duty.
"They remain in police custody," they added.
Concerns had already resurfaced this week from nearby residents over public order offences occurring at the hostel facility.
Police were called to deal with a matter on Monday evening (July 26) at the Albany Hotel, with three police vehicles in attendance.
Pembrokeshire County Council confirmed back in September of 2021 that there was a 'temporary arrangement' in place with the authority and the hotel owners to use the building as a hostel, but under review.
At the time the owners of the facility wrote to residents in the vicinity in an attempt to alleviate 'community tension' in the area, after complaints were made from local residents regarding the behaviour of some of those staying at the premises, after police had attended the facility on numerous occasions.
This week, County Councillor for Tenby's North ward, Cllr Michael Williams has once again written to PCC's Chief Housing Officer Gaynor Toft on the matter, after being contacted by a number of concerned elderly residents on ongoing issues that were being reported.
"Another day at The Albany, with police vehicles called. The situation is out of hand with ongoing issues with various tenants," stated Cllr Williams in his correspondence.
"The continuing public order issues are causing grave concerns to those, particularly elderly residents who are extremely frightened by the disturbances.
"This was a pleasant quiet area which was always a pleasant area to live. Unfortunately, this is no longer the case, and the authority needs to ensure a far more effective management of the facility.
"It is grossly unfair on long-term law-abiding individuals who have a right to expect to live their lives without continual upsetting incidents. I look forward to seeing robust action to manage this facility," he added.
Following Wednesday's incident, Cllr Williams stated in further correspondence to Chief Housing Officer Mrs Toft: "The Police were in attendance once again this morning in considerable numbers plus the ambulance service.
"Residents of the Albany shouting abuse at passers-by, and the highway being closed for a number of hours. What a welcome to Tenby.
"Several nearby residents terrified and young children witnessing extreme foul language.
"The use of this building for housing some of the current residents is completely unacceptable. I have today witnessed real fear, and this is the responsibility of PCC.
"If the authority is unable to effectively manage the facility it must be closed and more suitable accommodation found, preferably outside a built-up area.
"It is grossly unfair on Council taxpayers to have to put up with this level of disturbance on an almost daily basis, frankly enough is enough, and this problem must be sorted.
"The cost to already extremely over stretched emergency services cannot be justified, to witness four police vehicles, plus an ambulance parked there is ridiculous.
"The ambulance service is grossly over stretched at the best of times."
Following today's incident, the owner of the premises Richard Slate posted the following on social media: "I am the owner of The Albany and very proud of the help we can offer to our local community that are in need of temporary housing.
"We work tirelessly to ensure we run the hotel with all matters within our control.
"If Cllr Williams would like to call up to the hotel to meet with me I would be delighted to show him around and introduce him to the families and individuals that are staying with us.
"Any worries or concerns that any locals/neighbours have can also call in," he added.
Comments
To leave a comment you need to create an account. |
All comments 0