From Kilgetty Under 8s to taking on Welsh international duties last week, the local community has watched in awe as one of their own - Liam Cullen moves from strength to strength in fulfilling his footballing goals.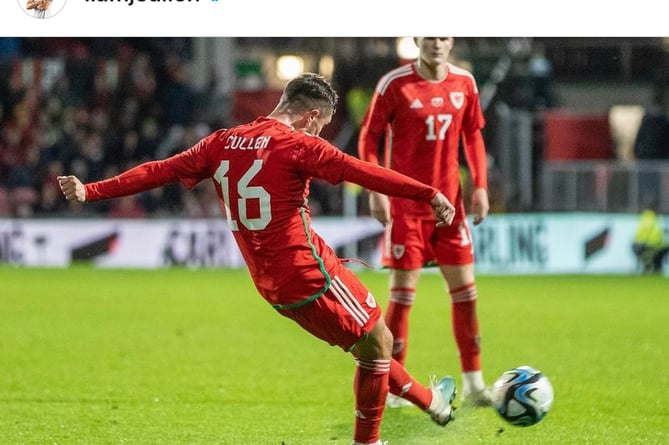 Fondly named the 'Kilgetty Messi' twenty-four-year-old Liam's journey from grassroots football to representing his country is making Kilgetty AFC as a club extremely proud.
When Liam signed up as a Kilgetty Under 8s player, his talent was soon spotted by Kilgetty coaches, including his first coach, Brian Cullen, Liam's dad.
At seven-years-old Liam joined Swansea City Development Centre, playing up a year in the Under 9s.
Lukas Gamble, current Kilgetty AFC chairman, was his first coach at the Centre, along with Chris Griffiths, another coach with an association with Kilgetty AFC.
Lukas recommended Liam to the head of recruitment, Lynn Thomas, to go up to the Swansea City Academy for trials, and his football career developed from there.
Liam made his debut for the Swansea Under 18s when he was just 13. Lukas was in the stadium for Liam's Wales youth debut at 14 years of age.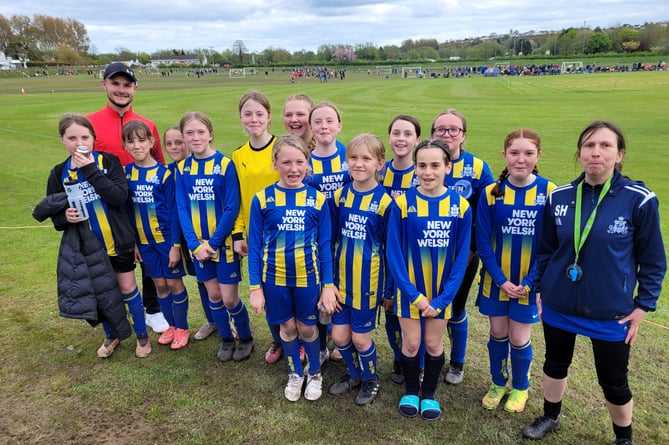 Liam with Kilgetty AFC Under 13s Girls 22/23 Squad and Sharron Hardwick
(Pic supplied)
Following in the footsteps of his grandfather Graham Jenkins, who also represented Wales at Youth level, Liam now has 29 Youth Caps for Wales.
In 2018, Liam made his senior debut as a substitute for the Swans, playing against Crystal Palace in the EFL Cup. He scored his first goal for Swansea in a 4-1 win against Reading in 2020, securing them a play-off spot in the Championship.
His dreams came true in March 2023 as he was called up to the Wales senior squad for the Euro 2024 qualifying matches against Croatia and Latvia.
Then in a memorable match last week, Liam made his Wales international debut on October 11 at Wrexham FC's historical Racecourse Ground.
Facing Gibraltar in a friendly match Liam's name was on the team sheet, in the starting 11, where he put in an impressive performance.
Liam certainly made his mark, putting Kilgetty on the map, as he was described by Radio Wales commentators as: 'Really impressive, a lovely little player, playing a pivotal role, igniting the sparks. He was excellent and made things happen.'
He posted to Instagram the following day: "Special night making my international debut last night. Thanks everyone for the messages."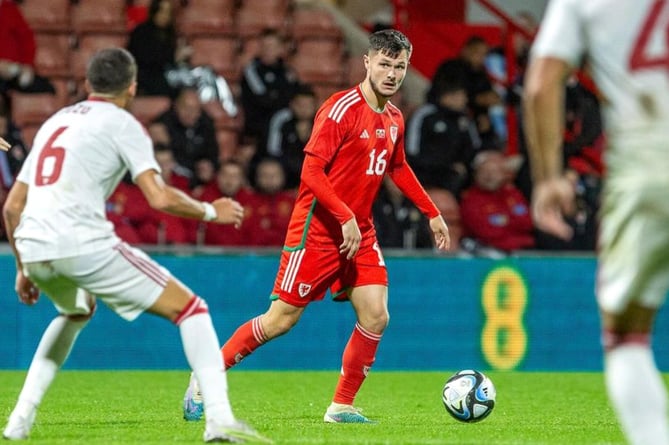 Liam in action for Wales
(Liam Cullen/Instagram)
No-one could be prouder than Liam's parents: "We are so proud of Liam. When he was a child he always said he was going to play for Swansea and Wales and he has, we are so happy for him!" said Louise Cullen
Liam has it all, potential, talent, skills; yet he never forgets his roots and always has time for his first team.
When visiting home, Liam always takes time to talk and pose for photos with Kilgetty AFC players and coaches, and is a true inspiration to all at Kilgetty AFC, who couldn't be prouder and cannot wait to see what happens next!