End of season celebrations at Narberth Cricket Club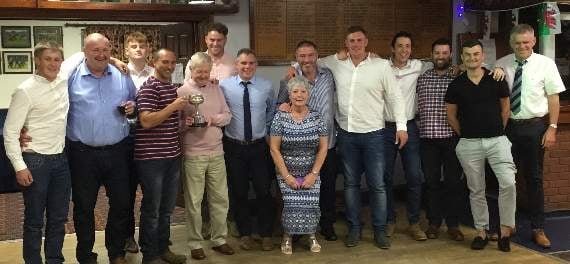 Subscribe newsletter
Subscribe to our email and get updates right in your inbox.
Narberth Cricket Club recently held their end of season celebrations to mark what was a fantastic season for the club. Multiple presentations were made as follows:
Most Improved Junior in Senior Cricket, awarded to Jake Thomas; collected by Shay Norcross in his absence, presented by club chairman Mr Arthur Williams.
Best Junior Playing Senior Cricket, Olly Berry presented by Mr Ian Gravell of Gravells Kia, Narberth.
Several other Pembrokeshire County Awards also presented to Olly Berry for his terrific achievements at County level during 2019 by Mr Nick Evans, County President.
The coveted Junior Achievement award went to Loui Davies and he is seen being presented the trophy by Mr Rowland Hughes.
A special presentation of thanks was made to Madi and Eva Hughes who have been working the raffles hard for the club all year, presented by 1st team skipper Davey Johns.
The Chairman's Award was then presented to 1st team skipper Davey Johns by Chairman Huw Simpkins in recognition of his outstanding individual efforts on the field with both bat and ball, his junior coaching, groundwork and superb captaining efforts which resulted in the 1st team returning to Division 1 next year.
Dan Hughes was the well deserved winner of the Most Improved Player Cup, presented by Club President Mr Arthur Williams.
Ladies team, players player of the year went to Terri Green, being presented by team captain Danielle Watts.
The Ladies Player of Year Award, chosen by the teams coaches went to Natalie McArthur and was presented by Team Head Coach Ceri Davies.
2nd Team Player of the Year went to Richard Howell, who took an outstanding 34 wickets during the season; here being presented by 2nd team skipper Richard Prout.
There was then a special award of a club cap to Richard Adams, Kyle Quartermaine and Had Luff who between them scored 4 centuries during the season; presented by Mr Ian Gravell, of Gravells Kia, Narberth.
The Chris Richards 1st team cup was presented by Mrs Emma Richards and 1st team captain Davey Johns to Richard Adams, who has had an outstanding season with the bat and in the field.
The 1st team then got together to pose along with 1st team scorer Mrs Gwyneth Johns with the 2nd division trophy as champions for 2019, presented by County Chairman Nick Evans.
This was followed by a presentation of 2nd division winners medals for Kyle Quartermaine and Lewis Hough by 1st team scorer, Mrs Gwyneth Johns.
Finally, a special presentation was made to Richard Howell, who was celebrating his 40th year of being involved in the organisation of Narberth Cricket Club.
A special memory of the clubs end of season day out to a Glamorgan T20 game in August was presented to Richard in thanks for his outstanding work year on year by Club Chairman Huw Simpkins.
The evening was MC'd by Mike Johns who congratulated the 1st team for regaining their place in Division 1 and the evening was organised by Mrs Gwyneth Johns who did a fantastic job in bringing the evening together for everyone's enjoyment.
Chairman Huw Simpkins formally welcomed the new ladies team to the club and thanked team captains, Shannon Harries and Danielle Watts for setting up and running the team who had great fun throughout the season.
Special thanks and a small token of the clubs thanks was awarded to Sheena and Julie of the Rugby Club for their help during the season and for the fantastic buffet that evening.
Also to Matthew and Mike Johns and Fred for their outstanding work on the field and also to Heather and John Howell, Rhian, Gwyneth and Emma for their amazing work and support with teas, fund raising and scoring during the season.
Narberth Cricket Club would like to thank their sponsors too numerous to mention, but in particular their main sponsors - The GD Harries Group, Gravells Kia of Narberth, The Andrew Price Group, Young Bros and The Dingle Inn, Narberth.
Very much looking forward to the 2020 season!
Comments
To leave a comment you need to create an account. |
All comments 0