WASPI campaigners hit back at Government again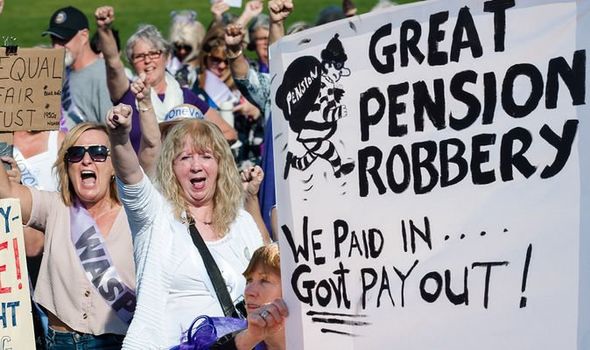 Subscribe newsletter
Subscribe to our email and get updates right in your inbox.
1950s WASPI Women of Wales campaigners locally, have expressed their disappointment that Pensions Minister Guy Opperman, like local MP Simon Hart (also Secretary of State for Wales) have said that they have no plans to meet with the group.
In the latest twist for these women, Labour MP Dr Rupa Huq questioned the Government on when the last meeting between a minister and the women of WASPI was held, and when the Government next intends to schedule one.
Guy Opperman, minister for pensions, stated there had been a meeting between a minister and representatives of WASPI - but acknowledged this had occurred years ago on June 29, 2016.
Pembrokeshire campaigner Jackie Gilderdale said: "The Ombudsman has been clear that the Department could be pro-active on compensation".
"All we are asking is that Ministers meet with us to discuss a fair, fast compensation package now before more women die waiting for justice.
"We have lost over 220,000 women during this campaign including members of the local 1950s WASPI Women of Wales.
"The MPs refusal is ignorant. They need to remember they're paid from the public purse, to represent their constituents."
Rupa Huq MP, who posed the original question in Parliament, has described the Government's response as 'shocking'.
She has called for the Government to take further action on the matter for women affected.
Ms Huq stated: "The DWP has already been found guilty by the Ombudsman of maladministration".
One Saturday last month some 1950s women joined over 115,000 people in London at the TUC rally, demanding justice now.
MP Simon Hart responded recently to one of his 1950s WASPI Women of Wales constituents who asked for his help, with his opening paragraph in his response as follows: "Thank you for your recent email regarding pensions and the cost of living.
"I'm sorry to hear that you are struggling with the increase in heating and electricity bills; I appreciate the stress it is causing in households across the country".
Jackie Gilderdale remarked: "It's all very well that Simon Hart responded, but what does he intend to do to help the 1950s women and others during an economic crises caused by his Party and the fat cats who profit through Tory Policies?
"His responses continue to be cut, copy and pasted from websites, rather than from himself."
The Institute for Fiscal Studies stated that as a result of increasing the state pension age from 65 to 66 the income poverty rate of single people aged 65 rose by 22 percentage points, from 16% to 38%; the income poverty rate of 65-year-olds with at most GCSE-level education rose by 21 percentage points, from 14% to 35%; the income poverty rate of 65-year-old renters rose by 24 percentage points, from 22% to 46%.
The rise in the state pension age from 65 to 66 led to larger increases in income poverty rates among those affected than the increases in poverty rates seen following earlier rises in the female state pension age.
This is due to a growing gap in state support over time for those just above and just below the state pension age, together with the fact that people are more reliant on state support at older ages as fewer people are in paid work.
With lower state benefits and higher tax revenues from employment, the increase in state pension age from 65 to 66 boosted the public finances by £4.9 billion per year, equivalent to around a quarter of 1% of national income, or 5% of annual government spending on state pensions. The benefit to the exchequer is the key counterpart to the reductions in household incomes caused by the reform.
Jackie added: "Just to make it clear, the national insurance fund has a surplus of approximately £30 billion and that surplus has been generated by the women who have paid national insurance.
"All we ask is that the 1950s women are given what they are entitled too - after all they've paid into the system for decades.
"The state pension should be seen as a right, but the Government have changed the terms and conditions of that right without consulting the 3.6 million women affected!
"12 months ago the Government and DWP were found guilty of maladministration and now we await the findings of stages 2 and 3, so these women can be rightfully compensated."
Comments
To leave a comment you need to create an account. |
All comments 0