'Street trading' debate surfaces again for Tenby councillors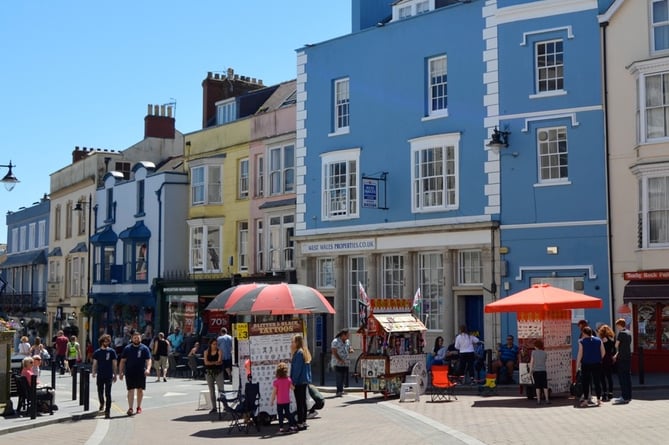 Street traders in Tudor Square during the summer
(Stock image )
Subscribe newsletter
Subscribe to our email and get updates right in your inbox.
The topic of street trading in Tenby has arisen again ahead of the summer, with councillors asked to consider an application for the town.
Down the years, mainly since pedestrianisation was introduced for the centre of the town, several business owners within the walled town and councillors have called for Pembrokeshire County Council to make a concerted effort to tackle ongoing issues of unauthorised street trading in Tudor Square and its surrounding streets.
Action has long been called for by members of Tenby Town Council to combat "pedlars" blocking the town's streets, walkways and historical areas such as the Five Arches, but a recently revised street trading policy by the local authority does not cover those providing services such as hair braiding and mobile tattooists, as they do not fall within the definition of 'street trading' under the Local Government act, with a report stating that - "oversight and enforcement of pedlar activity is a police matter."
One business owner in the centre of Tenby, previously told the Observer: "For the best part of a decade local businesses and residents within the town walls of Tenby have been lobbying and petitioning for the removal of an old by-law which allows pedlars and service providers such as mobile tattooists and hair braiders to operate within the town walls.
"Retailers, cafes and restaurants go to great lengths to make their properties look appealing and attractive on top of paying premium rates to afford positions within the town walls - yet beyond a dozen street traders can come in to the town during peak season, occupy pavements or any area they so wish to sell their wares, usually on some awful looking cart that they have wheeled in, creating a tacky looking market atmosphere!
"Pembrokeshire County Council don't seem interested in policing the matter at all!"
The subject was touched upon again at a meeting of the town council this month, after the clerk had received an application from PCC regarding the usual caricaturist who had a pitch by the Five Arches but was seeking to move to Tudor Square outside St Mary's Church, requesting a street trading licence for a 2m by 2m shelter with operational times from 11 am to 7 pm during the pedestrianisation scheme which starts this month.
Speaking at the meeting, Clr. Matthew Ronowitz, although recognising that some councillors around the table may feel very differently to him, said he believed it was good to have these sorts of activities around Tenby during the summer.
He said that he felt it was good that PCC appeared to be taking some control and charging these traders, as he considered them to be an 'attraction for the town.'
"Many youngsters have a family holiday picture done to take home," he remarked, stating that he felt the same about the hair braiders.
Clr. Laurence Blackhall said that he saw the point about attractions, but unfortunately, it could be like the 'Wild West' when they appear.
"They come from outside, take money and go away," he commented, stating that there was an opportunity to create an attraction but he was not sure the current situation allows it.
He told his fellow councillors that he did sometimes wonder why they were asked for an opinion when quite often no notice is taken of the town council's thoughts.
He said that he felt that this was not an appropriate pitch for this particular application and that it was too long to be sited there every day. However, he did commend the applicant for actually going through the proper channels and doing it the right way, rather than just turning up, and pitching up for the day, without permission.
Clr. Charles Dale said he agreed with Clr. Ronowitz in theory but like Clr. Blackhall, he did not think it was the right spot.
He told councillors that he will even audition buskers if needed - as some are very good but others are not! He was also concerned when they perform outside St. Mary's Church as he felt this was inappropriate.
The Mayor, Clr. Mrs. Sam Skyrme-Blackhall said she agreed with her colleagues, adding that there were already issues with a certain café encroaching further and further beyond the gates of St Mary's. She said there had been three funerals recently and one resulted in the family getting most upset as mourners were coming out.
"Some places are simply not appropriate for street trading," she remarked..."A stall outside the church would be in poor taste," agreed Clr. Lynn Attewell.
Clr. Blackhall felt the Five Arches was a 'cracking' spot for the caricaturist and he was not causing an obstruction. With regard to the environs of the church, he said some trading on the street have been unpleasant when approached.
Clr. Mrs. Tish Rossiter said that for years the town council have been trying to get rid of them. "They don't pay rates and it is unfair on local businesses," she said.
The Clerk explained that this gentleman was not like the hair braiders, tattooists and the like, as he was applying for a designated pitch which he would be paying a fee for.
Clr. Ronowitz proposed that PCC's street care manager Marc Owen did not grant consent for a licence outside the church as it was inappropriate. He suggested an allocated area where these traders could go so some control could be enforced.
Clr. Blackhall agreed with the sentiment of creating pitches, however, there was still the fact that certain folk were not covered by street trading regulations and would still just turn up. He said that he had particular reservations about one group whose activity seemed to be a co-ordinated business based in England.
Clr. Paul Rapi felt the town council should make it clear that the church was an area that should not be used.
"It is inappropriate to have entertainment there. There is a similar situation with St Teilo's Church and the Bush Inn having outside seating opposite, it is inappropriate," he commented.
Clr. Blackhall said that on this particular street trading licence, the town council recommend to PCC that they consider the proposed area not an appropriate location for this enterprise, and that councillors would not be in favour of granting a street trading licence in this spot as the close proximity to St. Mary's Church would be inappropriate, with his colleagues in favour.
Comments
To leave a comment you need to create an account. |
All comments 0