Singing charity's expansion into West Wales helps raise confidence and self-esteem among teenagers
Wednesday 23rd February 2022 8:45 am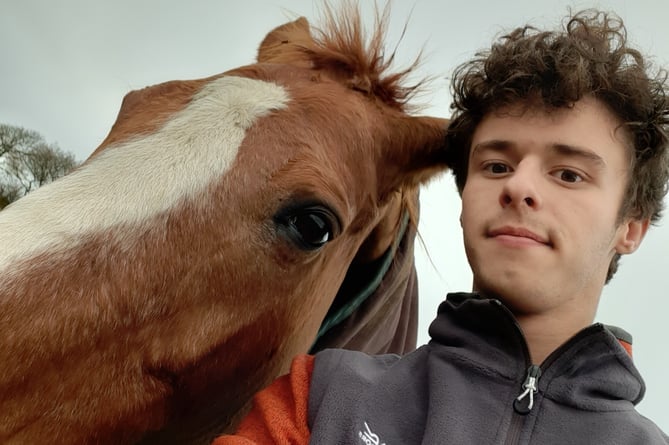 Young carer Noah Pooley, from Pembroke
(Picture supplied to the Observer )
Subscribe newsletter
Subscribe to our email and get updates right in your inbox.
A charity is inspiring teenage boys in West Wales through singing to be more self-confident and is helping raise their self-esteem thanks to support from the Bluestone Foundation.
The Aloud Charity, which runs the successful Only Boys Aloud project, says it is pleased at the number of teenagers and young men joining its choirs in Pembrokeshire, Ceredigion, and Carmarthenshire.
It launched in November last year, establishing new choirs in Pembrokeshire and Ceredigion, and expanded its presence in Carmarthenshire after receiving financial support from the Bluestone Foundation and Arts Council of Wales.
It offers free, weekly rehearsals to boys and young men between 11 and 19 years of age from any background and ability. It follows the success of its work in South East Wales where it launched in 2010.
Noah Pooley is one participant who said the experience has already made him more confident in the few months since joining a choir.
The young carer aged 17 from Pembroke, who looks after his sister and recently started work at Bluestone National Park Resort, Narberth, said even though he hated his singing voice, the choir was much more than about singing.
"I think the main thing that stood out for me is how inclusive it is for everyone. And even though I hated my singing voice (and at times still do) and wasn't very confident about it, it's as if someone is just sat there saying: 'I don't mind how good or bad you sing, just come along to it. Have fun, socialise, and enjoy it', rather than seeing it as a thing you have to be good at to join."
Noah joined as he wanted a chance to socialise more. "It's nice because there is a big range of different people there from different backgrounds and the conversations you have are quite nice, and you find out things about each other that you wouldn't know otherwise.
"Even if you're friends on social media, you learn things you wouldn't have found out about them. So, it's nice to have different conversations, and get to know other people from across the county."
He added: "It was a nice warming setting right from the start, where everyone felt like they were safe to talk, safe to be who they are, rather than everyone sitting down strictly and saying, 'you do this, you do that.' It's more 'What do you want to do as a young person. How can we help you get to where you want to go?' – rather than just telling us where you want us to be."
The new choirs are being supported by The Bluestone Foundation which launched in 2010, and has distributed over £250,000 in grants across Pembrokeshire. The Foundation strives to help people help themselves and to principally assist projects falling into economic, social, and environmental categories.
In July, OBA will hold a series of concerts where some of those who have taken part in West Wales will get the chance to sing with other groups. The OBA is also launching a new album.
Hannah Beadsworth of the Aloud Charity said Noah was a typical example of a choir member. "We don't expect them to be able to sing straight away. It's about offering them a place to go and socialise and then developing their singing ability as part of the process to help them socialise more, become confident and to help them raise their self-esteem.
"Noah cares for his sister and works and so he doesn't have a lot of time to socialise. And if he does, it might not be with a wide group of people where he can talk openly or make new friends. That's where Only Boys Aloud is different, and we use song to help."
Yvonne Buckingham of the Bluestone Foundation said Noah had been an inspiration and was an example of the sort of young person OBA was supporting.
She said: "The OBA has already helped hundreds of teenagers and young men in Wales. We wanted to help them reach out to many more in West Wales where the same issues are affecting people as they do anywhere else.
"By providing financial support we know they can undertake the weekly choir lessons and get togethers, leading to the concerts in July. There are so many young people benefiting from the charity."
Noah said singing had helped him in many ways. He already writes speeches and articles, as well as giving talks and hosting his own podcast about "the silent cries of the young generation."
He's an advocate for young people, many of whom have social, wellbeing and other issues that aren't necessarily talked about a lot, particularly in rural areas such as West Wales.
He added: "I'm in the middle of putting together a whole series of speeches about the silent cries of the young generation. Hopefully that's all being launched in June if everything goes well. I'm planning to do a campaign with it to push it out as far as I can, and hopefully get a few podcasts and news stories in.
"But the idea of the extra confidence I've got from singing has made me go 'you know what, I don't mind what people think when they hear it.' If it helps one or two people, and makes one or two people smile, that's all I mind about."
Due to coronavirus regulations, the choirs have not been able to meet in person all the time, with virtual meetings taking place on video calls. However, wherever possible, physical choir meetings have taken place in a safe environment and within the regulations permitted.
Elin Llwyd, Project Manager at Only Boys Aloud, added: "We don't expect them to be able to sing from the offset. It's about offering them a safe, comfortable, and welcoming environment to mix and socialise with like-minded young people. Their singing ability develops naturally as part of this process as we help and encourage them to socialise more, whilst raising their self-esteem and confidence levels."
More details about the Only Aloud charity can be found at www.aloud.cymru. Information about the Bluestone Foundation can be found at www.bluestonewales.com/about-us/bluestone-foundation.
Comments
To leave a comment you need to create an account. |
All comments 0