"Rest well Wild Rover" - Tributes to Dai the Boot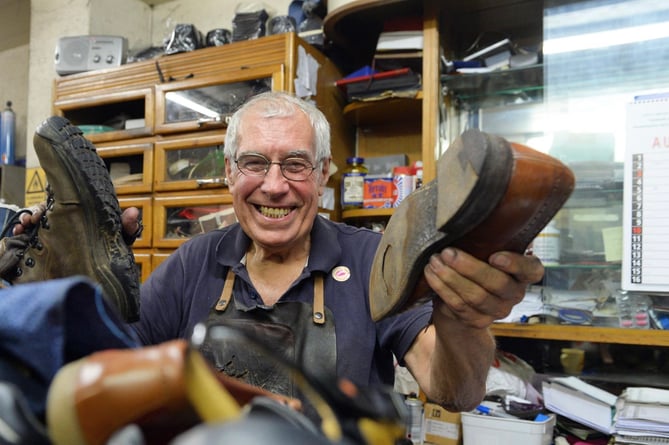 Dai the Boot at his stall in Tenby market
(Pic. Gareth Davies Photography )
Subscribe newsletter
Subscribe to our email and get updates right in your inbox.
The funeral of one of Tenby's best-loved characters 'Dai the Boot' will take place at the end of the month.
Tributes have come flooding in this week for David John Thomas of Wooden, since news of his passing at the age of 84.
Trading from Tenby's market on the High Street for years with his repair shop, Dai was also renowned locally for his entertaining and singing.
He also drew crowds over to the popular Terry Hermann Bass Fishing Competition auction, which reeled in over £100,000 for Cancer Research since it was started in 2003.
After Dai finished the fish weigh-in auction, he would delight the crowds outside the Hope and Anchor with a rendition of 'The Wild Rover'.
On Dai's passing, Tenby's Mayor, Clr. Mrs. Sam Skyrme-Blackhall said: "It is with a heavy heart today that I would like to pay tribute to the legend that was David Thomas aka Dai the Boot.
"For all those who knew 'Boot' would agree he could always be seen in his shop in the market under piles of shoes, telling a joke, enjoying the banter...but always with the promise that 'the shoes will be ready tomorrow.' Quite simply he was a hell of a boy!
"But then there was his singing talent. Unfortunately I never saw him performing down the Sands, but he did tell me many stories years ago. I was lucky enough to sing with Brian, Rob and Dai and their band Sounds 3 in the late eighties.
"He was the master of holding an audience..with a joke in-between and also teaching me his own lyrics for songs...as he couldn't always remember the original words!
"Many in later years will remember his auctioning skills doing the Terry Herman's bass catchers competitions and what he did best finishing with a song or three.
"You will be missed by everyone but never forgotten 'Boot'.
"Rest well Wild Rover - they don't make them like you anymore. Our thoughts are with Paul, Neil, Claire, Julia and the family," she added.
Dai was a native of Carew, and the village's Sports Club posted on social media this week: "Carew Sports Club are sad to hear the news of the passing of another Carew legend. A "Carew boy, who grew up in the village. A man who everyone loved to see coming, a smile, a joke and just good nonsense!
"Our thoughts are with this family at this sad time. RIP Dai, thanks for the memories and for making us smile. Only sandals to mend up there pal."
Linzi Harrison of Dales Music Store in Tenby said: "Tenby will miss him so much. A lovely man with a lovely smile, a wicked sense of humour and shoes far too big to fill!", with Richie Westmacott also of Dales remarking: "He was such a big part of Tenby all these years."
Tenby PCSO Andrew Griffiths said: "Sad news indeed, fellow musician and great company on the many, many times I called with him when on patrol. A light has gone out in Tenby."
The funeral conducted by W & M J Rossiter and Sons Ltd, will take place at St Mary's Church in Tenby, at 11 am, on Monday, May 30; followed by the Cremation Service at Parc Gwyn Crematorium, Narberth, at 12.15 pm.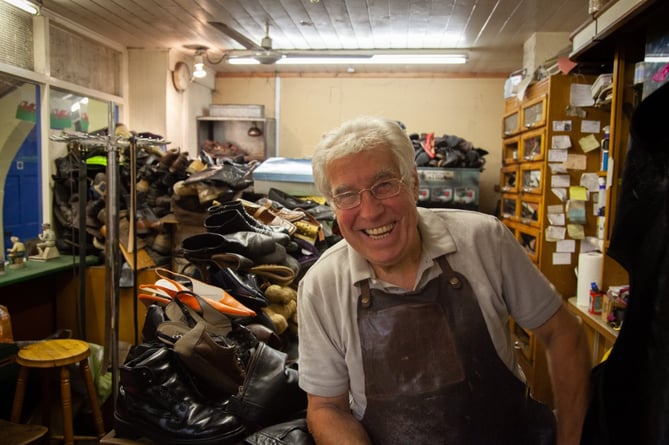 (Pic. Gareth Evans ) (Pic. Gareth Evans)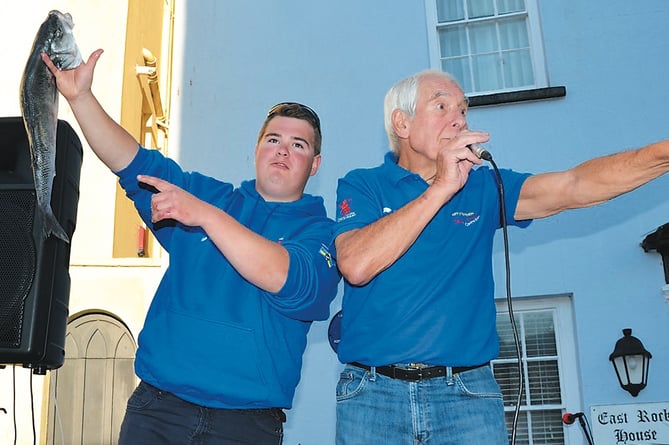 Dai at the Terry Herrmann fishing charity auction
(Stock image ) (Stock image)
Comments
To leave a comment you need to create an account. |
All comments 0