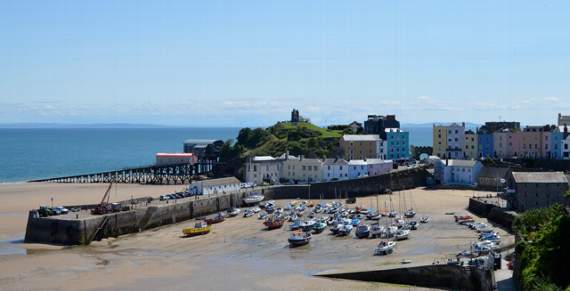 Subscribe newsletter
Subscribe to our email and get updates right in your inbox.
Plans to introduce a 'Tenby orange' as a mascot for the resort have been labelled as 'refreshing' by local councillors.
The suggestion was recently touted by members of Tenby Chamber of Trade and Tourism, with a 'Tenby Orange' discussed similar to La Tomatina in Spain, as a 'healthy option'.
Oranges were first brought to Tenby in 1566 on board Portuguese ship La Nossa Signora, together with other fruits that had never been brought to the resort before or any other Welsh port.
"While this suggestion initially raised a chuckle or two, it seemed different and as the discussion continued it evolved and seemed like an interesting idea with several options," said Chamber of Trade secretary, Andy Adamson, in correspondence that came before members of the town council at their meeting on Tuesday night.
Chamber members said that 'recipe challenges, bake sales, historical links and uniqueness' made the suggestion their favoured choice, whilst the Tomatina festival in the Valencian town of Bunol, involving over-ripe tomatoes, and the Lemon festival in the French town of Methon which runs for over three weeks of the summer, could give inspiration to a similar event taking place in Tenby.
"They build enormous structures from lemons (and oranges) and is thought to draw 24,000 people to the town!" added Mr. Adamson.
Clr. Mrs. Tish Rossiter felt it was a 'brilliant' idea and said it would be nice to involve local schools in coming up with a logo for the mascot, while Clr. Sue Lane suggested that little orange badges with the words 'you've been Tenby'd' could be marketed.
Clr. Dr Peter Easy told his colleagues that he had been to an orange festival and if Tenby could achieve anything like the one he visited, then it would be a huge event.
"It's a gimmick, but a really refreshing idea and what Tenby needs," remarked Clr. Paul Rapi.
The Mayor, Clr. Laurence Blackhall, said that the positive comments would be passed onto the Chamber of Trade.
Comments
To leave a comment you need to create an account. |
All comments 0