Rare 'Red Alert' warning issued with Storm Eunice heading to Wales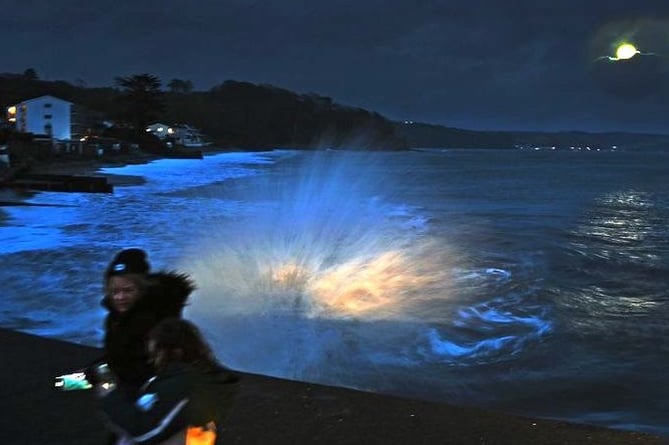 Stormy weather hit Saundersfoot on Wednesday evening
(Pic. Gareth Davies Photography )
Subscribe newsletter
Subscribe to our email and get updates right in your inbox.
Storm Eunice is expected to hit in the early hours of Friday morning and has the potential to be one of the most powerful storms experienced for a number of years.
Gusts of up to 90-100mph are expected in coastal parts of Pembrokeshire and Carmarthenshire.
Information has been provided by the Local Resilience Forum and organisations such as Welsh Government, Met Office and Natural Resources Wales that the conditions as a result of the storm are likely to cause significant damage to buildings and travelling in such conditions would be dangerous.
As the safety of learners and school staff is paramount, the decision was taken to remain closed on Friday.
Learners will be able to continue with their learning at home with schools setting appropriate tasks for Friday.
Schools across Carmarthenshire will also be closed tomorrow.
A spokesperson for the Met Office said: "There is a good chance that flying debris could result in a danger to life.
"Damage to buildings and homes is likely, with roofs being blown off and power lines being brought down.
"Roads, bridges and railway lines are likely to close, with delays and cancellations to bus, train, ferry services and flights.
"There is also a good chance that power cuts, possibly prolonged, could occur and possibly affect other services, such as mobile phone coverage.
"And in coastal areas large waves are likely and beach material is likely to be thrown onto sea fronts, coastal roads and properties. It is also likely there will be falling branches and some uprooted trees."
Pembrokeshire County Council is urging people to take every possible safety precaution on Friday and only travel if absolutely necessary as the major storm heads towards Wales.
Due to the seriousness of the storm and its likely impacts, all County Council Day Centres and associated community activity will be closed on Friday.
The Haverfordwest Farmers Market planned for Friday has also been cancelled.
Withybush Woods in Haverfordwest will be closed from 5 pm tonight (Thursday) and remain closed throughout Friday due to the risk of the high winds. The woods will be reopened when deemed safe.
Kerbside waste and recycling collections planned for Friday have also been cancelled. Replacement collections will take place in the areas affected through to Tuesday, February 2.
Households due a grey bag collection on Friday will have the grey bags and food waste collected on Saturday but all other recycling collected on Friday, February 25. Please make sure your bags are out by 6.30 am.
The Neyland, Burton, Hook and Llangwm areas will have their recycling collected on Monday, February 21.
The Hakin, Herbrandston, St Ishmaels, Dale and The Havens areas will have their recycling collected on Tuesday, February 22.
All AHP (absorbent hygiene products) collections due on Friday will be collected on Saturday .
If households are able to hold onto their recycling until their collections on Friday, February 25 it would be greatly appreciated.
Residents are asked not to put waste and recycling out during Storm Eunice as it could cause a hazard in the strong winds.
On the roads, there will be a planned closure of Newgale in place from 6am on Friday morning. Clearance options will be evaluated after high tide.
Council staff will also attend at Amroth from 6 am and close the road if necessary. A team will attend Carew at high tide to monitor in case road closure is required.
Other road closures may be necessary as the storm develops.
The Cleddau Bridge is expected to be closed to all vehicles for several hours on Friday morning. You can check the status of the Cleddau Bridge here: https://www.pembrokeshire.gov.uk/cleddau-bridge or by texting 'bridge' to 80039.
All local bus services in Pembrokeshire have also been suspended tomorrow morning.
The situation will be reviewed at midday and some services may be reinstated from 1 pm, depending on the situation.
All rail services in Wales will be suspended for the whole day.  
The storm's impact will be exacerbated by current high tides, creating the likelihood of coastal flooding.
Road closures are likely around the coast, particularly in areas such as Newgale, Amroth and Dale.
The Council has previously issued warnings that the Cleddau Bridge is likely to be closed for prolonged periods on Friday and anyone who has to travel should check in advance.
"The message is don't leave home unless you really, really have to on Friday," said Darren Thomas, Council Head of Infrastructure.
"If you do have to venture out please give yourself extra time to make your journey and be aware that some roads may be closed.
"I cannot emphasise enough how dangerous it could be around the coastline.
"The exceptionally strong winds and very high tides will make conditions treacherous. Please do not risk your life for the sake of a photograph of the waves."
The public is asked to be vigilant in relation to the potential damage to buildings and other structures, resulting in tiles and other debris falling in public areas. The winds could also lead to power cuts.
Pembrokeshire residents can help by reporting non emergency incidents by email to: [email protected]
If you need to call, the Council's Contact Centre will be open from 7 am on Friday. Call 01437 764551. Out of hours the number is 0345 601 5522.
Householders are also urged to secure items around their homes to prepare for the exceptionally strong winds expected.
Pembrokeshire County Council and partner agencies across Mid and West Wales have been meeting regularly to prepare for the storm.
The Council continues to monitor the situation closely and has teams on standby across the County.
The Council would ask for patience while dealing with incidents over the coming days.
The weather for the weekend is set to be more rain and wind which could potentially delay the response to some incidents
Visit the Met Office website for updates on the weather situation:  https://www.metoffice.gov.uk/
and check the NRW website for the latest flood warnings: https://naturalresources.wales/flooding/?lang=en
Situation updates are also available at: https://www.pembrokeshire.gov.uk/situation-updates
The First Minister of Wales Mark Drakeford said: "We are working very closely with national agencies, local authorities and the emergency services to prepare for the incoming storm Eunice.
"A red warning has been issued for much of south Wales from 07.00 tomorrow, which means there is a danger to life. Amber warnings will be in place from early Friday morning for the rest of the country.
"We are expecting significant disruption to travel - all trains in Wales will be cancelled on Friday - so please think carefully and only travel tomorrow if absolutely necessary.
"I attended a COBR meeting earlier today and the Welsh Government Cabinet is meeting this afternoon to discuss preparations for the storm.
"We will constantly monitor the situation and will keep the people of Wales updated.
"Please make preparations today so you can keep yourself and loved ones safe."
Comments
To leave a comment you need to create an account. |
All comments 0