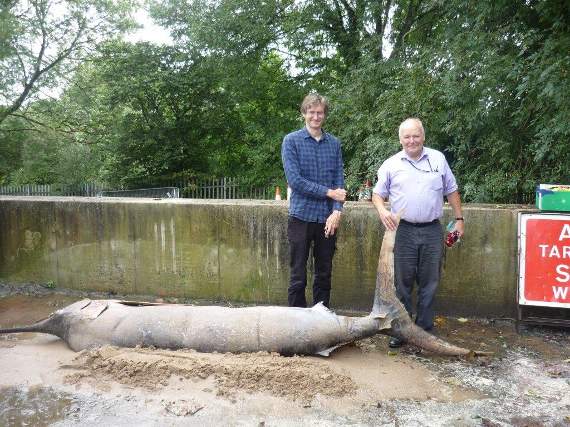 Pictured is the four-metre blue marlin with Oliver Crimmen (right) and James Maclaine from the Natural History Museum.
Subscribe newsletter
Subscribe to our email and get updates right in your inbox.
An enormous blue marlin washed up at Freshwater East now has a new home in one of the world's leading marine collections - at the Natural History Museum in London.
The four-metre fish caused excitement locally when it was discovered at the South Pembrokeshire beach last week, with many people believing it to be a swordfish.
Since then, it has been identified as only the third blue marlin ever to be washed up in the UK, and the first full one to be recovered.
The fish was inspected in situ by representatives from Milford Haven Coastguard and Pembrokeshire Coast National Park Authority, before being collected from the beach by Pembrokeshire County Council.
Council staff stored it at the Templeton depot and reported it to Rod Penrose of the UK Cetacean Strandings Investigation Programme.
And within 24 hours of him contacting the Natural History Museum, two experts from the Department of Life Sciences were on their way to collect it.
Oliver Crimmen, senior fish curator, said they were delighted to hear about the blue marlin, and that it would initially be put into storage at the museum with many other fascinating finds from all over the world.
"The flies had started to take an interest in it but we were amazed it was in such good condition," said Oliver. "I'm hopeful it will go to our research department and provide us with a valuable subject for science."
He added that there is also a possibility it may go on display in the future. The skeleton of a vast blue whale found by whalers in Wexford Harbour in 1891 will be suspended from the ceiling of the Museum's famous grand entrance, Hintze Hall, from summer 2017. Oliver - who worked with artist Damian Hirst on his art installation of a shark preserved in a tank of formaldehyde and has preserved many large fish specimens for the museum's collections - added: "It's a spectacular beast and it would be lovely to display it."
The blue marlin spends most of its life in the open sea far from land, and is generally associated with warmer waters.
Rod Penrose said two out of the three blue marlins washed up in the UK had been found in Pembrokeshire. The first was in Saundersfoot in 2008, although that specimen wasn't good enough to be preserved.
But as the fish at Freshwater East was in such an excellent condition, he was keen to find it a home and contacted several organisations.
"Oliver at the Natural History Museum was incredibly interested and it's great that it will be stored there," he said.
To report a stranding on a beach anywhere in the UK, dead or alive, contact the UK Cetacean Strandings Investigation Programme's freephone number on 0800 652 0333.
Comments
To leave a comment you need to create an account. |
All comments 0