Railway consultant offers to help with Tenby station clean-up efforts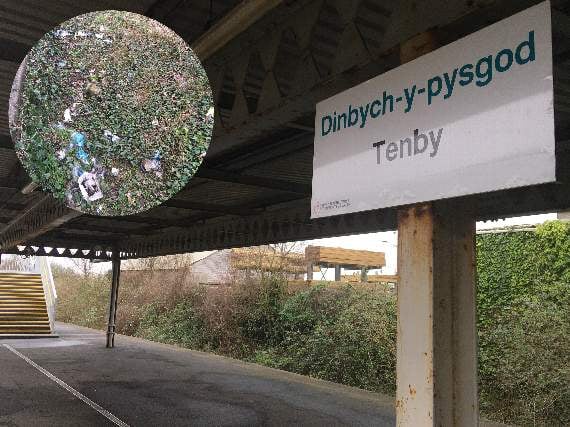 Mr. Cole said that Network Rail has a golden opportunity to work with the councillors and local supporters of the railway, and return Tenby railway station back into a station to be proud of
()
Subscribe newsletter
Subscribe to our email and get updates right in your inbox.
Tenby councillors are looking to hold discussions with a rail consultant living nearby in a bid to try and address litter and waste issues that have tarnished the town's railway station in recent years.
Councillors recently labelled parts of the railway line in Tenby an 'embarrassment' and have urged Network Rail to undertake a full clean-up of litter and waste left to collate alongside the train station's tracks and platform.
The town clerk said that the town council had held meetings with local AMs and MPs and Network Rail in the past about the matter, but nothing had ever moved forward or been resolved.
It was also raised that John Perrett who took over station adoption duties last year in Tenby was also restricted in what he could do in volunteering to clean up the rubbish as he was required to have someone from Network Rail to monitor him if he wanted to access certain parts of the train line where litter had been strewn.
Since the story was published in the Observer, correspondence has come forward from Penally resident Richard Cole LLB Hons (Wales), a former Network Rail employee, who now works as a railway consultant. He said that he'd read with interest the article relating to the ongoing frustrations councillors were currently experiencing with the railway authorities to undertake a clean-up of litter and waste within the Tenby station environment.
"As an ex Network Rail employee, now railway consultant, I am very much aware of these frustrations which local councils sometimes endure with the railway operator in their attempt to set up some form of a community stations partnership scheme, in many cases simply to tidy up and implement an environmental friendly railway station with the local communities," wrote Mr. Cole.
"I do know that Network Rail take these type of local initiatives very seriously, and during my time with Network Rail, funding was provided for such schemes. For natural railway safety reasons, there are detailed processes, procedures and assessments required, governed primarily with pre-planning timescales, but I am fully acquainted with these procedures, and hopefully may be able to provide the link between the two parties."
Mr. Cole continued that, as an adjoining neighbour to the railway line living in Penally, he had recently received a letter from Network Rail advising of their proposed 'safety critical vegetation works' which began on January 19 and are due to finish this weekend.
With a pre-planned line block installed, meaning that there has been no passenger trains running between Carmarthen and Pembroke Dock, for this period of time, this would have been an ideal time to organise a 'litter collection' exercise within the constraints of the railway at Tenby, Mr. Cole stated.
"During the remaining winter train timetable, there is a 'no booked train service' every Sunday morning, so with the necessary forward planning arrangements made, a future early morning Sunday litter clearance session could alternatively be arranged, given the right positive attitudes made by the respective railway authorities," suggested Mr. Cole.
"As a local resident, with extensive railway experience in this specific field, I would be willing to co-ordinate these works with Network Rail on behalf of the council to see if there is any way some form of compromise can be achieved.
"Subsequently, with some forward planning, with a current public database backlog of complaints, concerns and continuing requests to clean up the railway environment within Tenby station, Network Rail has a golden opportunity to work with the councillors and local supporters of the railway, and return Tenby railway station back into a station to be proud of, and deemed suitable for the many thousands of travelling visitors and holidaymakers who use the railway network every year to visit this beautiful part of Wales," he added.
Speaking at Tuesday night's meeting of the town council, Clr. Mrs. Tracey Evans told her fellow councillors that she was 'thrilled' to see this correspondence, and hoped that the council could arrange a meeting with Mr. Cole on the matter as soon as possible.
"It sounds like he could be a really big help," added Clr. Mrs. Sue Lane.
Comments
To leave a comment you need to create an account. |
All comments 0