'Public piano' could see people 'tinkling the ivories' in Tenby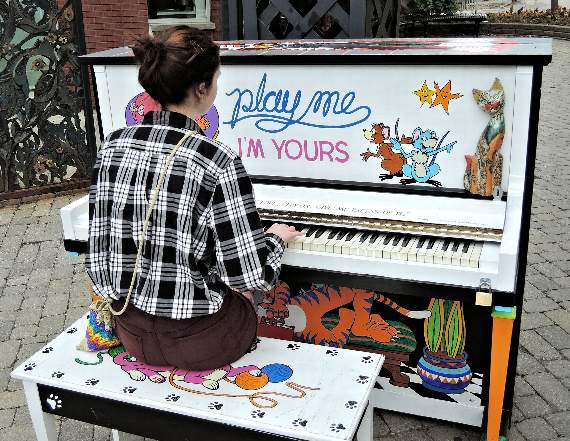 Subscribe newsletter
Subscribe to our email and get updates right in your inbox.
Could Tenby soon see pianists 'tinkling the ivories' in public!
Correspondence from Miguel Llama that came before Tenby Town Council members at their meeting on Tuesday night put forward the suggestion of the resort further venturing into the world of music by having a public piano, following on from the 'Play Me, I'm Yours' initiative which was started in 2008, when artist Luke Jerram created a global movement of pianos being installed in public places.
"On Youtube alone the top five public piano videos have a cumulative 233million views - so this not just being an opportunity for the public to have music in their life, it is an advertising opportunity for Tenby, with local artists being able to convey their work on the piano," wrote Mr. Llama in his letter to the town council.
"A public piano creates an atmosphere of joy and can uplift someone's day with the tap of a key. It'll also encourage children and adults who have never had the opportunity to inquire into something almost magical when fully engrossed.
"This is an opportunity for people to express themselves and connect with one other. You get strangers giving each other piano lessons.
"This is an opportunity for something fresh, a new bloom of life into Tenby and the world of music. In a time where everyone is so disconnected, a public piano gives everyone an equal opportunity to share a story - their story," he added.
Councillors Paul Rapi and Harry Whitehurst, both with musical backgrounds, told their fellow members that they thought this could be an idea worth exploring.
"You will find this public piano initiative in other parts of the UK and Europe, often at train stations and subways, although that wouldn't work at ours obviously, as it would be open to vandalism," remarked Clr. Whitehurst.
Clr. Rapi suggested somewhere like the Market could be an option, but said that he would fully support the suggestion.
Councillors agreed to pass the idea on to Pembrokeshire County Council who owned the Market building.
Comments
To leave a comment you need to create an account. |
All comments 0