MP Simon Hart says he's 'Ready for Rishi'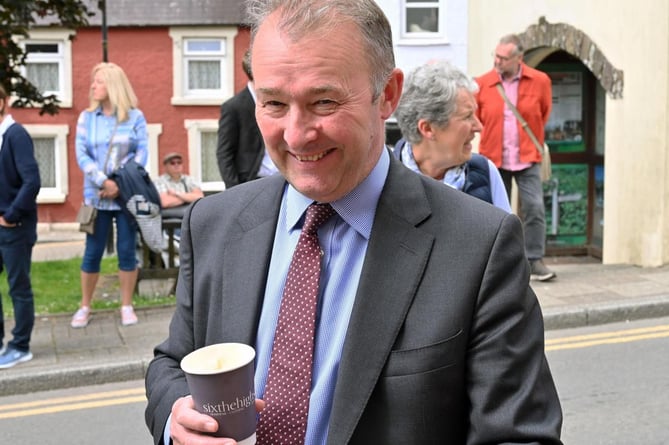 Simon Hart pictured in Narberth last week, awaiting the arrival of the Prince of Wales
(Pic. Gareth Davies Photography )
Subscribe newsletter
Subscribe to our email and get updates right in your inbox.
MP for Carmarthen West and South Pembrokeshire, Simon Hart has given his reasons as to why he's backing Rishi Sunak to become the new Prime Minister.
Mr. Hart who stood down last week from his role as the Conservative Government's Welsh Secretary of State, on the eve of Boris Johnson, told political website The House as to why he's 'Ready for Rishi'.
"I was at the Welsh Conservative conference recently listening to a Q and A between Rishi Sunak and William Hague," said Mr. Hart.
"At one stage William pressed the then Chancellor on his wider political ambitions for the country. 'To make people proud again,' Rishi replied, 'proud in their country and proud in their government'.
"That struck a chord with me and the other guests. It reminded us that whilst leaders come and go, the core values of our party, shared in such numbers at the 2019 general election, remain the constant presence that defines our National as well as our political fortunes.
"In the same way that the country braced itself against the worst effects of Covid, so it is for the aftershocks too
Those values - social and economic - are suddenly more important than ever. We have had an extraordinarily testing few years. As if a pandemic wasn't enough our response to Ukraine has drained the national coffers, resulting in an unavoidably harsh economic outlook.
"The temptation will be to borrow more to fund exciting looking tax cuts, to slash public spending for the same ends or even to sanction inflation-busting pay awards. Yet all these come with the risk that they will continue to drive up inflation or interest rates, undermining the whole argument for doing them in the first place.
"However the sweet spot sits somewhere in the middle, a responsible approach to spending commitments and initiatives such as levelling up with the absolute certainty that they can then be followed by a sustainable reduction in personal and corporate taxes," continued Mr. Hart.
"But in the same way that the country braced itself against the worst effects of Covid, so it is for the aftershocks too. So as our families and businesses adapt to these pressure so also will they expect - demand even - our political leadership to be up to the job.
"This means gravitas, experience, compassion, resilience, pragmatism.
"Many of our new leadership candidates have some of these attributes in plenty, but only one has the full suite - Rishi Sunak.
"The next question I ask myself (as the holder of a west Wales marginal seat) is equally simple. Who have we in our midst whose offer is as valid in Scotland for a candidate up against the SNP as it might be in Cornwall facing the Lib Dems; or who might resonate in a London suburb as effectively as they might in a tussle with Plaid Cymru in the north Wales countryside.
"Again I reach the same verdict. If Rishi Sunak is elected we have a very short two years to regain our status and reputation for good solid economic competence. I believe he can do it, and that's why I'm supporting him to be our next Leader," he added.
Comments
To leave a comment you need to create an account. |
All comments 0