A Saundersfoot county councillor has expressed his hope that a new housing development for the locality will help accommodate many young families who are unable to afford houses locally, whilst at the same time raise numbers at the seaside village's primary school.
Plans for a new estate of 54 homes at agricultural land north of Whitlow were given the go-ahead by Pembrokeshire Coast National Park Authority planners last month, with a condition that 13 are not second homes.
The application for the mixtures of 27 houses and 27 flats/apartments, together with ancillary works, was made by Morgan Construction (Wales) Limited and Barcud Housing Association.
PCNPA committee members unanimously backed the application, with a long string of conditions including the 'C3' restriction.
The option of a new Class C3 (primary residence) designation, removing permitted development rights to prevent use of Classes C5 and C6 (second home and holiday lets), was introduced in Wales late last year.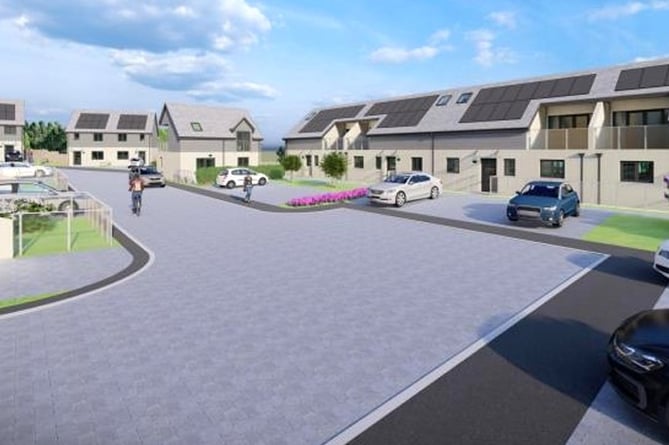 Plans for a new estate of 54 homes on land north of Whitlow, Saundersfoot, are expected to be approved.
(Picture: R L H Architectural )
"This proposed site has been talked about for longer than the ten years, and the application was unanimously passed, while I seconded the proposal as I personally think this will be an excellent development for the community," said Cllr Chris Williams, who sits on PCNPA's development management committee.
"The proposed development on Hean Castle Estate land has gone through a very long process of making sure this development meets the needs of the local community.
"Whilst in the meeting there was a healthy debate on the proposals put forward and this site was also supported by Saundersfoot Community Council.
"One point I raised during the meeting is the reduction in numbers attending Saundersfoot CP school and the number of young families who are struggling to find properties.
"Over the last 12 years numbers have gone from just over 300 to a current number of just below 170.
"Whilst I agree that second homes have impacted on this number it's also right to say that the excellent Welsh school, Ysgol Hafan Y Mor in Tenby has also impacted on these numbers.
"Priority is to raise numbers so our village school can thrive within our community.
"To do this we have to accommodate many young families who are unable to afford houses locally. That means they lose support from their wider families."
Cllr Williams said that the housing development will cater for 19 properties that will be affordable, and also tackle the issue of second homes.
"Currently Saundersfoot has a 27% rate of holiday homes. This is in the top three for Pembrokeshire," he continued.
"With that in mind, National Park has worked with Welsh Government that, of the remaining 34 properties on site that the equivalent of 73% have to be permanently lived in.
"Having young families move back to Saundersfoot will certainly help the school and having restrictions on the site is really positive.
"You can't blanket ban houses from being sold as second homes but this is an excellent start for future developments."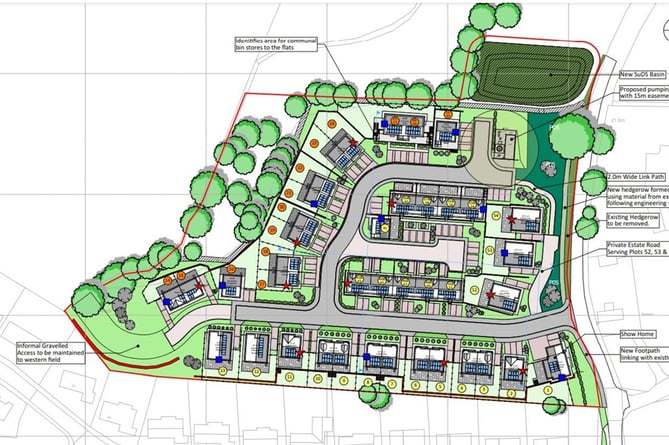 (Picture: R L H Architectural )
Cllr Williams stated that another positive of this site is the contractor chosen for this development.
"Mr Lewis has gone to great lengths to secure the services of such a reputable builder. Morgan Construction has an excellent reputation and I'm convinced they will certainly build quality homes on this site," he continued.
"Recently I went to look at a site they had completed in Newport Pembs.
"The quality of works and the lay out were excellent and gave me great confidence that these are the right developers for this site.
"Recently in the local press there have been issues not far away so that's why it's crucial to engage with the correct developers," he added.