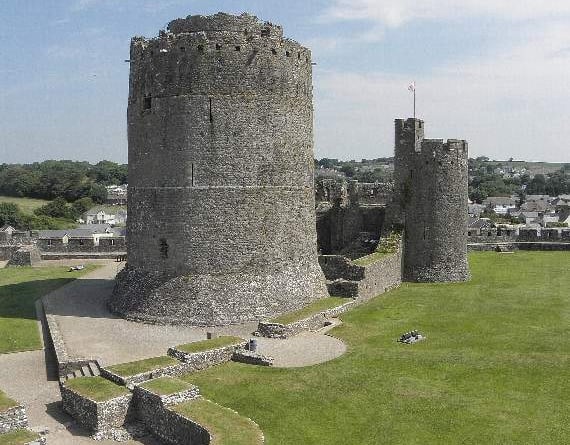 Subscribe newsletter
Subscribe to our email and get updates right in your inbox.
The Castle Studies Trust has awarded a grant to Neil Ludlow and Dyfed Archaeology Trust to research Pembroke Castle. The geophysical survey will further advance the understanding of one of Wales's and the UK's most iconic castles and birth place of Henry VII.
Best known for its massive round keep built by William Marshal, the greatest knight of his age, little else is known about what exactly was in the castle's interior. Even the location of the possible chamber block where Henry VII was born is unknown because of post-medieval destruction.
Tantalising glimpses of what lies beneath the surface were revealed in aerial photographs in 2013, with parch marks revealing the outline of a number of possible buildings. Dyfed Archaeology Trust with the guidance of well-known castle expert Neil Ludlow will use the latest geophysical techniques including ground penetrating radar to try and reveal some of the secrets.
Not only could the research reveal the possible chamber block where Henry VII was born, but also what was likely to be extensive high status buildings befitting the great medieval baron and protector of Henry III in his minority, William Marshal, who built extensively there in the early C13.
Neil Ludlow said of Pembroke: "Despite being one of the largest and most prestigious castles in Wales, its internal arrangements are surprisingly little-known. Thanks to the support of the Castle Studies Trust our knowledge of them will be increased immeasurably due solely to this generous grant."
Castle Studies Trust patron John Goodall added: "Pembroke is a major monument, but one not in state care and therefore has not been studied in the same degree of detail as many other castles. The survey will hopefully reveal the secrets of the castle, which given its importance, must have been rich with a number of major medieval buildings."
Comments
To leave a comment you need to create an account. |
All comments 0