More calls made for South Beach groynes to be reinstated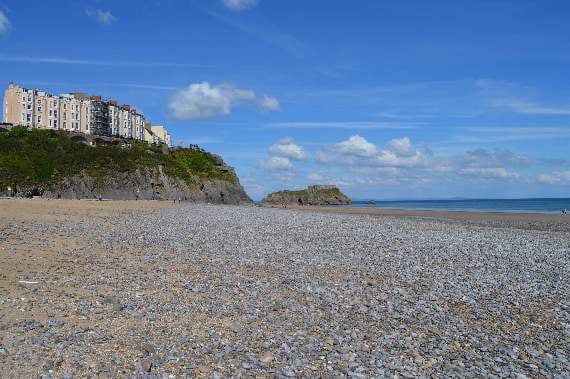 The erosion on the sands which now shows a surface of rocks and pebbles.
()
Subscribe newsletter
Subscribe to our email and get updates right in your inbox.
More calls have been made to consider putting the groynes back on Tenby' South Beach to try and help restore the golden sands.
For the past few months local councillors have appealed for Pembrokeshire County Council to come to the aid of one of Tenby's popular beaches which was described as a scene of 'devastation' over the summer, with warning signs in place informing visitors to watch out for exposed power cables and other trip hazards which have become prominent due to the erosion on the sands which now shows a surface of rocks and pebbles.
Clr. Paul Rapi along with fellow councillors and members of the public have long stated that the groynes that used to be present to interrupt the water flow some 15 years ago needed to be put back in.
Speaking at Tuesday night's meeting of Tenby town council, Clr. Mrs. Samantha Skyrme-Blackhall told her fellow councillors that a lot of people and an ex-councillor had approached her asking to raise the matter once again.
"Where do we stand with bringing the groynes back and will they make a difference? If so, can we look at the Enhancing Pembrokeshire Grant, using funds raised via the Second Homes Tax as a way of funding?" she asked.
Clr. Trevor Hallett said that the sea was eating into the South Beach and it was something that could never be stopped.
"There is not foundation underneath where the groynes were - you will never stop the sea levels coming in and decreasing the sands," he remarked.
Earlier this year a spokesperson for Pembrokeshire County Council said that over recent years the South Beach had occasionally seen a noticeable decrease in sand levels, partly due to the natural fluctuations of sand levels which occurs on all beaches - from year to year.
PCC have stated that dredging sand from the Harbour and North beach was not a 'feasible solution' to the problem as there was nowhere near enough sand 'going spare' and obtaining sand from offshore would cost millions of pounds, which there was no justification for the authority to spend - especially as there is no guarantee that the sand will not be lost offshore in the future.
Comments
To leave a comment you need to create an account. |
All comments 0