More 'Bobbies on the beat' needed to tackle Tenby's 'drinking culture'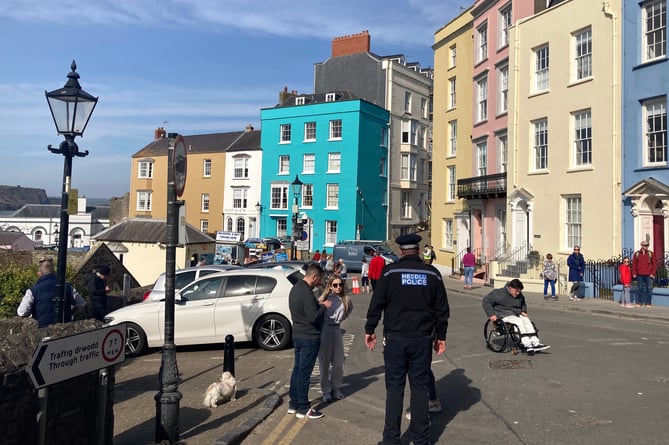 Subscribe newsletter
Subscribe to our email and get updates right in your inbox.
Councillors in Tenby have been asked to prompt Dyfed-Powys Police to put more 'Bobbies on the beat' to tackle anti-social behaviour, as the summer season approaches, and more and more people head to the seaside town.
In correspondence that came before Tenby Town Council at its most recent meeting, one resident of St Mary's Street, gave an account of a recent occasion when a 'drunken brawl' broke out after midnight, outside people's homes, and despite one neighbour phoning 999, police failed to respond to the incident.
"We are writing to ask the town councillors if they are able to request an increase in 'Bobbies on the Beat' - to patrol the town, now that the season of serious drinking has started up," wrote the correspondent.
"Last night at midnight, we were woken by a large group of feral drunks stumbling down our street, shouting, arguing, two steps forward, two steps sideways, before finally settling. They were truly 'off their heads'. One of them lay down, after being punched, in the middle of the road, another lay on the pavement, while others stood pushing and shoving each other. Their ongoing argument was generally incoherent but involved a lot of shouted obscenities!
"These people were not only seriously obnoxious, but much more importantly were dangerously, scarily, even perilously drunk. One of the witnesses was a seven-year-old child, who was then too frightened to go back to bed on her own.
"Another neighbour had people thrown against her front door and was so frightened that the door would be smashed in that she went out the back and sat in her garden until it was all over," they continued.
Asking what residents are meant to do when such matters occur, with at least one person ringing the police on 999 but without any effect, the correspondent went onto say that the incident was not an unusual occurrence, as residents are often woken by drunks at midnight and into the early hours, with many home to people who get up early in the morning to go to work or to take their children to school.
"It is all very well for the local drinking establishments to have security on the door but this does nothing for behaviour in the streets. Consideration should be given to the social cost, including the reputational cost of the drinking culture in Tenby," stated the correspondent.
"Also we would like to ask if they could consider ways to promote family tourism rather then the 'all the Prosecco you can drink' and the 'come and get ratted weekends' culture, which is so prevalent in town! A woman who lives 40 miles away recently said to us, 'oh yes, whenever we want to get completely off our heads where nobody knows us, we always go to Tenby!'
"Some people we met on the coast path said how lovely Tenby was, apart from being woken by the drunks shouting past their hotel on the Esplanade," they added.
Responding, Clr. Matthew Ronowitz told his fellow councillors that he believed this to have been an isolated incident, adding that he felt that Tenby was marketing itself as a family tourist destination quite successfully, suggesting this was a 'policing matter'.
Clr. Charles Dale reiterated the importance of the communication between the council and police with more frequency needed.
Clr. Mrs. Tish Rossiter said that if visitors come to Tenby and stay in the centre of town, then there will be noise.
"Pubs get the blame for drinking and rowdy behaviour but people drink prior to actually going out. This gives us a black mark but it is out of our control," she remarked.
The Clerk told members that a conversation had been had with the police and the Sergeant acknowledged that an officer would be present at the next meeting on July 5, and that such meetings would become more regular.
Councillors were told that Operation Lion - the partnership initiative that aims to ensure public safety and deter anti-social behaviour, low level public order and drink related problems, had already started on the Jubilee Bank Holiday, with seven additional police officers covering the area at weekends.
Comments
To leave a comment you need to create an account. |
All comments 0