'Locals seem to have been forgotten' - Tenby councillor calls for infrastructure investment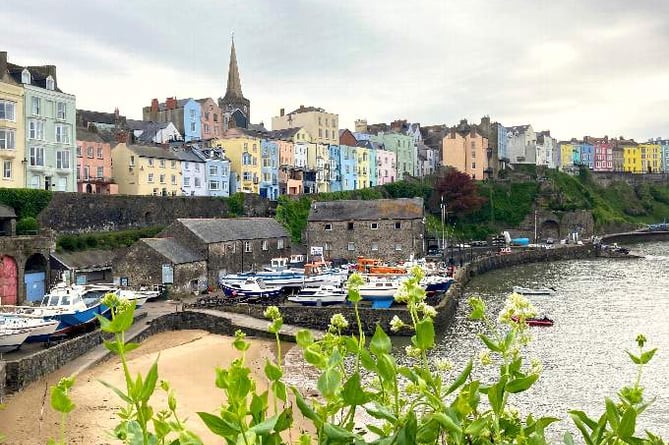 Subscribe newsletter
Subscribe to our email and get updates right in your inbox.
A Tenby councillor has called for more investment for the town's infrastructure - to help suffering communities and those living in the locality, rather than funding being used as a tool to simply promote the coastal resort as a holiday destination.
Clr. Paul Rapi said that it was imperative that local authorities focused more on using public money to look after communities which are 'fizzling away' before turning places like Tenby and Pembrokeshire into a 'Disneyland' with all 'facade' and 'nothing underneath'
His comments came at a meeting between the town council and the Chief Executive Officer of the Visit Pembrokeshire organisation.
Councillors met with CEO Emma Thornton last month who gave a presentation on 'building a sustainable future for tourism in Pembrokeshire' and talked about the organisation's 'Destination Management Plan'.
The Visit Pembrokeshire organisation was formed in 2020 to act for the tourism industry and businesses across the county, by focusing on a range of diverse activities including - tourism leadership and advocacy, destination marketing, campaign and project delivery, industry liaison and support, research and intelligence and event support.
She told the meeting with Tenby councillors that targets included reaching a 10 per cent growth in the visitor economy in real terms over a five year period; and to make Pembrokeshire a 'top five UK destination choice'.
Councillors heard that it was also about attracting value not volume, and visitors who 'get Pembrokeshire' and what makes it such a special place.
The plan for Pembrokeshire was about addressing seasonality, making it a year round destination; with the ethos to signpost the whole of the county and take pressure off the 'honey' spots.
Clr. Rapi started discussions by stating that he had many issues that he wanted to bring to the table, but the main point he wanted to raise was that the infrastructure of Tenby was 'appalling' - as no investment had been made in town for 10 years.
"Tenby did very well this summer, it doesn't need more people! Tenby is busy enough already, we don't need more volume. Everything is now shut and the locals seem to have been forgotten about!" he remarked.
He went onto say that he felt that only those to benefit from Visit Pembrokeshire's Destination Management Plan will be businesses. "What about locals?" he asked.
"Many work in hospitality yet cannot get a mortgage to live in our town as the wages are appalling!"He said all the talk was of increasing numbers, but what was proposed in relation to encouraging investment in the local communities? Local properties are being sold off as second or holiday homes, yet Visit Pembrokeshire's aims seemed to wish to advertise the town to people all over the world which will only increase the pressure for holiday accommodation to the detriment of the needs of local people.
Clr. Rapi felt there was a need to think more than just about the business opportunities.
"Our community is fizzling away and yet nothing said here today gives me any encouragement that this is going to help our community," he continued.
He felt that the public money that Visit Pembrokeshire have received from the Pembrokeshire Coast National Park and Pembrokeshire County Council was purely being spent to promote businesses.
To clarify, Mrs. Thornton said that this was not about 'volume' but it was about 'value' - and developing the right type of visitor economy that enables communities to thrive.
She said there were issues over tourism pressures especially in Tenby, which is why it was important that this is seen as a partnership between the private and pubic sectors.
"Communities are really important in this, which is why over the next month, the focus will be on engaging the community in this strategy so they have their say in the five-year destination management plan," she explained.
"This is not about encouraging more visitors, it is about attracting the right type across the whole year and the whole county."
Tenby's and Saundersfoot's marketing has not been tactical in the past, and this was something that needed to be looked at, she said.
With regard to funding that comes to Visit Pembrokeshire, she explained that it was the tourism funding that was part of PCC's remit. It was a question of pooling resources into one organisation rather than having many organisations all doing their own thing.
The Five-Year Plan was a destination management plan based on developing sustainability, which is why there was the need to have a public sector in partnership with communities, to help them be a part of shaping the future of tourism in Pembrokeshire.
Clr. Mrs. Sue Lane told the meeting that working in the hospitality sector herself, businesses were already struggling to cope with current volumes because of staffing issues. Many were unable to capitalise on the visitors already coming to Tenby because they did not have the staffing capacity to serve them. Even if tourism was spread around the county more, where were the staff coming from, she asked.
Mrs. Thornton felt these were indeed issues, but they were not only occurring within the county, with the whole of the country in the same situation; particularly as far as to how to raise the bar in terms of salaries in the tourism sector to attract people into employment.
This was not about necessarily encouraging more visitors, stressed Mrs. Thornton, it was also about addressing the problems just discussed.
A high proportion of visitors come during the summer months, yet the county is quiet in autumn and winter. Some businesses are currently closed for a breathing space due to the bruising time they have experienced during the pandemic, but for some it is also about not having the business to sustain them.
The aim was to develop and shape the economy by attracting visitors throughout the year to take the pressure of the busy summer months; to encourage them to stay longer, spend a little bit more and to spend across the county.
She felt marketing of the county had not been done tactically in the past.
"If we want to change people's behaviour, we need to present Pembrokeshire in a different way," she said.
Clr. Jim Cornwell pointed out that Tenby was already successful in bringing people into the town after the main summer season, although he acknowledged that between January and Easter, things were quieter.
Clr. Mrs. Christine Brown said she was in favour of growing tourism as a community partnership. A lot of what happens in Tenby to bring people in outside the main season is run by volunteers and she felt more assistance was needed to support this work.
However, she felt that the infrastructure needed to support these events was virtually non-existent, particularly in relation to rail services.
"It is difficult to get a train more than twice a day - which also impacts staffing levels - and when we need to be busy and put on events there is no way for people to get here!" she said.
She also felt that current funding pressure on the county council had led to a lack of investment in the town. "Tenby tries to remain looking beautiful but many aspects are falling apart," she commented.
Mrs. Thornton said that Visit Pembrokeshire was a small team which had knowledge and passion. However, members had to bear in mind that the organisation was launched in the middle of the pandemic and was still in its infancy.
She felt nothing mentioned by members was a surprise, but the focus of the organisation is working in partnership, building better relationships, and raising awareness with local communities.
Clr. Laurence Blackhall felt the comments made by fellow members were interesting and indicative of the challenges to be faced around infrastructure and employment.
'How can you get businesses to get engaged when one thing you mention is to try and disperse people away from Tenby," he asked. "It's not a huge selling point!"
"Infrastructure issues are fundamental. You can have the best marketing in the world but if the infrastructure is unable to support visitors, you are just servicing some sort of Euro Disney!"
He also felt there were issues around deregulated markets such as Airbnb. If you want to add 'value' - how can you be assured quality is managed when there are no regulations?
He could see some real challenges in engaging a community to ensure they did not just see themselves as servants in a grand vision of a 'Pembrokeshire theme park'.
Clr, Rapi felt progress needed both leadership and a workforce behind it. He asked Mrs. Thornton to ensure that in future discussions for Visit Pembrokeshire, she would highlight the fact that Tenby is concerned about its community, as he felt that this had not been adequately reflected in her presentation.
"Our community is suffering," he said. "We have people living on the borderline, the working poor who need to be supported.
"It is all very well being a holiday resort, but how this helps the people of Pembrokeshire needs to be addressed. Clr. Blackhall has made the same comment as I did at county council a number of years ago. Pembrokeshire is not a Disneyland, all facade with nothing underneath," he added.
Deputy Mayor, Clr. Mrs. Tracey Evans agreed with comments that it was not about increasing visitor numbers. "We can't cope with the visitors we have already," she added.
Mrs. Thornton agreed there were challenges, and felt that the pandemic over the last year or so may have been an exception in relation to visitor numbers as the pent up demands of folk not being able to go abroad had led to more staycations and an exceptionally challenging year.
"It may be similar this year," she commented, "but Visit Pembrokeshire's focus is a broker, bridging the gap between different community organisations and the public and private sectors to address these challenges."
The Mayor, Clr. Mrs. Sam Skyrme-Blackhall said some very important points had been raised during discussions
Increased tourism was having a domino effect in relation to local property availability for local people, she pointed out. There were growing cases of local people living in rented accommodation who were now being served notice to quit as the owners were looking to capitalise on the potential increased income generated by tourism.
"Local people are no longer able to afford to live in the town, we are in danger of losing the community that makes Tenby what it is," she remarked.
Comments
To leave a comment you need to create an account. |
All comments 0