Neyland resident wants to shine the spotlight on the disease for Ovarian Cancer Awareness Month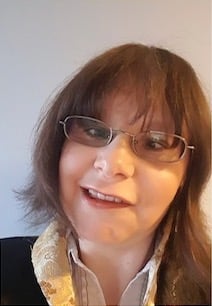 Subscribe newsletter
Subscribe to our email and get updates right in your inbox.
To raise awareness during 'Ovarian Cancer Awareness Month' this March, Neyland resident Amanda Davies, who has been treated for the disease, has shared her story with the ovarian cancer charity 'Ovacome'.
When civil servant Amanda went to accident and emergency with a swollen stomach and being violently sick, doctors thought that she might be suffering from an ectopic pregnancy, after ruling out a blocked bowel.
She was aged 42 at the time and started to question herself, having taken precautions with her partner of 16 years not to fall pregnant, in the knowledge that this could be dangerous for her because of a heart condition.
"When I was told I might be pregnant it was pretty scary," recalls Amanda. "I literally had nothing in the house and I'd always known that the weight gain and then loss from a pregnancy would be dangerous for me, so I'd accepted that I shouldn't try to have children."
But Amanda's hunch that she couldn't be pregnant was right. A pregnancy test and a scan later, revealed that she was not expecting and in fact had stage 3 ovarian cancer, which looking back she believes had been giving her symptoms many months before.
"I couldn't understand how I could be pregnant, but I certainly looked like I was about nine months in," she remarked.
"I had been feeling tired and I had a crushing pain across my chest which I later found out was pressure from a build up of liquid, called ascites, from the cancer.
"They ended up draining six litres of fluid from my abdomen, and then at a follow-up appointment removed another six litres," recalls Amanda, who is now five years on from diagnosis and free of disease, after having a full hysterectomy and chemotherapy.
Bloating which does not come and go is one of the main symptoms of ovarian cancer and is often overlooked as a marker of the disease as in Amanda's case, says the support charity Ovacome.
Amanda had initially been been prescribed diuretics to remove water which was thought to have been caused by the heart condition she was born with. But often bloating can be wrongly attributed to irritable bowel syndrome, a food intolerance or the menopause.
With no routine screening for the disease — the cervical smear test will not pick it up — Ovacome has come up with the easy to remember B.E.A.T. acronym of the main symptoms: B is for bloating that does not come and go: E for eating difficulty and feeling full more quickly; A for abdominal and pelvic pain you feel most days and T for toilet changes in urination or bowel habits.
Amanda, who wants to shine the spotlight on the disease for Ovarian Cancer Awareness Month, says that as well as being bloated she had also been eating less. "I was size 8/10 and was losing weight, but had a swollen tummy.
"I thought that it might be because I was getting older and could no longer get away with sitting at a desk for eight hours a day," said Amanda who has since taken early retirement on medical grounds from the Department for Work and Pensions, having needed heart surgery since her cancer treatment.
Amanda had also been having more bowel movements than was normal for her, all symptoms that she had not paid much notice to as she was unaware that they could be an indication of ovarian cancer, despite having lost her grandmother to the disease in 1988.
"My family never really spoke about the symptoms with my grandmother. It can be embarrassing even these days to talk about these things, which is why I want to share my story so that other women who might have bloating or any of the other symptoms are aware that they should get checked out," she continued.
"I feel so fortunate that I am now five years free of cancer. Now that we are coming out of the pandemic, I can look forward to travelling the UK with my partner in our motorhome, return to my knitting group and take up some volunteering work," she added.
If you are concerned about ovarian cancer, call Ovacome's support line on 0800 008 7054 or visit ovacome.org.uk
Comments
To leave a comment you need to create an account. |
All comments 0