Daniel's trip to Chile continues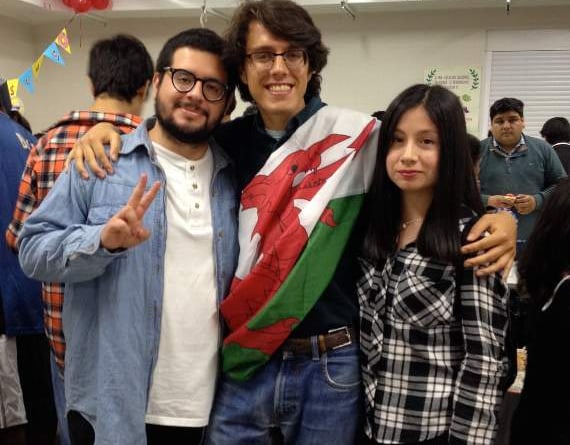 Daniel pictured in the middle
()
Subscribe newsletter
Subscribe to our email and get updates right in your inbox.
Saundersfoot's Daniel Harper, who attended Tasker Milward School in Haverfordwest and recently graduated with a degree in history from Aberystwyth University, is taking part in the English Open Doors programme Teaching English in Chile.
He's travelled to Santiago, Chile, to begin his over four-month experience, volunteering as an English teacher for the Chilean Ministry of Education.
Here Daniel tells us his latest story: The results of the elections came out. My host family had gone to vote for their respective candidate earlier that day and now we all gathered round the television to await the results. The next president of Chile would be Pinera, announced the news castors.
My father, Cesar, looked somewhat relieved whilst my mother, Carolina, appeared somewhat dismayed. This is my last week within my placement.
Having had most of my classes interrupted by the schools ongoing 'week of performance' throughout the previous week. This included some of the students dressing as clowns and performing from tight ropes and unicycles and a play in the school hall starring an insane doctor with rabies and a daughter of a wealthy oil baron, at least this is how much I gathered from the Spanish I've absorbed.
I started the week by asking my teacher to not tell the students of my departure as I didn't want any special treatment or dramatics revolving around. Unfortunately my teacher proceeded to mention how she had made a status on Facebook regarding my leaving with half of the students and staff commenting in some way or another.
I would work the Monday, Tuesday and Wednesday of the week and by Friday I would fly back to Santiago where I had begun only five months before.
Each class of that week had prepared a little buffet of cookies, Doritos and coke. One class I played cards with all lesson, whilst another I danced to cha-cha slide and cotton eyed Joe with the students.
Walking into my Octavo Primero's (year 8) signed a school shirt and laughed about my terrible Spanish. It honestly surprised me how much the students were disappointed to see me leave.
Teaching is often a thankless job where the students can seem apathetic or disrespectful to what you're trying to do for them. It was only when I was leaving that they said, 'I'm going to miss you', 'best teacher ever' or 'I'm going to learn English because of you'.
This truly put a smile on my face and made me realise the time I was here, teaching, was for a very good reason. Although my impact may be small it was not for nothing.
By Wednesday, my last night officially working for the school, was the night of the English festival, something me and my teacher had been planning for the past 2-3 months.
The kids had prepared traditional English and American dishes with Fish and Chips being the main English dish.
Parents, students and general members of the public came to the school for a night of food and entertainment.
I was set to be the first one to perform with a rendition of Cat Steven's 'Father and Son', whilst suitably donning a Welsh flag across my torso for a fairer representation in the English dominated festival.
After getting through my song I watched a plethora of students sing, dance, and demonstrate their talents. As the night closed it was announced that this was my last night in the school and was given a certificate from the school.
My speech was of no note as the words failed to come to my head about how much I loved the school and being there. I simply looked to the crowd and showed my gratitude with a 'thank yo'.
After many hugs and promises to keep touch I exited the school and prepared to pack. I was leaving. I look back one last time before trying to preserve memories. For now my time at the school is all a series of memories which I hold fondly, especially for the students.
My family and friends back home talk of the cold and how it snowed in many parts of the UK.
It was certainly strange to be experiencing Summer in the southern hemisphere where the temperature exceeds twenty degrees on a daily basis and shorts and sunscreen are a necessity. I am leaving to travel on Friday.
Comments
To leave a comment you need to create an account. |
All comments 0